The 5 Best Auto Dialer Tools and How to Decide
Auto dialer software will automatically dial a list of phone numbers, and this strategy is primarily being used in cold calls for sales reps. When the recipient answers the call, the autodialer either will play an IVR or connect the call to the live sales rep.
This software will make the salesperson job much more efficient because it gives the salesperson the ability to dial through the preexisting list at a steady rate.
Another great thing about this software is that it integrates well with customer relationship management software or CRM. The CRM will help with inbound and outbound calls, whether that's matching contact information to an existing contact or synching information that has been captured on the phone for future references.
There is a wide range of auto dialer software, I have narrowed it down to the top five based on price, features, and customer support.
If you are looking for an autodialer software that will maximize your sales team productivity and efficiency, keep reading.
PhoneBurner is an excellent auto dialer software for businesses that require CRM tools for cold calling leads and moving prospects seamlessly through the sales pipeline. They offer smooth integration with Salesforce, HubSpot, and Zapier. The software also has an open API that businesses can use to design their software connections.
While PhoneBurner packages include call automation, they lack inbound lead call routing features, unlike Velocify. Furthermore, they offer excellent features like call tracking, analytics, and recording free of charge.
Their automation software works well with manual dialing, personalized follow-up emails, and post-call notes so your sales team can move quickly. Another cool feature they offer is the automation software can drop prerecorded messages into voicemail boxes with one click to save your sales team time.
If your business is looking for an auto dialer system with inbound and outbound capabilities, PhoneBurner may not be the best choice for you. They only offer outbound auto dialer systems.
Along with robust integration and automation features, PhoneBurner has an excellent customer support team that is offered through live chat, email, and online ticketing system.

Pricing
PhoneBurner offers an easy plan that can be paid monthly or yearly, with no setup fees, and free onboarding and free to try out to see if the system is right for your business.
Starting at $149/monthly per user with discounts available based on term length and size of team. Features will include:
Unlimited power dialing
Call and email tracking
Call recording
Analytics
CRM integration
If you are interested in finding out more about PhoneBurners plans and add-ons, you can do so here.
PhoneBurner does not offer predictive progressive or preview dialers as part of its service. For some sales teams, this feature is needed. If that is the case, ChaseData or Five9 would be the better fit. If your business is just in need of an auto dialer software that offers solid features and advanced automation, PhoneBurner can suit your business well.
ChaseData is recognized as one of the best auto dialer software for small businesses. They offer premium auto-dialing as part of their call center packages. They are recognized as one of the best because of their excellent features like inbound call capabilities and CRM integration.
With a solid price point from $89/month per user, ChaseData is excellent for businesses that need inbound call center features and outbound auto dialing at a competitive price with other auto dialer software.
This software will be best for small businesses that do not need lead management features and want their sales reps to have a good set of inbound and outbound tools.

Pricing
ChaseData offers three pricing plans. Small Business Edition, Professional Edition, and Enterprise Edition. See below for more details.
Small Business Edition – $89/month per user
1 voice channel per sales rep
Preview and progressive dialing
Inbound calling
Call routing
Auto-attendant
Remote call capabilities
CRM reporting
This package will be best for small teams and startups that have a low call volume.
Professional Edition – $139/month per user
Everything that the Small Business Edition package has and more.
Predictive dialing
Trainee mode
Zapier Integrations for more than 500 apps
This package will be best for medium-sized businesses and companies with high-volume outbound call centers.
Enterprise Edition – $169/month per user
Everything that the Professional Edition package has.
SOAP-based Salesforce API for integration government, healthcare, financial, and other high profile sectors.
Six voice channels per agent
This package is the best choice for medium businesses growing rapidly or large businesses with high complex calling needs.
Compared to its competitors, ChaseData lacks features such as predictive dialing only being offered in higher-priced packages. The other competitors listed has this feature for every plan, along with a built-in lead management tool.
If you are looking for complete autodialer software and the lead management tool, ChaseData may not be for you. If not, this will be a great start for your business.
Five9 is a cloud-based software that does not require expensive equipment to use and offers excellent features. Since its cloud-based, sales reps can log in from anywhere with a high-speed internet connection, computer, and headset.
Five9 is not the cheapest option on the market with prices starting at $185/month per user, but it will offer excellent solutions and features and avoid complex auto dialer software setups.
Their software integrates with Salesforce smoothly, allowing sales reps to dial from the CRM. The user interface is clean and easy to navigate, making it user friendly and easy to set up after purchase. They will offer your business the complete auto dialer package, call automation, inbound and outbound calls, coaching and management tools, system integration, and excellent customer support.
Five9 will be the best solution for mid-sized businesses due to its extensive and pricey packages. Their advanced features and add-ons will make your business scale and growth much easier.

Price
Unfortunately, Five9 does not show full transparency on their pricing plans. If you want to find out more, you will have to contact them for a quote.
Their pricing plans are based on usage, users, features, and add-ons. They also give you the option of choosing an annual plan or month to month. Doing research, Five9 plans start around $185/month per user. This is an estimate; to receive a direct quote, you will need to contact their sales team.
You can expect this list of features to be available for purchase when choosing your plan:
Call automation
Inbound call center packages
Coaching & management tools
System integrations
Additional add-ons
While Five9 offers excellent features and excellent 24/7 customer support, they are a bit more on the pricer side, and some users say the software lacks a robust lead generation if your business requires that. Furthermore, Five9 is an excellent software if you're looking for a seamless setup and need advanced software integration.
Velocify is a great autodialer software system with built-in lead management software created to boost the productivity of sales teams. Lead management also will provide features that will allow your sales team to be prepared with detailed info about recent or past interactions with customers.
Velocify dialer system is a bit more powerful than its competitors, and it can dial and manage thousands of numbers simultaneously. This is an excellent solution for larger businesses with a larger contact center and a large sales team.
This software has been looked at by users as the best auto dialer for sales teams because of its efficiency and lead management.
A couple of things that separate Velocify from Five9 and ChaseData is that their software offers advanced call automation features, like notifying all sale reps that there is a high-potential inbound lead and connects the first sales rep available. They also offer an excellent tailored call routing, call prioritization, and live coaching.
For system integration, Velocify integrates well with Salesforce and offers mobile capabilities as an advanced feature offering. But, Velocify system's integration is much more limited than Five9.

Pricing
Similar to Five9, Velocify pricing is only available when you contact them for a quote. With some research, Velocify pricing plans start at around $100/month per user, with a per-minute calling rate of 1.5 cents per minute. If you want more details, contact their sales team.
Velocify has excellent features that are useful for a sales team looking for substantial lead generation and priority queuing. If you are looking for more than sales tools, Velocify lacks in this department for they are a sales heavy software solution. Also, their service has been viewed as difficult to set up compared to its competitors. Furthermore, if you need software to ramp your sales department up, Velocify could be a great choice.
Voicent is an auto dialer software that offers a plethora of features and offers a broad menu of choices and features for growing businesses.
The base packages may suit the smaller businesses, but if your business and sales team are growing fast, you will want to look into their optional add-ons like; inbound call center packages, call center management software, workflow automation, and more.
Voicent is an excellent choice for businesses that require a solution that can scale and grow with them.
They also have impressive automation features. Their base package includes predictive, progressive, and power autodialers at no additional cost. They offer the most automation features out of the competitors listed above.
However, unlike PhoneBurner and ChaseData, Voicent does not offer systems integration tools with its base plan. If you want this package, you will have to upgrade plans.
Voicent is said to have excellent customer support, offering product walkthroughs, video resources, and online customer support ticketing systems.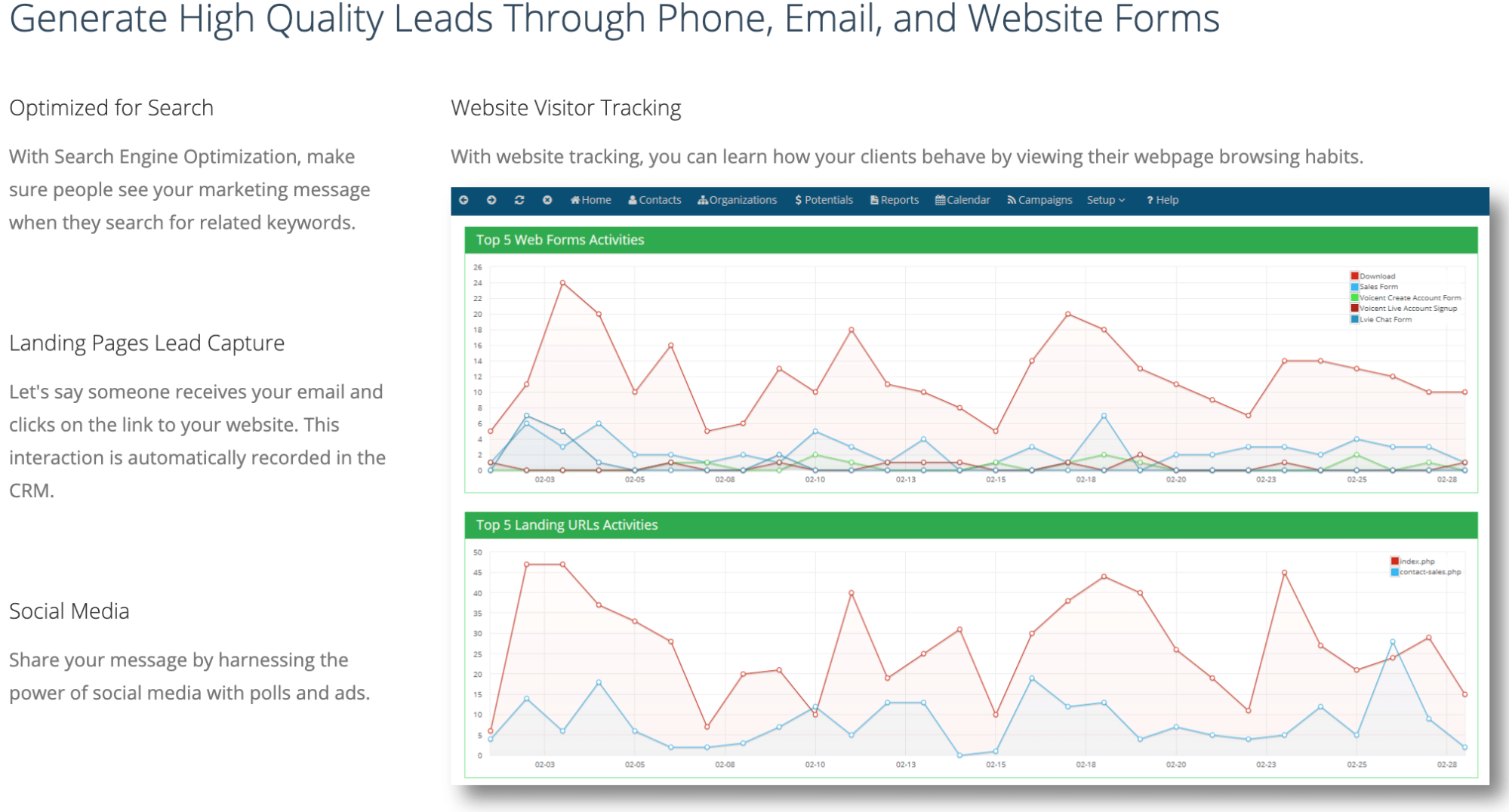 Pricing
Voicent pricing plan offers two options, $29/monthly per user, or $19/monthly per user with a yearly purchase agreement.
Voicent plan is fundamental and affordable than most, but the price can go up quickly, depending on how many add-ons you need.
The basic plan will cover automatic dialer technology and a sales dashboard. Features below can be purchased for additional cost:
Inbound call center package
Caller ID
Workflow automation
Call center management
Interactive text messaging
After choosing a plan with features, you will select your calling plans. You can find more details on this at Voicent.
If your business is growing fast, Voicent could be an excellent option for its large selection of add on features. But, Voicent does not offer reporting, analytics, and lead management tools, which can be found in other competitor's software. If you don't need those listed features, this could be an excellent selection for your business.
How to choose an auto dialer software
Organization size

Depending on the size of your business, you can forego on some advanced features like lead management and analytics. But if you are a large business or scaling quickly, you will want to purchase software that has the full setup with advanced features and excellent automation and CRM integration.

I recommend making a list of the features you may need and then canceling the software solutions that do not fit your current needs.

CRM Integration

When choosing an auto dialer system, you should make sure that if you are coming from a CRM, you will want the integration process to be seamless for your sales team. Customer contact should be secured and stored for easy access when needed.

Objectives of Calls

Depending on your business, you should consider the nature of your sales calls. You should look if your sales team needed features like progressive dialer or predictive dialer. Understand what your sales team needs, how they will be going about their calls, and choose the best solution that will fit that need.

Price

Some auto dialer software packages can get expensive. There are many prices points out there, but you will want to purchase not only for your business currently but how it will look in a few years. If your business is much smaller and does not foresee any growth, the lowest packages and features may be just right for your business. If not, plans can become pricey when advanced features are required, get quotes from some of these businesses above and go from there.