The 10 Best Applicant Tracking Tools
Applicant tracking system or (ATS) software is a centralized tool that HR teams can utilize to manage hiring, candidate sourcing, and evaluations. Companies are able to track the whole hiring process from the application to the offer letter and e-signature.
The most common features you will find with ATS are career site builders, interview tools, job board postings, and analytics.
ATS software has given companies the ability to offer efficient and effective hiring solutions towards their candidates. As a company grows, ATS is necessary to automate and optimize the routine aspects of hiring. Another great thing about ATS is that it increases overall candidate satisfaction because the software helps companies respond quickly to applicants.
It provides tools that will streamline the application, interview, and follow-up process that will ultimately give your company an overall improved and efficient candidate experience.
There are so many excellent Applicant tracking tools on the market currently, depending on your businesses needs and desires of the software, I have simplified the process by listing the top 10 applicant tracking software systems for 2020.
To learn more on these top applicant tracking software, and how they can help your business, continue reading.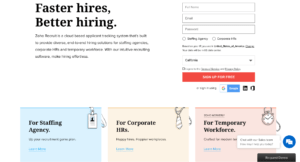 Zoho Recruit does a great job of offering a wide array of business solutions designed for customer-facing companies. It is one of the better options for fast-growing businesses; their software can be used as a standalone tool or integrated with other selections Zoho software offers.
The software encourages customization. They allow you to create career pages and employee referral portals, allowing you to be a part of the entire hiring process from screening and interviewing to the final offer and hiring stage.
Zoho offers a full recruiting and applicant tracking process for your business, whether recruiting permanent employees, staffing agencies, or temporary workers, Zoho has impressive features that your team can benefit from.
This intuitive system also offers seamless integrations and multi-channel communications. Along with powerful analytics, Zoho is one of the best recruitment tools out in the market.
In regards to pricing, Zoho has three pricing plans.
Staffing Agency – Prices starts at $22.50/monthly
Corporate HRs – Prices starts at $22.50/monthly
Temporary Workforce – Prices starts at $1/monthly
With the Staffing Agency and Corporate HR plans, you can expect features like:
Candidate sourcing
Resume management
Powerful Automation
Seamless integration
Candidate tracking
Portal management
To learn more about these plans, including a temporary workforce, contact the Zoho sales team.
Zoho is a top choice if your business focuses on recruiting and scaling at a fast rate and needs the appropriate recruitment features and tools.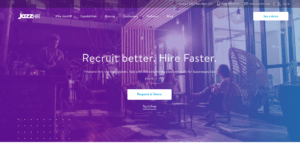 JazzHR is a powerful software that is popular among users. They have over 500 clients across the world.
This software offers an endless list of integrations and supported by an impressive network of partners. From tools like time and attendance, scheduling, background checks, and candidate assessments, JazzHR appears to have it all.
JazzHR includes applicant tracking systems and in-app collaboration to gather ideas from your hiring team quickly and a stacked management module. Also, JazzHR allows custom reporting to help build a data-driven recruitment function.
JazzHR offers three plans that suit your business needs.
Hero – $39/monthly
Unlimited users
Up to 3 job post
Job posting & syndication
Plus – $219/monthly
Limitless hiring software
Job posting & syndication
Applicant tracking system
Interview & Assessments
Unlimited users
Unlimited open job posts
Pro – $329/monthly
Job posting & syndication
Applicant tracking system
Interview & Assessments
Unlimited users
Unlimited open job posts
Offers & e-signatures
And more
JazzHR is an excellent software that will serve just about any business size. If you require software integration and excellent recruitment strategy, this could be one of the best choices for your business.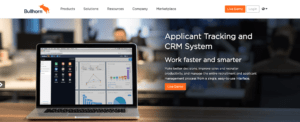 Bullhorn is ATS that was created to streamline the candidate management, sourcing, and submittal process.
This cloud-based tool is best fitted for businesses that are looking to improve there staffing and recruitment process. Bullhorn is user-friendly, with an easy to use mobile application that allows data entry, candidate interaction and much more.
Some of the best features of Bullhorn includes:
In-system access to LinkedIn records
Real-time updating of records
Email interaction and tracking
Management of candidate data
Bullhorn offers four pricing plans: Team, Corporate, Enterprise, and Enterprise Plus. Unfortunately, they do not give detailed pricing. You have to contact their team for a quote. With a little research, their packages start at around $99/monthly. Pricing will vary based on your specific business needs.
Bullhorn does a great job of combining ATS and customer relationship management in one powerful system. It automates the end-to-end recruitment lifecycle for all business sizes.
If you are looking for a system that is built for ATS, CRM, and recruiting this software is worth looking into.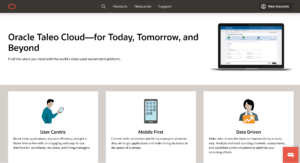 Taleo is another cloud-based software that was acquired by Oracle back in 2012. They emphasize providing business to mid to large-sized businesses. Their talent management software helps clients acquire talents by using strategic and engaging hiring processes.
This software offers end-to-end automation during the recruiting process, and it can be modified and customized to fit your business needs.
The best features of Taleo include:
Recruitment marketing
Employee referrals
Seamless integration
Automation features
Onboarding
Resume parsing
Compensation management
Candidate tracking and interview scheduling
Taleo's pricing plans are not available on their website, unfortunately, but with a little research, you can find that their plans start anywhere from $29 to $90 monthly. Contact their support team to find out more. This software is one of the best reasonably priced recruitment tools in the market.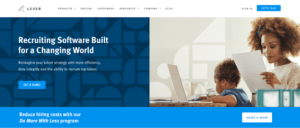 Lever is a robust platform with around 2500 clients across the world. Impressively, a couple of the clients are Netflix and Hot Topic.
Lever uses powerful tools like CRM functionality and applicant tracking to deliver efficient services and efforts when searching for new talent.
This software gives you the ability to manage the entire hiring process. It's an excellent choice if you need your whole recruiting process to be taken care of.
Lever offers features like:
Resume parsing
Interview scheduling
Self-service portal
Candidate tracking
Applicant tracking system
Lever also offers effective automated workflows and integrated sourcing tools. Their system has employee referral functionality, including sharable job links for LinkedIn, Facebook, and Twitter. You can also use their Google Chrome extension that allows employees to put a referral in the company pipeline right from their browser.
With Lever, users can leverage data and report with customizable reports, tools, and a visual dashboard that prioritizes specific metrics.
Lastly, one of the most impressive features of Lever is integration. The software integrates well with Google Suite, Slack, and Linkedin.
Just like a few others above, Lever does not showcase their pricing online. To learn about their pricing plans, reach out to their support team to get a quote.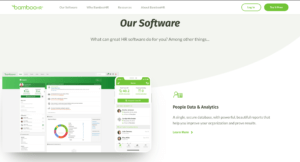 BambooHR remains one of the most popular ATS and performance management tools on the market. This software focuses on helping small and medium-sized businesses with their full recruitment processes.
This software is one of the easiest to use amongst the competitors. It also has a mobile app that provides easy access and offers tools like; onboarding, e-signatures, attendance tracking, and performance management.
See the list below for some features that BambooHR offers:
User-friendly interface
Streamlined onboarding process
Social media and job-board integration
Customizable templates and messages
Performance management tools
BambooHR offers two pricing plan options Essentials and Advantage. To receive more information and accurate quotes, you will have to get in touch with their team.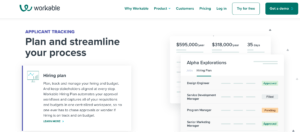 Workable offers a wide array of applicant tracking solutions. The software has access to a large selection of premium job boards as well as customization features to help hire the best candidates at an efficient level.
This ATS software offers a range of pricing that can satisfy small, midsized businesses and enterprises. Offering great features that help with job search options and full HR tools to help the candidate onboarding and finishing process.
Workable lacks some integration with larger HR platforms but offers enough integration that can help your business improve at a good pace. This could be a deal-breaker if you are coming from a large HR platform and cannot integrate data.
To take a look at what the Workable software offers see below:
Custom fields and automation
Analytics
Social sharing and hashtags
Easy to use user interface
Full HR standalone system
Automation and integrations
Like a few of its competitors, Workable does not list their pricing online. But their plans start at $99/monthly, and with that starting price, you will receive essential recruiting features and HR tools. Try it for free or contact for a demo at Workable.
If you are looking to manage all aspects of the HR process with one system, then Workable may not be for you. But if you are looking for a system that will handle the full recruitment process this could be a great choice for your business.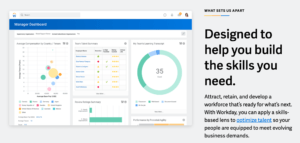 If you are looking for a full end to end recruitment and HR software, look no further.
Workday is a leader in the industry when it comes to recruitment software and HR. Their tools and features are suitable for all business sizes but most ideal for enterprise-level and large businesses with large-scale hiring needs.
This powerful software acts as a single system that is a cloud-based applicant tracking system that supports your business in finding the best talent and engaging, excellent recruitment procedures.
Workday offers a plethora of features and tools, see below for a quick view of their offerings:
Review candidate profiles on any device
Interview feedback
Calendar syncs to scheduling interview
Automation workflow tools
Analytics dashboards
Branded career sites
Users also enjoy this software because of its mobile device functionality. You can access almost all of the features on a desktop on your mobile device on the go.
Like Jobvite, Workday does not show pricing plans on their website, contact their sales team for a quote.
The biggest complaint of Workday is that their user dashboard can sometimes be confusing to use with their drop-down selections and user information.
If you are looking for software that will fulfill your HR and recruitment needs, Workday will serve your business and scale with you.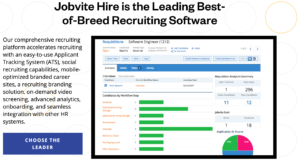 Jobvite is one of the best candidate-focused recruiting tools. The candidate experience is the center of focus for Jobvite's hiring process.
With Jobvite, you can expect an abundance of marketing capabilities like recruitment branding and mobile optimization for career websites. They also offer easy access, and user-friendly functions and tools like; applicant tracking systems, social media recruiting, onboarding module, and integrations with other HR systems.
The great thing about the HR software integration capabilities, you can access detailed insights on hiring performances and how it could impact your workforce management.
This software makes it easy to find an excellent list of candidates, auto-screen for the best talent available, and find prospective employees.
See below for a list of features that Jobvite can provide your business:
Social recruiting abilities
Mobile optimization for career sites
On-demand video screening
Seamless integration capabilities
Onboarding functionalities
Analytics
Jobvite has received many awards over the years for its excellent customer service. They are very responsive and provided detailed, on-time responses.
One thing to note, unfortunately, Jobvite is not fully transparent about their prices. If you want to see prices and plans, you have to reach out to their team for a quotation. You can reach out to their team here.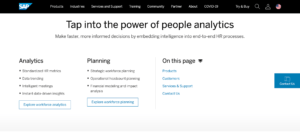 SAP SuccessFactors provides an effective cloud-based HR management system from onboarding and payroll management, sourcing, screening, performance metrics, and employee engagement. This software specializes in enabling all processes of the recruiting cycle.
This software will give your business insight over 4,000 job boards and social media platforms. See a list below for some of SAP SuccessFactors impressive features:
Global talent sourcing
Candidate relationship management
Comprehensive applicant management
Onboarding portal
Online offer letter and e-signature
Creation of career site
If you are looking for a full extensive recruiting software, SAPSuccessFactors can offer one of your business's best options. However, the software is more focused on smaller sized business rather than large enterprises.
One thing feature that the software lacks is people management tools most competitors will offer. Other than that, the software provides an extensive list of features that can be resourceful to any small to midsize business.
SAPs SuccessFactors starts at $8/monthly per-user or as an annual subscription at $85 per employee. To learn more about their pricing plans and add-on features, contact their sales team.
How to choose the best ATS
Identify recruitment challenges
Before deciding which ATS software to go with, you should identify your recruiting goals and challenges. This approach will determine which software to purchase much easier.
What features do you need?
There are many available features that this recruiting software offers, but what features will be the most beneficial to you and your business?
This decision will help you resolve some of your biggest recruiting challenges if you choose software that offers the best features. Think of a few problems your recruiting team may be facing today and search for the features that would solve that problem.
Software integration and implementation
Implementing a new software system can be a lengthy process. Some products and features are very complex and will require training sessions for your team. You should be aware of the time it will take to implement each system.
Also, if you need your software to offer integration, you should find out what your job boards and other software, you will need to integrate into your recruiting system.
Pricing
Depending on the system, you will be offered different billing patterns, yearly or monthly. If you are a small business, pricing could be the determining factor. Be sure to look at all hidden costs that may be associated with the software. This could be data migration fees, implementation charges, per-user charge.
Customer Support
When evaluating a system, this should be on the top of your list for determining factors. When dealing with software implementation, you may come across various issues. You will want a responsive customer support team.
Maybe searching for customer reviews and speaking to a few customer support agents can help do the trick on deciding what recruiting software to choose.