Best Anti-Phishing Software
Phishing attacks are growing, and it's becoming harder to protect employee and company data.
Phishing attacks are when a person or group sends fraudulent emails or messages trying to trick the receiver into giving them information such as user data, login credentials, bank information, and more. The end goal of these attacks is generally to either steal your personal information and use it or to attack your network with malicious software (malware). These vicious attacks can also occur simply by clicking a bad link in the message that downloads malware. 
There are software solutions that can effectively prevent and counter phishing attacks, but the choice can feel overwhelming. Where do you even begin? 
Don't fret, our guide details the best anti-phishing software options today and shows you how to decide which is the best for you. 
Cofense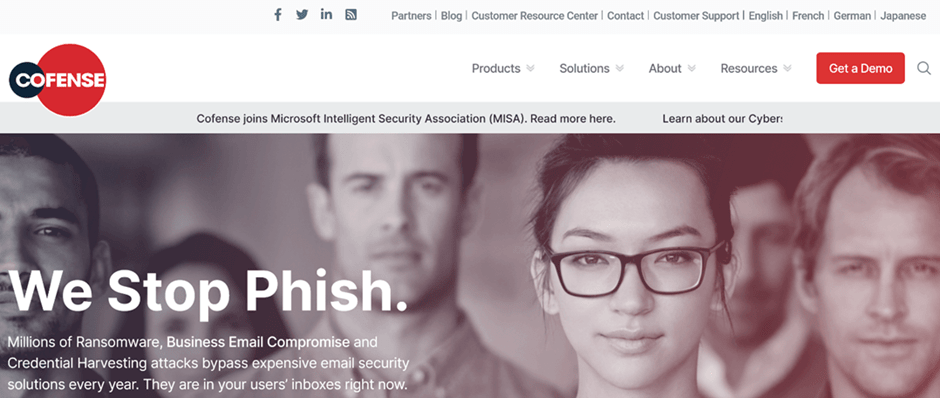 Cofense is an anti-phishing specialist that offers a range of solutions to protect against unwanted attacks. It features a dedicated Phishing Detection and Response (PDR) platform that's able to detect and stop phishing threats in your inbox using robust automated responses. The platform uses extensive insights that integrate the crowd-sourced intelligence of millions of users and offers the ability to quarantine recognized threats automatically. 
On top of that, a team of experts can identify, analyze, and respond to phishing attacks that threaten your company 24/7 for extra peace of mind. The Cofense team provides resources to struggling incident response teams and specializes in providing greater visibility into the threats that most businesses face—the result is reduced time between the detection and resolution of attacks. 
There's also enhanced and thorough training for your workforce to keep awareness high—it's a great option all around, although integrations with other technology could be smoother. No prices are publicly listed, but you can request a live demo of the software to see all of the main features on offer.
Proofpoint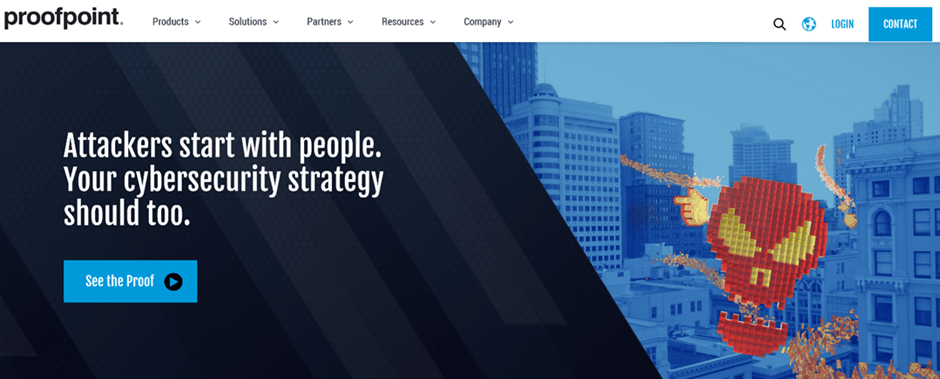 Proofpoint offers many great solutions, although its email gateway that provides defense from phishing attacks is industry-leading. Proofpoint Email Protection, deployed as either a cloud service or on-premises, catches known and unknown threats and is powered by "NexusAI"—an advanced machine learning technology. The email protection solution can quickly classify different types of email and detect and block threats using advanced business email compromise (BEC) defense.
You can automatically tag suspicious emails to help raise user awareness and track them down in seconds using the software. There are also granular email filtering controls that control spam and other unwanted emails. Detailed observations about why the message was suspicious are provided, showing you the critical details that help you better understand and communicate the nature of the attack.
It's an ideal solution for small to mid-sized businesses and even enterprises for managing sensitive data. However, the log viewer could be improved further.
A free demo is available that shows you how you can safeguard your data and make users more resilient against phishing attacks, but no prices are publicly listed—for that, you'll have to reach out.
Zerospam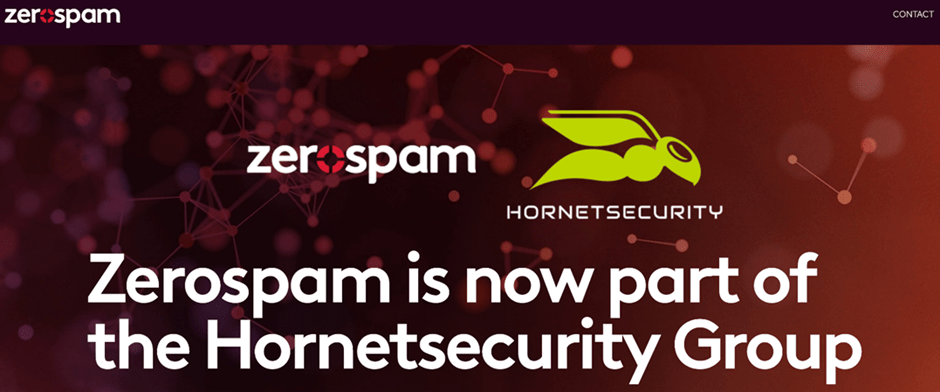 Zerospam is spam protection and anti-phishing software that uses proprietary AI to detect phishing threats. Zerospam is entirely cloud-based and partners with numerous cybersecurity specialists to supply its features. It's an excellent solution for small and mid-sized enterprises that want to see the benefits of AI security, using over 10,000 different rules to analyze email content. There's an emergency continuity service along with spear-phishing prevention and even 5-day automatic queueing for inbound messages.
While Zerospam is relatively new to the world of anti-phishing software, it provides advanced features you wouldn't necessarily expect, such as the outbound protection service that's compatible with Microsoft 365, Google Workspace, and others. We particularly like the safe attachment and malicious file auto-quarantine service, which means threats get stopped even when you're not around. Just keep in mind there's a bit of a learning curve for some users.
A 30-day free trial includes all of the features of the complete solution. Zerospam costs $750 per year for every 25 seats at a company.
DuoCircle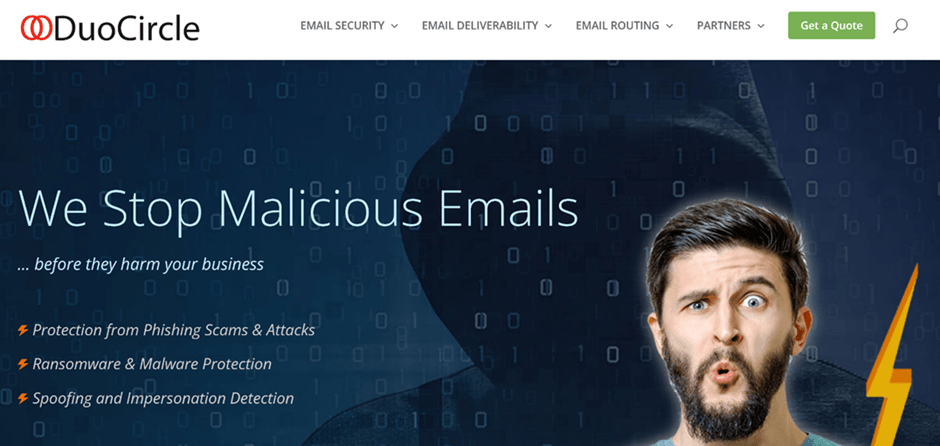 DuoCircle is a security solution that offers inbound email security against phishing, ransomware, and malicious websites shared by email. The software protects users against phishing by warning them before visiting unsafe sites. It uses six URL reputation databases to help validate each click, protecting you from damaging phishing attacks with real-time protection and delivering instant feedback.
Add to that spam filtering and domain name spoofing protection, quick access to the suspicious email queue, and a 30-day backup queue powered by DuoCircle's MX backup service. It's a comprehensive solution that's more than capable of protecting your business. That said, the spam filter could do with a few more options on the user side, although an update is expected later on in the year.
DuoCircle uses a custom pricing model, so you'll need to reach out for a quote.
Avira Security Software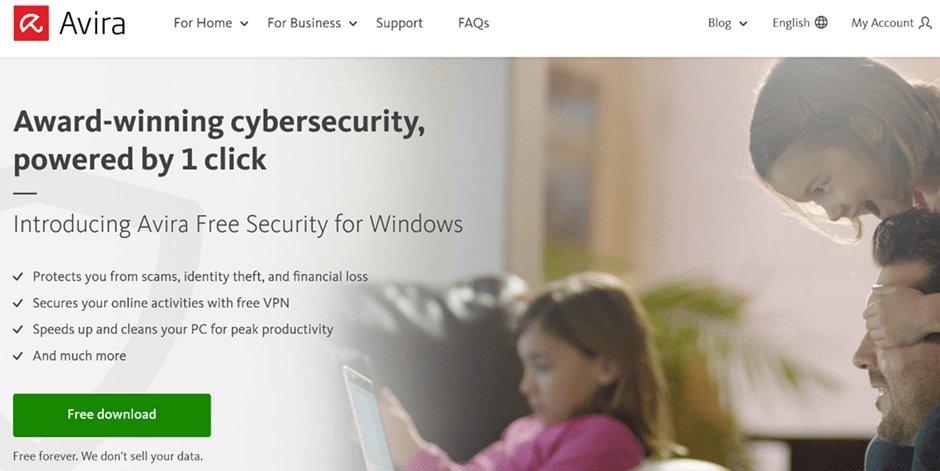 Avira offers a free security suite that provides some great anti-phishing tools for small businesses, including a built-in software updater and PC optimizer to minimize your risk from threats. The software is able to protect you from scams, identity theft, and financial loss and secures online activities with a VPN. There's also real-time protection with notably low memory usage to keep things running smoothly.
What you're getting is an effective anti-virus and anti-phishing protection tool, as well as a software updater and a free VPN with up to 500MB of data per month—this also comes with privacy settings and a password manager. Avira uses enhanced analysis to identify malware, expose threats, and deliver behavioral profiling. Avira's anti-malware scanner is market-leading and doesn't cause the slowdown that others on the market are known for either.
However, be aware that since it's free, you'll experience pop-up ads and won't have access to as many features as you would in the full software. Of course, you can reach out for a custom solution in the form of Avira's Protection Cloud when you need to scale.
How To Pick Your Anti-Phishing Software 
Knowing our top picks is a good start, but how do you determine which anti-phishing software on the market is the best for your company? We've created some simple steps you can follow below.
Step 1 – Know the Different Types of Phishing Attacks 
While new types of phishing attacks happen every few months—having updated software is crucial to deal with this—most phishing scams follow a similar method regardless. Before choosing the best anti-phishing software, it's important to understand these threats and how they appear. Below we've listed the most common types:
Spear phishing

: A widespread type of email attack. The actor sends an email referencing a topic well known to the recipient.

Man-in-the-middle:

The actor emails two different parties pretending to be each other and tries to acquire sensitive information.

Watering hole phishing

: Employee-frequented sites get compromised via bad links.

Angler phishing

: The hacker creates a false customer service account on social media and aims to reach someone looking for support.

Pharming

: Deceitful code redirects victims to fake websites designed to look like the original.
The good news is that the software on our list should, in most cases, be able to prevent and counter the bulk of these attacks, but how they do it differs, typically in terms of the level of control provided to the user.
For instance, Cofense uses automated responses for these types of threats and leaves little control to the user; it's suitable for those that want a more hands-off approach. Avira's free version is similar and offers real-time protection, doing most of the work for you, so if that's what you need, it's a smart bet.
On the other hand, Proofpoint and DuoCircle feature granular email filtering that enables you to control spam and other unwanted emails exactly as you wish. Meanwhile, Zerospam offers specific spear-phishing prevention along with a 5-day automatic queueing for inbound messages—think of it as a halfway house between the other options.
The level of control varies, so take some time to think about how much you need in your anti-phishing software.
Step 2 – Decide What Features You Want
Anti-phishing tools each have exclusive features, and some can differ dramatically, so it's wise to think about which are essential for you and your business.
For example, while some tools focus on anti-phishing, others will offer anti-virus programs on top. These anti-virus programs don't explicitly focus on phishing; however, phishing attacks often come with viruses, so they help block them. Some anti-virus programs also install firewalls that control traffic within your network and make it harder for phishing attacks to succeed, making them worth considering.
Some software is exclusively cloud-based, and while these focus on multiple attack methods, they typically help protect your email from attackers first and foremost. Most of these solutions use AI for automated responses, while others require more manual input. There's also the consideration of staff training, which some services include as part of the package, while others don't.
For our top picks, Cofense uses effective automated responses to stop phishing attacks, and there's a keen focus on staff training, making it a great all-rounder if you're not concerned about anti-virus software. However, Avira's free version offers little in the way of staff training, but for that, you get a VPN and a market-leading malware scanner—it's far closer to traditional anti-virus software.
Proofpoint uses powerful AI to prevent and stop threats, with staff training less of a focus—it's an excellent choice for those that need specific cloud-based email protection. DuoCircle is great for email protection, too, and offers antivirus-like features and more control for the user. Lastly, Zerospam is perfect for businesses that need an entirely cloud-based AI security that can function independently; however, the trade-off is that staff training is less of a focus.
All of the software offers something more than worthwhile, so it's just about deciding which is more suited for you.
Step 3 – Consider Mobile Device Protection 
Threats and features aside, a smaller consideration is how vital mobile device protection is for your company. Keep in mind that mobile devices are a frequent target for phishers, so ideally, you want software that offers that in addition to other devices, although not all of them provide it.
Proofpoint is one of the strongest options on our list for mobile protection as the cloud-based platform uses advanced threat detection across your entire technology infrastructure. DuoCircle offers some mobile device protection, although it isn't as fully featured. Avira offers a dedicated anti-virus mobile app that provides complete security features, but Cofense and Zerospam are much lighter in their offerings.
If in doubt, and mobile device protection is a top priority, go for Proofpoint.
Step 4 – Take Advantage of Demos and Trials
Anti-phishing software typically comes with demos and even free trials. The demos are your best chance to ask about features, find out about the possibility of custom solutions, as well as clear up any confusion about the software you may have.
Not all companies take advantage of the demos or free trials because they don't want to get caught up. The truth is, there's no commitment necessary for the majority of the software available, and it's in the provider's interest to show off their software and let you try it out for yourself. In other words, there's nothing to lose by signing up for them.
On our list, Avira offers a free security suite from the off, so there's no need for trials and demos until you consider the paid solutions. You can request a demo from DuoCircle that showcases all of the software's key features, and the same is true for both Proofpoint and Cofense. Zerospam takes this further and offers a generous 30-day trial that you can start by simply enabling it from the user control panel.
If the software doesn't explicitly offer a free trial, it's worth asking anyway. In most cases, vendors will be happy to provide one, even if it's just for seven days. Be sure to get your team involved as well and ask them for their thoughts on the software during these trials—staff awareness is key to preventing phishing attacks, so it helps if they understand and like the software in the first place.
Take advantage of these demos and trials as much as possible to help inform your final decision.