The 6 Best Agile Project Management Tools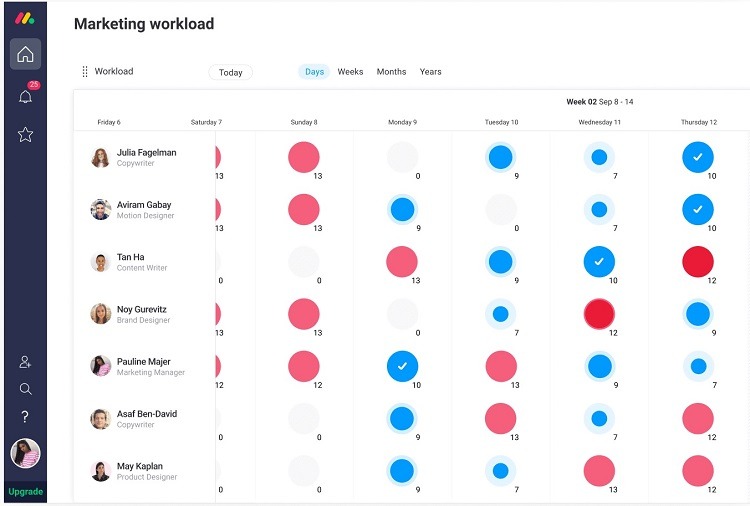 When running a project, ideally, you'll set up a plan, and your team members will carry it through to the end with no hiccups along the way.
Then reality hits, and you realize your project is going to require flexibility — and potentially quite a bit of it — to reach a successful conclusion.
This is where agile project management tools can help. They help with breaking up the project into multiple steps, allowing for adjustments as needed to create the desired outcome. They deliver agility to your projects.
We've put together a list of the six best agile project management tools and how to decide among them to help you find the best piece of software for your needs.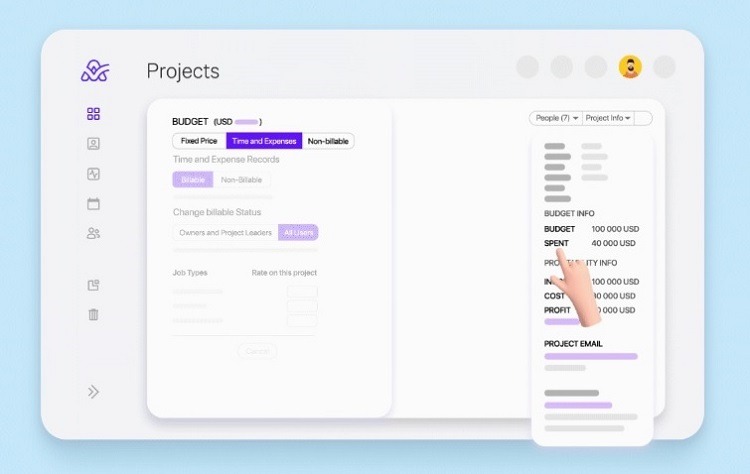 Monday.com has a host of great features that you can customize, making this one of the most versatile agile project management tools. Yet, the developers of Monday.com have found a way to simplify the software's interface, so team members can sit down and begin using it immediately.
You can enter your projects on individual boards and then track various aspects of the project through information listed on the board. You can use separate boards to track the overall time commitments of each of your team members, making it easier to see who can take on more tasks. Another board tracks how team members are progressing toward completion of their tasks.
As another great feature of Monday.com, it delivers extensive integration with many popular types of collaborative software, including Google Drive, Google Calendar, Gmail, Dropbox, GitHub, and Slack.
Monday.com does offer multiple pricing tiers, but the upper tiers become expensive in a hurry, meaning it will not fit in the budget of every organization.
Pros
Highly customizable interface
Extremely easy to see the current workload of your team members
Integrates closely with many popular collaboration software tools
Team members will have success picking up on how to use it quickly
Cons
More expensive than some others in upper tiers
Difficult to see a big picture overview of all of the organization's projects
Pricing
Basic: About $8 per user per month (between 5 and 40 users)
Standard: About $10 per user per month (between 5 and 40 users)
Pro: About $16 per user per month (between 5 and 40 users)
Enterprise: Must obtain custom price quote
Any tier, more than 40 users: Must obtain custom price quote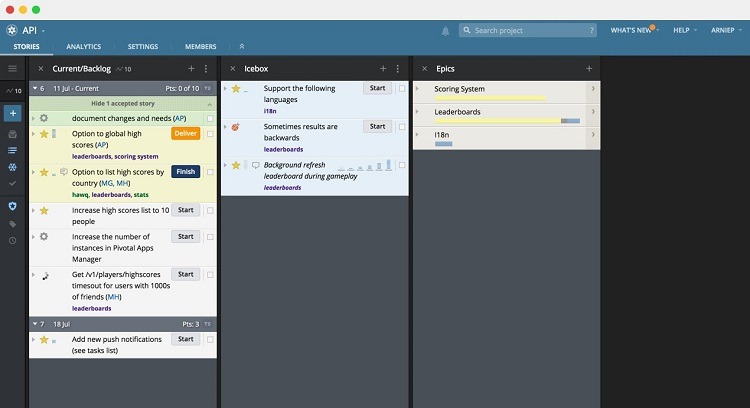 ActiveCollab
>> Compare Quotes
With ActiveCollab, you'll receive a configurable agile project management tool, allowing you to organize your team projects exactly how you want. By organizing your projects in the way that makes the most sense for your team members, you'll have a better chance of keeping your team informed and your projects on task.
One of the best features of ActiveCollab is that you can track the amount of time each person spends on his or her tasks, ensuring team members are working productively.
As the name hints, collaboration is easy through ActiveCollab, so team members can send each other messages, share ideas, and work together on files. The administrator can give access to certain parts of the software to certain people, which is helpful for employees or clients who only need to see the project in which they're working, keeping the remainder of your projects secure.
Pros
Ability to let clients log in and see the progress of projects
Easy to track the time spent by each team member
Includes invoicing and billing features
Collaboration features are strong
Cons
Setting up permissions for each team member or client could be time consuming
Sometimes, the screen can seem cluttered with too many features
Pricing
$7 per user per month
Add-on features increase price to $11 per user per month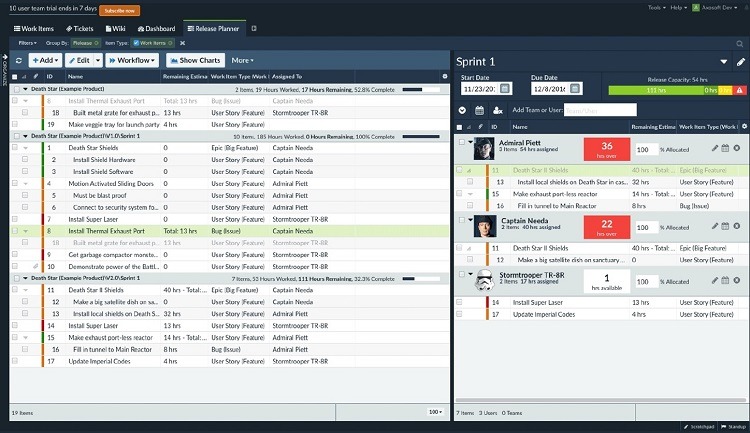 Axosoft
>> Compare Quotes
Axosoft has some impressive project management tools, but its interface is probably best for software companies or developers. It has multiple features that allow development teams to plan their releases or to show the progress they're making in fixing bugs in the software.
Those teams that need to set up sprints to help them complete a series of tasks in a short amount of time will find that Axosoft easily meets their needs for tracking these.
Axosoft's visually based interface makes it far easier for team leaders to calculate the capacity the team has to take on extra work. There's even an estimation tool inside the software that helps you determine the amount of time yet to go before a project reaches completion.
Because Axosoft's feature set is geared toward teams that need to hit release dates, it's not the best choice for those who need a versatile or general agile project management tool.
Pros
Interface makes it easy to see the progress you're making
Multiple tools to make accurate estimates on time commitments
Many features aimed at helping with sprints, scrum, and similar workload visualization
Integrates with software like Slack, Bitbucket, GitHub, and Zendesk
Cons
Feature set may be too specialized for organizations not involved in software development
Pricing is a little higher than some others
Pricing
Cloud version: $21 per user per month (minimum 5 users)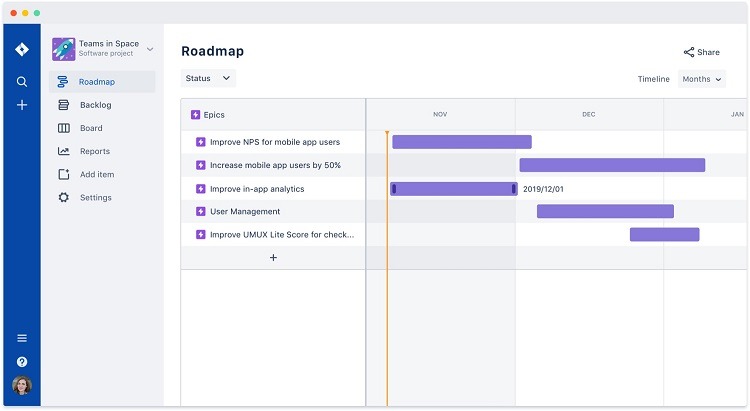 Jira
>> Compare Quotes
Software developers will be able to use Jira's specific features to track the development of projects and planned release dates. But other types of organizations can also find ways to make use of Jira successfully, because it allows for significant personalization, so you can set up the interface to match the needs your project teams have.
Team members will figure out how to use Jira in almost no time, as many aspects of the software use visual clues to show progress on projects.
Set up Jira to work with a scrum board interface, a kanban board interface, or a roadmap interface. You can set up sprints as well, ensuring you hit the goals you have for workloads within projects.
Jira can create multiple reports, ensuring the administrator can see exactly what type of progress is occurring. However, while it is easy to gain a big picture overview of progress, tracking small milestones can be tricky.
Pros
Visual clues make it easy to use
Customize the interface to match the type of view you want to use
Allows for setting up of sprints
Ability to create multiple custom reports to see progress of projects
Cons
Sometimes it's difficult to track small milestones
Must pay extra to receive customer support help
Pricing
$10 per month flat fee (up to 10 users)
$7 per month per user (for more than 10 users)
Discounts for more than 100 users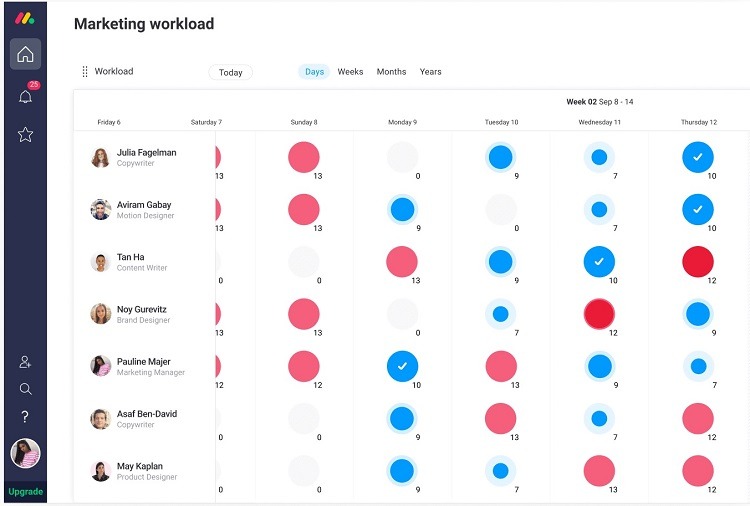 Pivotal Tracker
>> Compare Quotes
If you're having difficulty tracking the productivity of your individual team members, leaving you unsure whether someone is pulling his or her weight, Pivotal Tracker has tools designed to estimate each person's contribution to the project. This software includes a system that weighs the difficulty of each task within the project, making it especially accurate in its productivity estimates.
Software development teams will have the most success with Pivotal Tracker, as its features are especially helpful for tracking and completing small tasks on the way to the projected release date for the software.
For those with the most basic needs, Pivotal Tracker has a free version. There are also pricing tiers for those who need extra features. However, if your team does not do software development, you may find the features in those upper pricing tiers to be too focused on developers to be truly worth the price.
Pros
Excellent features for software development teams
Includes a free version for those with basic needs
Does an excellent job with estimating productivity of individual team members
Integrates with Slack, Zendesk, Freshdesk, and others
Cons
Interface design does not look great
Could use better features beyond those for software development teams
Pricing
Free: Up to 5 users
Startup: $10 flat rate per month (6 to 10 users)
Standard: $6.50 per user per month (11 or more users)
Enterprise: Must obtain custom pricing quote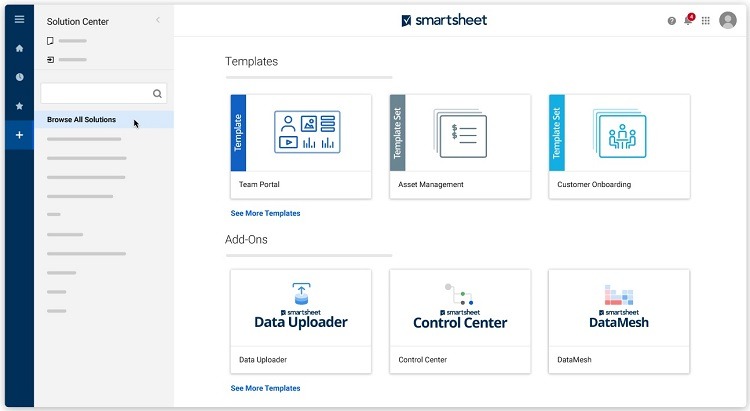 Smartsheet
>> Compare Quotes
Smartsheet is one of the best agile project management tools, offering an excellent set of features at a reasonable starting price. If you need more than the most basic features in your software, however, the price of Smartsheet can increase in a hurry.
Smartsheet goes beyond the typical collaboration and project tracking features that you'll find in these tools. It adds the ability to monitor the progress of marketing campaigns or event planning. As the administrator, you are able to set up Smartsheet to match the specific needs of whatever type of focus your organization has.
Switch between a kanban interface, a traditional grid, and calendar views to help you clearly visualize the progress the team is making toward specific project goals.
It integrates closely with important business apps like Slack, Salesforce, and Box, as well as with multiple Microsoft and Google tools.
Pros
Highly customizable for multiple types of organizations
Basic tier pricing is highly affordable
Has the ability to integrate with multiple popular business apps and tools
Many of the features resemble easy-to-use spreadsheet layouts
Cons
Pricing goes up quickly in upper tiers
Will be difficult to use for some team members who don't like spreadsheets
Pricing
Standard Individual: $14 per month flat fee
Standard Business: $25 per user per month
Enterprise: Must obtain custom price quote
Enterprise Premier: Must obtain custom price quote
How to Pick Your Agile Project Management Tool
When seeking an agile project management tool that will fit your needs, we can help with the following steps.
Step 1 – Consider the Use Case
Because many of the best agile project management tools contain features specific to software development teams, if your use case has nothing to do with software development, you will want to search for a more versatile tool. Monday.com is a strong tool for versatility for multiple types of projects.
Step 2 – Figure Out Who Needs Access to What
Sometimes, you will want certain team members or even clients to have access to the software. However, you may not want them to be able to see all of the projects that you are tracking; rather, you'll want them to see only the projects that are relevant to them, hiding the other projects from their view.
ActiveCollab has plenty of customization features to set limits on access levels, including limiting clients to see the progress on their projects only.
Step 3 – Determine How Many Users You Will Have
Because of the way the majority of agile project management tools bill you, the number of people who will be accessing the tool may help you decide which software will best match your needs.
Some of the least expensive agile project management tools will charge you a flat monthly fee when you have only a few users on the platform. This is far cheaper than those packages that charge you a certain fee per month per user on the platform.
Pivotal Tracker and Smartsheet both have a flat fee lowest pricing tier, which is really nice for small organizations.
Step 4 – Determine the Interface You Would Like to Use
The majority of the best agile project management software packages will allow you to view your projects and progress in multiple ways, such as in a kanban interface.
Although focusing on the features included in each software package is important, if the unit you select doesn't have an interface that you can use easily or that your team members will embrace, you may experience some frustration convincing people to use it. Jira has one of the best collections of customizable interfaces available.
Step 5 – Drill Down to Specific Feature Needs
As a final step, look for a package that has the specific features you need. For example, if you frequently need to be able to complete a lot of work in a short amount of time (a sprint), finding a tool that can accommodate these specifics is key. We especially like the way Axosoft handles these types of situations.