The 6 Best Accounting Tools and How to Decide
If you run a small business, then you probably need accounting tools.
Simply put, there are a lot of numbers to keep track of, and most entrepreneurs don't love this aspect of running a business. You have expenses to track, taxes to calculate, invoices to send, bills to pay, and a thousand other things to stay on top of. It can be tedious, confusing, and frustrating.
To top it all off, an accounting mistake can have significant repercussions, throwing off your finances and even landing you in trouble with the government.
All this said, it's essential that you know your numbers. The health and success of your business hinges on you knowing your financial status.
Thankfully, there are a number of accounting tools that can make your life significantly easier. In this article, we're going to look at the top accounting tools and how to decide which is right for you.
Ready? Let's dive in.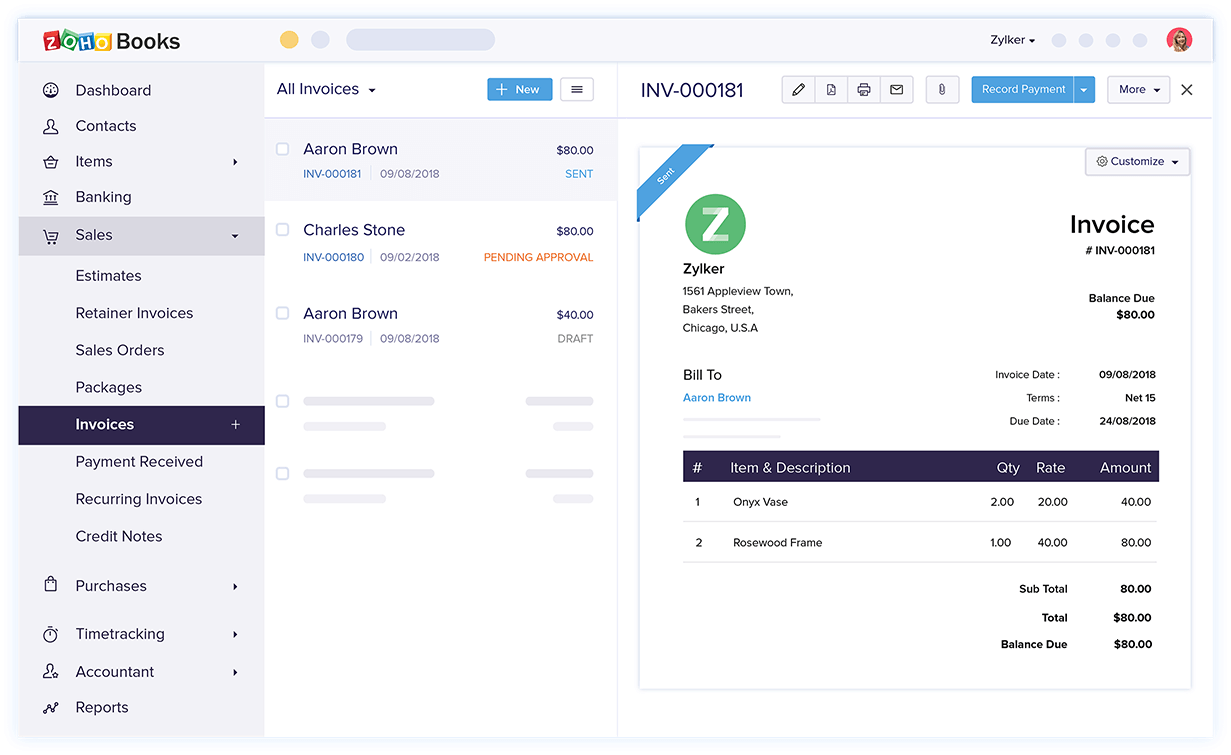 ZohoBooks is part of the larger Zoho ecosystem, which also includes CRM, inventory, project management, and email tools. It includes a bevy of features you would expect, such as invoice creation, expense management, inventory management, time tracking, bank connections, and financial reporting.
ZohoBooks seamlessly integrates with the 40+ other Zoho apps, as well as other popular apps like G Suite, Stripe, and Office 365.
Specific features include:
Easy creation of invoices and estimates
Bill creation and management
Sales tax management
Accept online payments
Easy creation of purchase orders to vendors
Workflow automation to save time
Detailed financial reporting
Customer portals
Detailed project management
And more…
Pricing starts at $9/month for up to 50 contacts and two users. From there it goes to $19/month and $29/month, with more contacts, users, and features being added at each tier.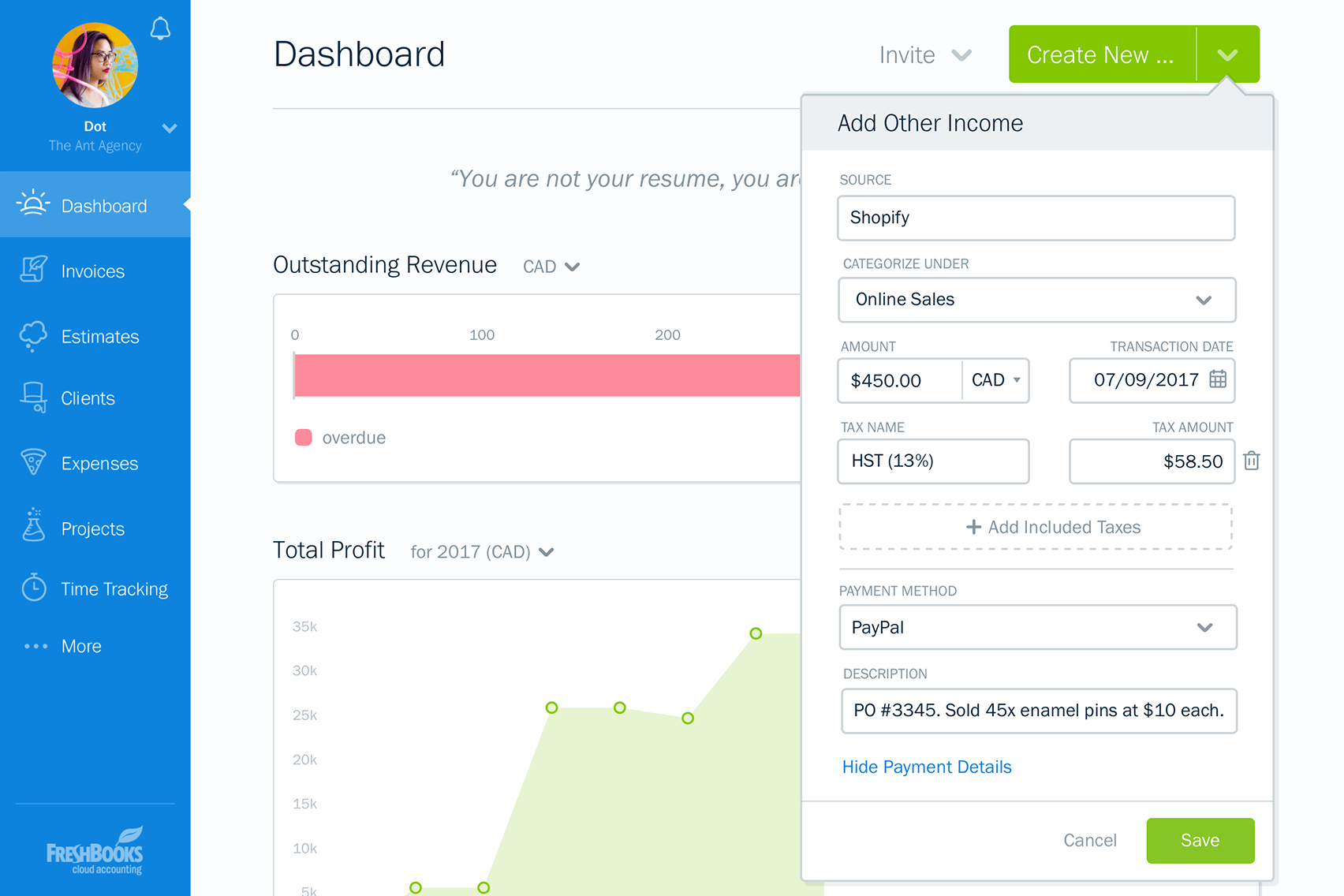 Freshbooks offers powerful, yet easy-to-use accounting tools for small business owners. Though it began primarily as an invoicing and expense tracking tool, it has evolved to include a suite of accounting features, as well as project management tools.
What's more, Freshbooks integrates with quite a few Customer Relationship Management (CRM) and customer service platforms, such as HubSpot, Shopify, and Stripe, allowing you to seamlessly transfer data back and forth. They also take great pride in their customer service, which is particularly comforting if you're intimidated by trying to get accounting software up and running.
Specific features included are:
Create professional looking invoices
Simple expense tracking
Time tracking for yourself and your team
Project collaboration tools
Accept credit card payments
Easy accounting report creation
A robust mobile app
Double-entry accounting for financial compliance
And more…
Pricing for Freshbooks is very reasonable, starting at just $6/month for up to five billable clients. Their premium pricing is only $20/month for up to 500 billable clients. If you need even more, they offer custom price plans.
They offer a free trial, or 50% off three months if you skip the trial.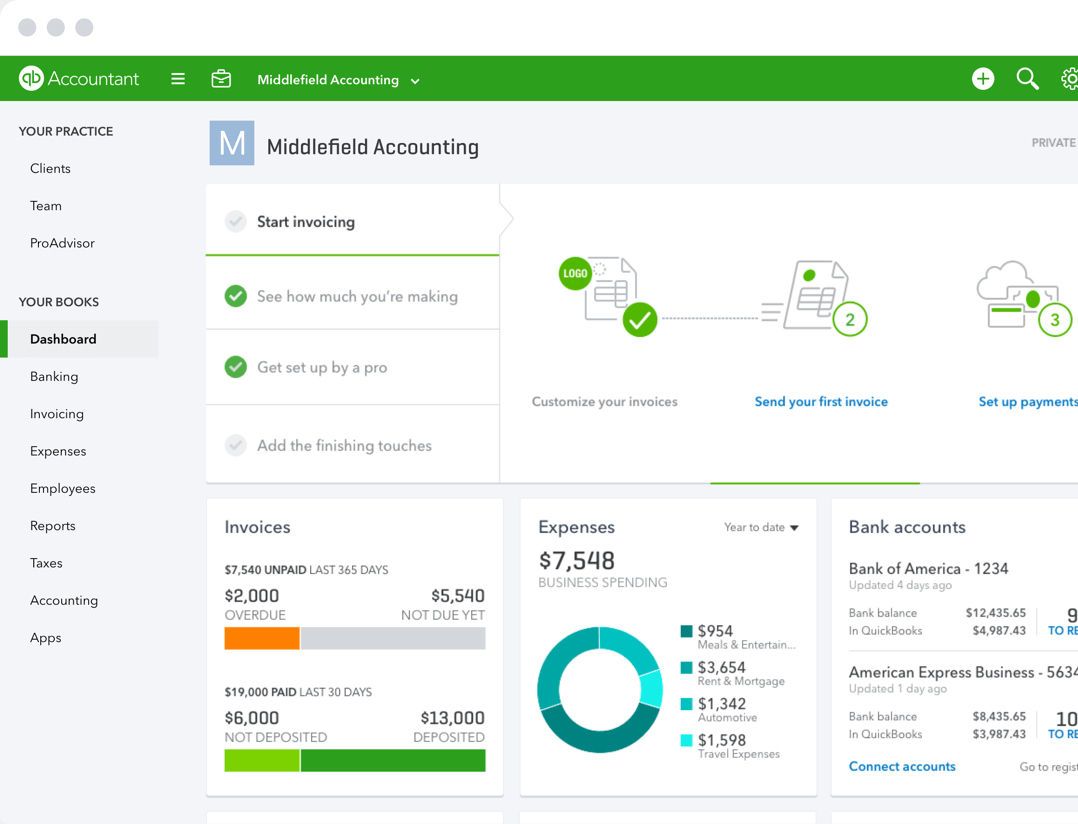 QuickBooks Online is part of Intuit (they also own TurboTax). Offering a versatile array of accounting tools, QuickBooks Online is simple enough for anyone to use, yet powerful enough to produce detailed accounting reports. If you just want to see a high-level financial overview of your business, you can easily do that. If you want to look at balance sheets, profit and loss statements, and invoicing details, you can do that as well.
It also integrates with a number of popular apps, including PayPal, Square, and Shopify.
Specific features included are:
Create professional invoices
Easily receive credit card payments
Capture and organize expenses
Track mileage
Quickly send project estimates
Manage freelance contractors
Maximize tax deductions
Track time spent on projects
Generate detailed financial reports
And more…
QuickBooks Online also offers payroll add-ons, allowing you to pay your employees and easily manage payroll taxes. If you want help setting up your books, you can schedule a session with a certified bookkeeper.
Pricing starts at $7.50/month for freelancers and $12.50/month for small teams. Payroll options start at $22.50/month plus $4/month for each employee.
A free trial for 30 days is available, or you can get 50% off three months if you skip the free trial.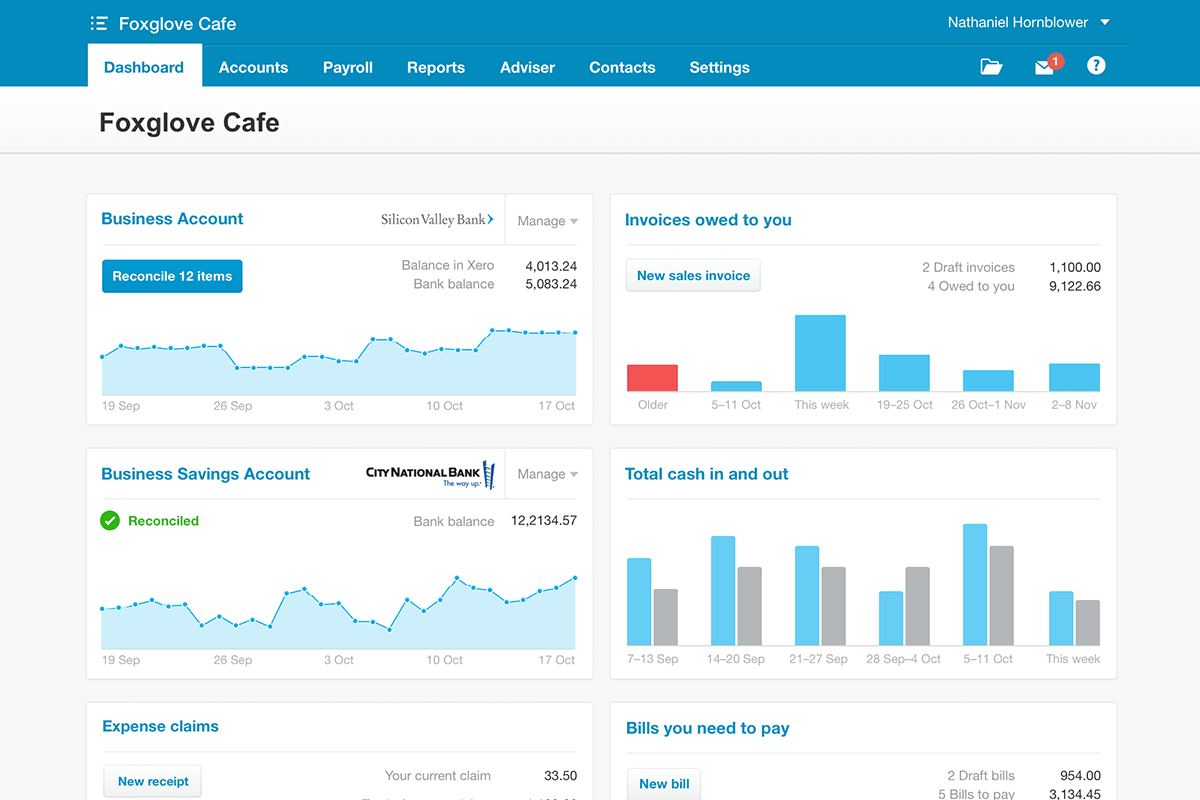 If you're considering using Freshbooks or QuickBooks Online, you should also take a look at Xero. It offers similar features, such as financial dashboards, easy reporting, the ability to accept payments, and professional quotes. It also offers the ability to run unlimited payroll with Gusto, inventory tracking, bank syncing, and time tracking.
Additionally, Xero integrates with more than 800 apps, making it incredibly easy to transfer data back and forth and keep it in sync.
Specific features include:
Easy, professional invoicing
Inventory management
Payroll management
Bank connections and reconciliation
Easy bill payment
Capture, organize, and record expenses
A robust mobile app
In-depth financial reporting
Accept credit card payments
Sales tax management
Multi-currency management
And more…
Pricing starts at just $9/month for up to five invoices, quotes, and bills. Payroll through Gusto can be added for $39/month plus $6/month per employee.
Xero offers a free, unlimited trial for $30 days with no credit card required.
If you're looking for a less expensive accounting option, you should definitely check out Wave. They offer a suite of accounting tools, with some of them being completely free. Their accounting, invoicing, and receipts solutions are free, payment processing fees are pay-per-transaction, and their payroll options are charged monthly.
They offer quite a few features at no cost, including income and expense tracking, double-entry accounting, financial reporting, invoicing, and receipt scanning. Their payment processing fees and payroll options are comparable to the options mentioned above.
Specific features include:
Unlimited bank connections
Unlimited income and expense tracking
Accept credit card payments
Accept payments in foreign currencies
Create professional invoices
Repeat billing for recurring customers
Pay contractors and generate W2s and 1099s
Automatically pay federal and state taxes (in some states)
And more…
Pricing for accounting, invoicing, and receipts really is free. Credit card processing is 2.9% + $0.30 per transaction, and bank payment processing is only 1% per transaction. Payroll services start at $20/month plus $6/month per person.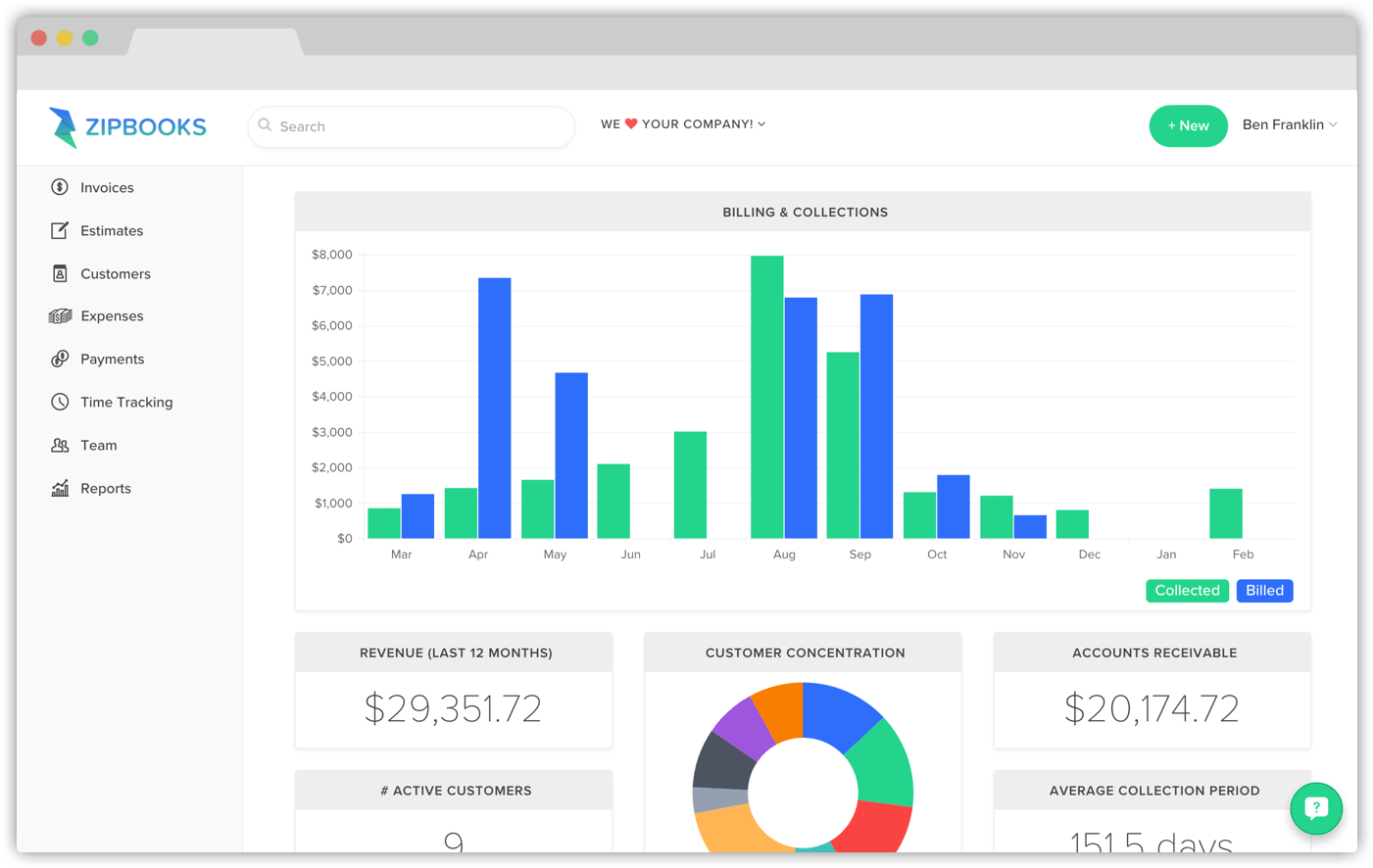 ZipBooks is another inexpensive accounting tool that makes it easy to stay on top of your finances. In addition to offering standard features like financial dashboards, easy invoice creation, and online payments, ZipBooks offers several unique features. After you get paid, ZipBooks can automatically email or text customers and ask them for a review. Additionally, the app can help identify your most profitable customers and even provide actionable insights on how to strengthen your business.
Specific features include:
Bank connect and reconciliation
Accountant access
Detailed financial reports
Easily create invoices
Accept online payments
Recurring billing
Time tracking
Customizable estimates
Capture and categorize expenses
A robust mobile app
And more…
ZipBooks has a free plan with limited features. They also offer a $15/month plan and $35/month plan which have significantly more features.
How To Pick Your Accounting Tool
As you can see, there's quite a bit of overlap when it comes to small business accounting tools. So how do you choose the one that's right for you?
Ultimately, it comes down to determining what you prioritize the most in an accounting tool. Use these factors to pick the tool that best suits your business.
Ease Of Use
In terms of ease of use, it's hard to beat Freshbooks. Designed with non-accountants in mind, it makes it easy to get your accounting and bookkeeping up and running. It also offers an easy-to-set-up retainers option, which is great if you're self-employed or working as a consultant or solo attorney.
Cost
If cost is the most important factor for you, your best bet is Wave. They provide an incredible amount of value for free and the prices for their other services are comparable to competitors.
ZipBooks does have a free plan but their features are somewhat limited compared to what Wave offers. Granted, Freshbooks and QuickBooks Online are inexpensive, but there are limits in what you can do with their cheapest plans.
Business Size
If your business is growing quite a bit, QuickBooks Online is probably your best choice. As part of the vast Intuit ecosystem, QuickBooks Online has everything you need to support your business through the growth stage without breaking the bank.
In particular, QuickBooks Online makes it easy to manage relationships with both customers and vendors. The ability to schedule a session with a certified bookkeeper is also particularly valuable for a growing business. What's more, as your business grows, you can easily upgrade to more robust Intuit products that will meet your more advanced needs.
Ecosystem
If you need a complete ecosystem of apps to run your business, ZohoBooks is a solid choice. In addition to offering accounting tools, Zoho has CRM, customer service, social media, conversion rate optimization, web design, webinar, and many other tools available.
Using ZohoBooks in conjunction with these other apps keeps everything in one, central ecosystem. Data is seamlessly passed back and forth and you can easily stay on top of every aspect of running your business.
Customer Service
If customer service is your highest priority, it's hard to beat Freshbooks. They provide phone support to all their customers with very low wait times. They also offer email support, an in-depth blog that covers multiple subjects, and a very thorough help center.
Compare this to Wave who only offers phone support to payroll and payment processing customers. Free customers must rely upon email support and their help center.
Integrations
If you prioritize integrations, Xero is the way to go. With over 800 different integrations, you can be confident that it will easily connect to the tools you're currently using in your business.
Granted, using a tool like Zapier, you can connect almost any apps together. However, this requires extra work and expertise. With Xero's native integrations, it's easy to ensure that all your data stays synced and in the right place.
Accounting Expertise
If you need regular access to accounting expertise, QuickBooks Online is your best choice. There is a large network of QuickBook experts who can help you with every aspect of bookkeeping and accounting. If you're worried about making mistakes, working with an expert can set your mind at ease and ensure that all your accounting is done properly.
Unique Business Insights
If you want unique business insights powered by machine learning, this is where ZipBooks shines. Using the millions of data points they have at their disposal, they'll provide you with a business health score and an invoice health score. These insights will help you make smarter decisions and generate more revenue.
The tool also analyzes your transactions and provides you with unique recommendations to help you optimize your business.
Payroll
If you need a payroll option, your best bet is either QuickBooks Online or Wave. Both offer reasonably priced payroll options, although Wave's pricing and features depend on which state you live in.
Mobile App
If you want the option to run your business from your phone or tablet, your best choice is either Freshbooks or QuickBooks Online. Both ofter robust, unified apps in which you can do just about anything you need to.
Compare this to Wave, which has two different mobile apps, one for invoicing and one for receipts. Customers have complained that, while the apps function okay, it's difficult having to use two different apps.