Basecamp vs. Asana – Side-By-Side Comparison
Both Basecamp and Asana are highly popular project management platforms. Both offer some significant advantages for teams, but it's important to understand how Basecamp and Asana differ when choosing the platform that's right for you. We've highlighted the most important differences between the two to help you choose the best for your business's needs.
Our Recommendation = Get Asana
While Basecamp has many benefits, Asana is the more comprehensive and versatile of the two platforms. Because of this fact, it's the right project management choice for most businesses and situations.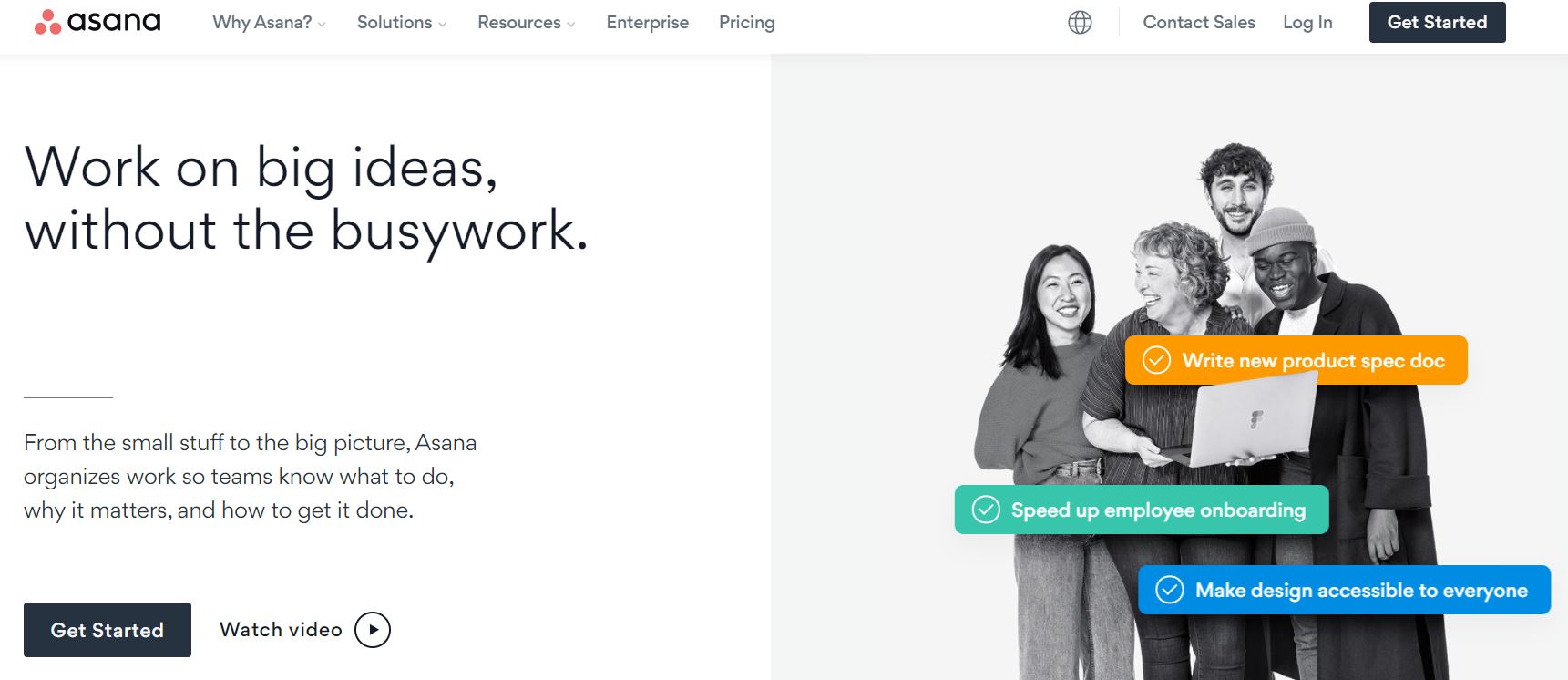 Basecamp helps facilitate communication and offers some project management features, but Asana excels in its time-saving capabilities and the amount of detail and control it gives you over every aspect of the project. With the ability to create and assign tasks and then visualize your project in multiple calendar and card views, Asana is suitable for everything from the most basic to the most complex projects.
Asana boasts several distinct benefits that can help to keep your project on schedule. Its Timeline feature lets you see every element of your project in a single view for valuable visualization and monitoring. You can set task dependencies and better understand how delays in specific tasks can have a cumulative effect on the rest of your project. This Timeline feature is one of the most valuable assets, and it's a must-have when planning and managing those complex, long-term projects.
Asana also gives you precise control over task assignments. The ability to break up a project into smaller tasks, each with its own deadline and assigned team member, makes large projects more manageable. The platform is easy to use, and you can see at a glance what's been accomplished and which team members you may need to follow up with. Excellent reporting and metrics features help you measure progress and performance, and they're ideal when providing updates to supervisors and stakeholders.
With Asana, you'll get a valuable project management tool from the start, but its many integrations with some of the most popular apps mean that you can further customize it to your needs.
If you're tackling large projects, managing multiple projects, or are managing large teams, Asana is an investment that pays off in a more accurate, detailed, and versatile project management process. It's ideal for many medium and larger businesses, and though it may be more expensive than Basecamp, its overall better performance and greater capabilities justify the cost.
When to Get Basecamp Instead
If you're looking for an affordable platform that makes for easy communication across teams, then Basecamp may be a better choice. Basecamp lacks some of the specialized features and functions of Asana, but it still has value as a task management and communication platform.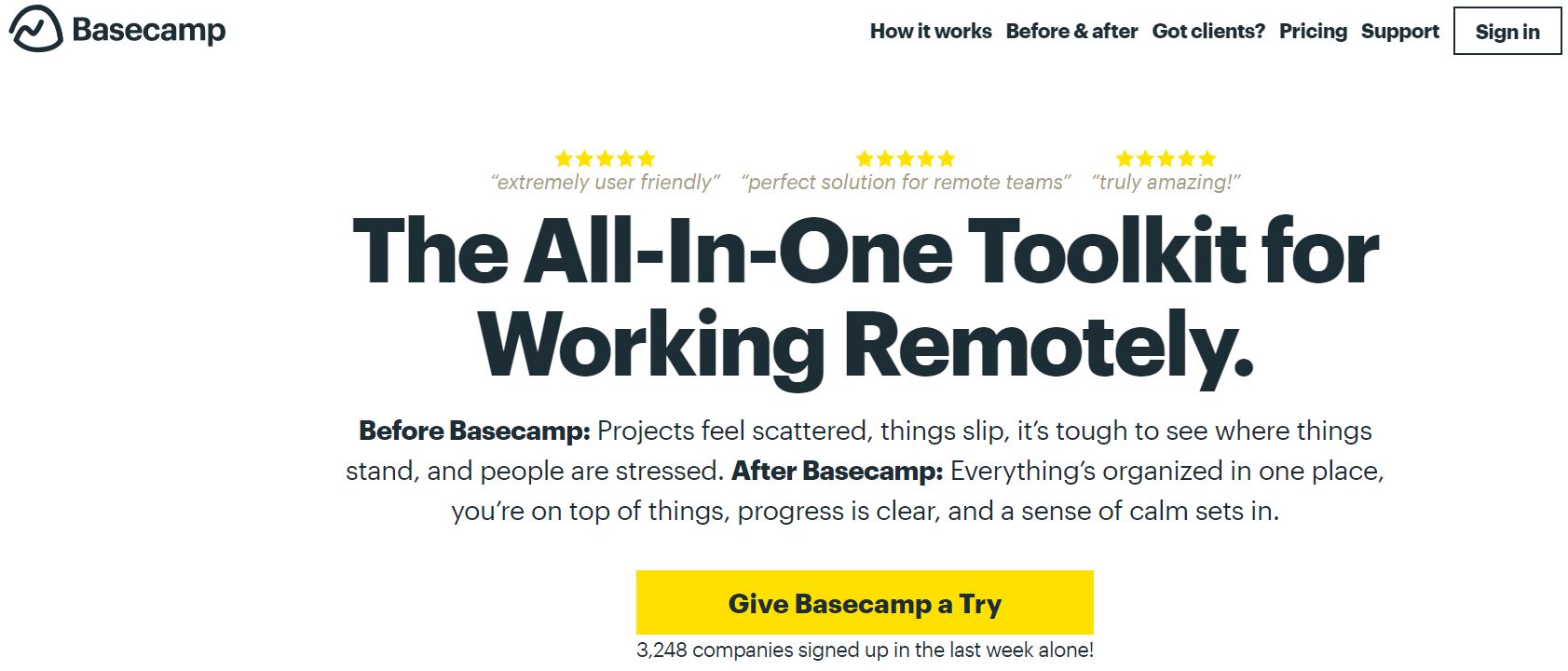 While Basecamp is a bit more basic, it can help you to assign and organize tasks. It's a solid option when you're managing multiple smaller projects, particularly those that don't have multiple stages or require complex planning and reporting.
Basecamp is a practical choice when working with freelancers or remote teams, too. Its multiple communication options can help keep remote staff engaged and updated, and its easy-to-use interface means that you can quickly get new staff or freelancers up and running.
Basecamp also offers a distinct advantage when it comes to pricing. Basecamp Business provides a flat monthly rate with unlimited users, making it ideal for larger teams, teams with many freelancers, or businesses that want to enroll multiple departments. If you're working within a tight budget but need a project management platform for a large team, Basecamp would be the preferable choice.
Pricing – Is Basecamp or Asana the Better Deal?
Basecamp and Asana both offer multiple plans, including a free option. The better deal for you will depend on how you plan to use the platform and the number of users within your business.
Basecamp Personal is a free plan ideal for individual users, freelancers, and others using the platform lightly. It includes up to three projects, 20 users, and 1 GB of storage space. Basecamp Personal lacks some of Basecamp's more appealing and valuable features, like creating team projects and using project templates. However, it's a good option for freelancers looking to get their business organized or even for a company looking to test out the platform before bringing more users aboard.
When it comes to paid plans, Basecamp is the better deal when you have a team of more than nine who will be using the platform. The Basecamp Business plan costs a flat $99 per month but includes unlimited users and unlimited projects. With the Business plan, you'll get access to all of Basecamp's features, including priority support, 500 GB of storage space, an unlimited number of clients and contractors, and access to time-saving project templates.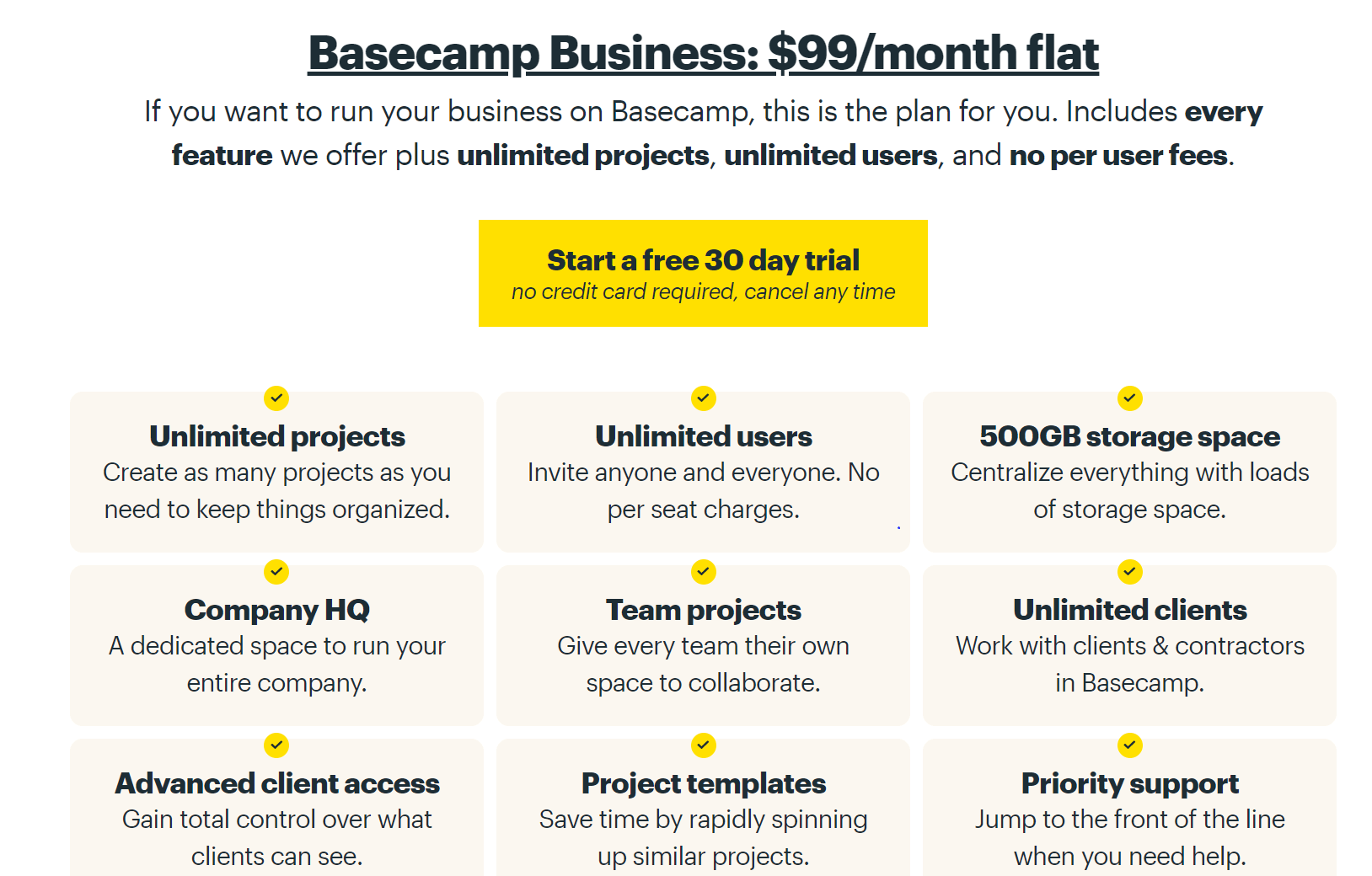 Like Basecamp, Asana also offers a Basic plan, which is free. This plan is suitable for individuals, like freelancers or anyone just starting to use project management software. This free plan is a bit more generous, features-wise, than Basecamp's free tier. It allows you to collaborate with up to 15 teammates, features unlimited tasks and projects, and offers unlimited file storage of up to 100MB per file.
Asana offers two paid plans. The Premium plan costs $10.99 per month per user, making it more affordable than Basecamp when you have a smaller team of nine or less. This Premium plan gives you more tools for project tracking, including reporting across unlimited projects, unlimited free guests, custom fields, and more.
Upgrading to the Business plan includes even more features, making the platform more versatile, but those features come at a cost. The Business plan costs $24.99 per month per user, so it can quickly exceed Basecamp's price when you have a larger team. However, the Business plan includes valuable features like custom rules builders, approvals and proofing processes, the ability to lock custom fields, and more. These tools let you customize the platform's performance to your needs and can help to save valuable time, too.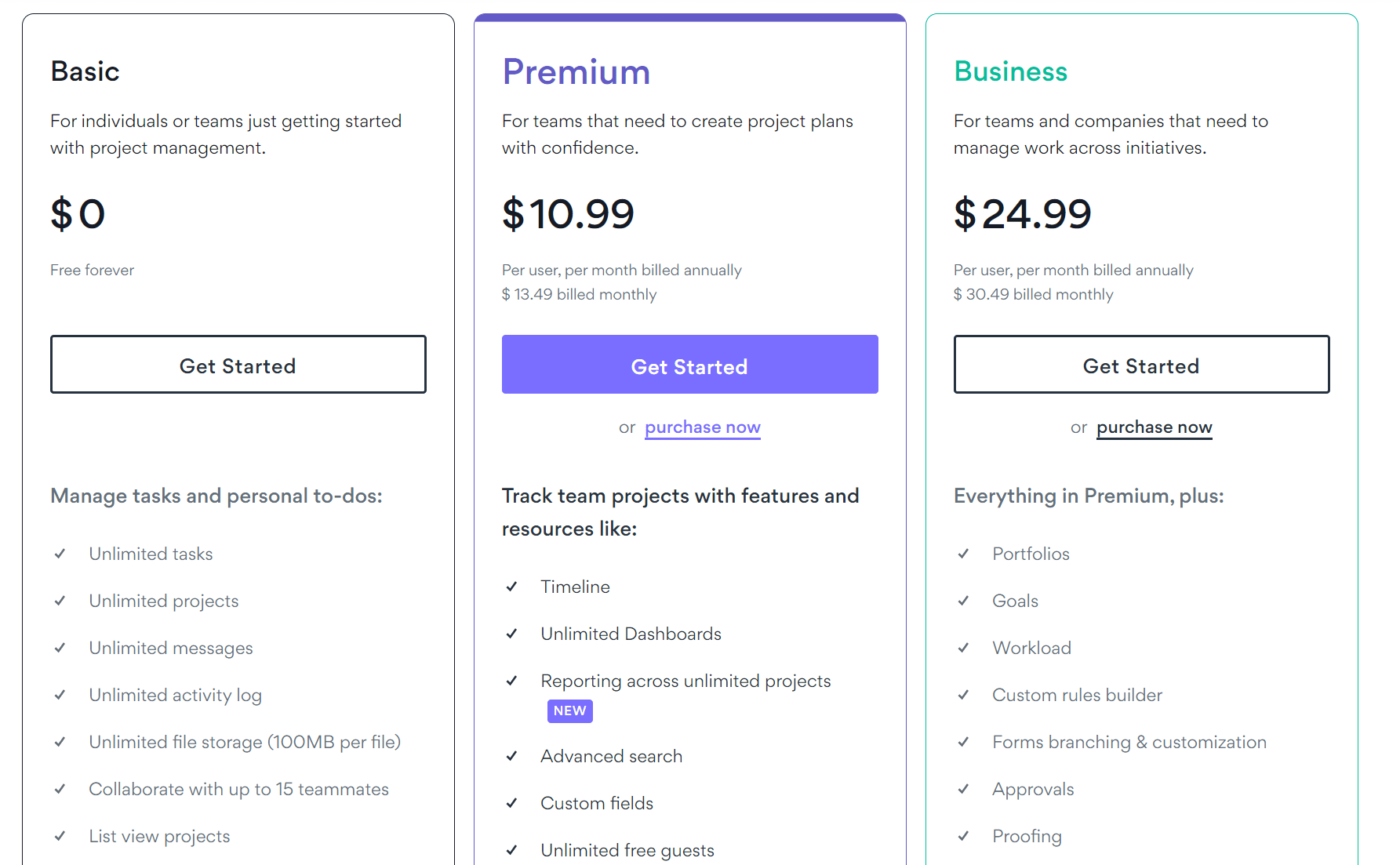 Because Asana and Basecamp offer slightly different plans, it's difficult to say which is truly the better deal. Asana's Basic plan is more robust than Basecamp's Personal plan. Asana's Premium plan is more affordable for smaller teams if you're exploring paid options, but once you get above nine people, Basecamp becomes the more affordable option. The features do differ between Basecamp and Asana, so make sure you choose the plan that's truly best for your needs to get the best value.
Task Management
Winner = Asana
Asana is the clear winner when it comes to task management. Asana allows you to map out every stage and task involved in a project, and you can then assign each task to a team member, complete with a deadline. This creates a nuanced look at the work and milestones involved with a project.
Asana board projects keep this information well-organized, and they create a visual reference for these tasks. Automation and approval processes can help to save both you and your team time, making for a more efficient workflow and ensuring your projects continue to move forward smoothly.
You can also use Asana's Timeline feature to map out your project visually. The Timeline allows you to set up task dependencies and deadlines, so you can understand how all of the inner workings connect. As deadlines shift, you can modify the Timeline to reflect your updated plan and keep all of your team members updated.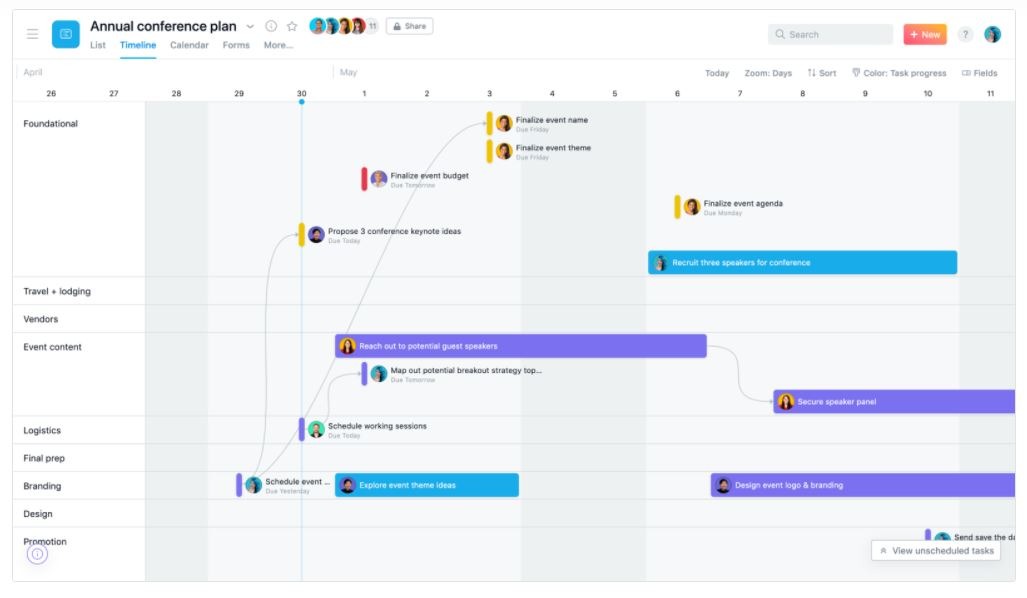 Asana's Universal Insight feature provides real-time reporting that can help you stay on track of projects and monitor their progress. This detailed reporting means you can identify problems and take early action to ensure you don't miss deadlines.
With this reporting, you can view data across teams and departments without any manual updating. Fully customizable charts and dashboards mean you can tailor them to your needs, and you can also download the charts for presentations, recordkeeping, and other purposes.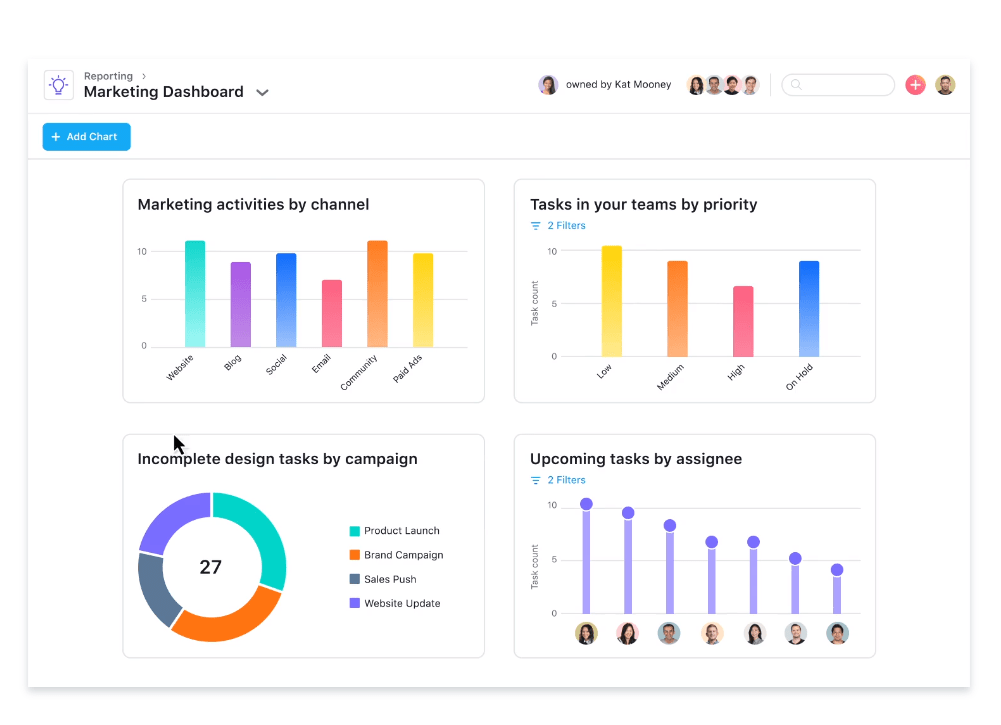 Basecamp's task management capabilities sorely lack in comparison. Basecamp features a checklist and calendar feature, but its task management capabilities end there unless you add on integrations. There's no option to create task dependencies, responsive project overviews, or even to access detailed reporting. Seeing as you could get the same calendar and checklist functionality with basic apps, Basecamp falls short as a task management tool.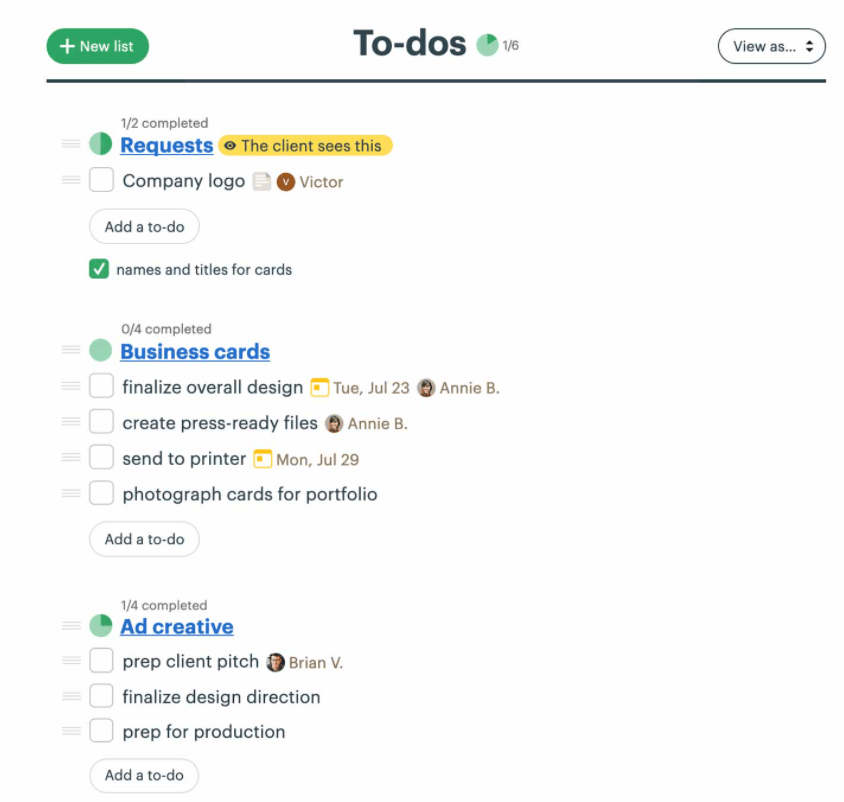 Communication Capabilities
Winner = Basecamp
Basecamp wins when it comes to communication, thanks to its multiple communication options. With Basecamp's Message Boards, conversations stay organized and easy to reference and retrieve. For more instantaneous responses, Basecamp's Campfires is a real-time group chat. Because this chat is located within the platform, team members don't have to jump into another window or platform to get time-sensitive answers.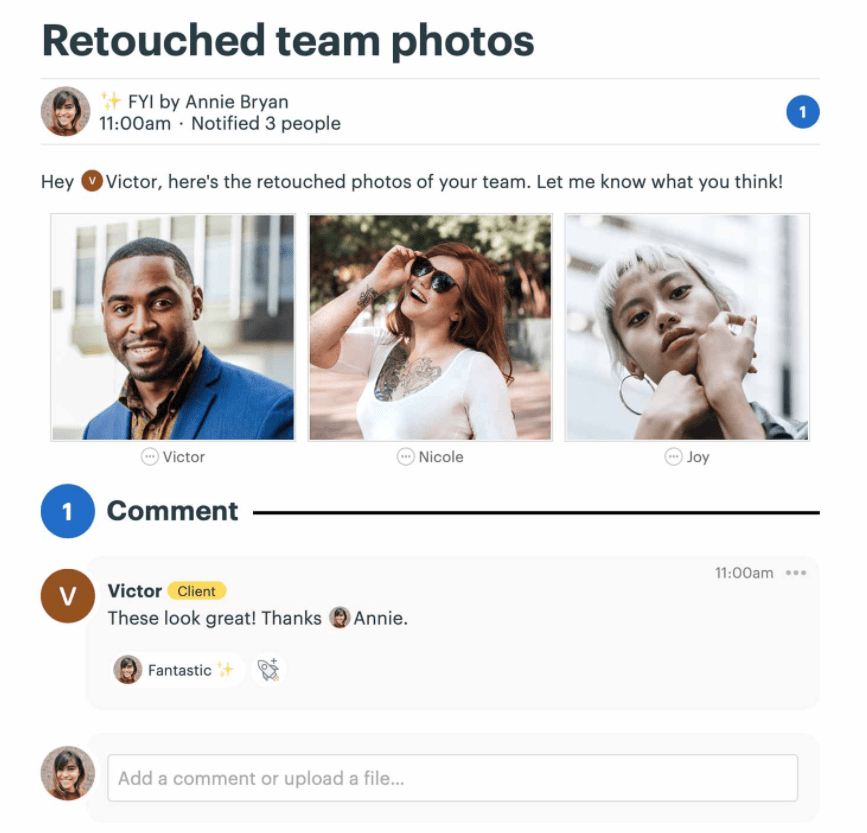 Basecamp also offers automatic check-ins that help to facilitate communication with your team. With these check-ins, you can ask for updates or other relevant information regularly. This saves project managers time while also keeping the team communicating smoothly and regularly.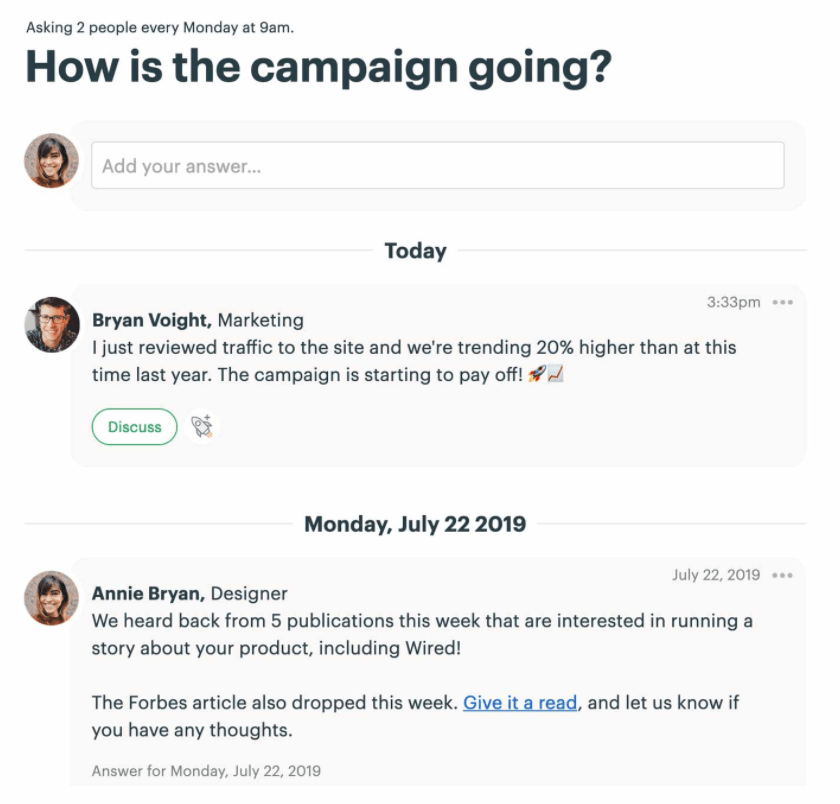 Asana does offer some communication features, but not to the extent that Basecamp does. Asana features a messaging feature, as well as the ability to make comments on tasks. Basecamp's communication options are much more versatile, and they offer time-saving benefits by keeping team members focused and working within the platform.
Integrations
Winner = Asana
Both Asana and Basecamp integrate with many of your most-used apps. However, Asana wins in this category because it offers more app integrations than Basecamp.



Integrations span the time tracking and invoicing, reporting and planning, software development, customer service industries, and more with both platforms. These integrations enhance the versatility of each tool, letting you tailor it to your particular needs.
While integrations are always beneficial, it's important to remember that Asana offers greater versatility and functionality before any integrations than Basecamp does. With Basecamp's limited project management capabilities, you really need to add on integrations to make it a valuable project management tool. That fact, paired with Asana's more extensive integration list, makes Asana our top pick.
Ease of Use
Winner = Asana
When it comes to learning and using the platforms, Asana wins out for several reasons. Asana's online guides and tutorials are more comprehensive than Basecamp's, making it easier for you to get up and running.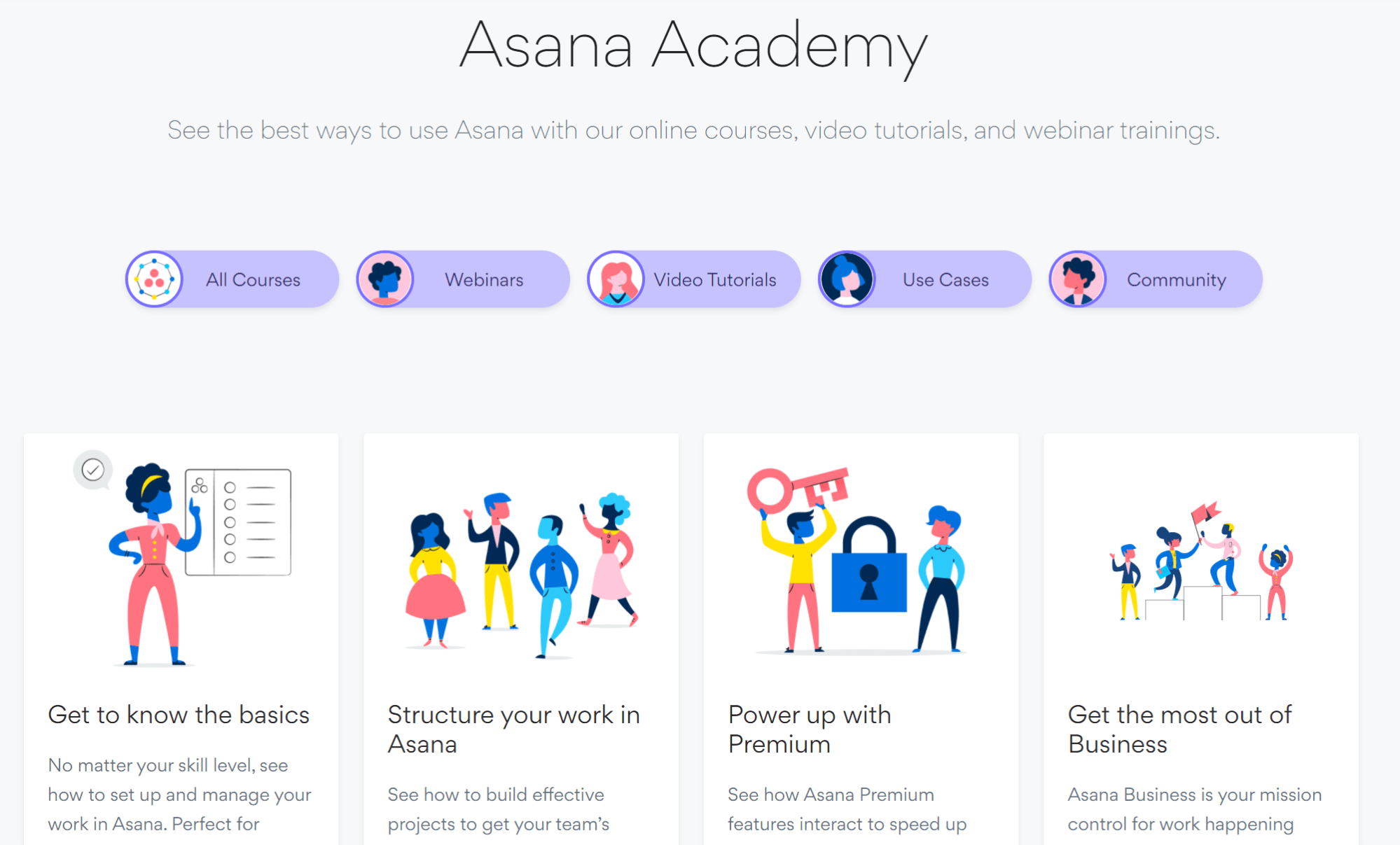 If you need additional help with the onboarding process, Asana's customer success services team can assist with onboarding, provide consulting sessions and on-site training, and offer coaching calls to help you get the platform running at its best for your business.
Both platforms are relatively easy to use, but Asana wins out because it's slightly more intuitive. With different board and calendar views, you can customize Asana to work for you. Asana also makes excellent use of colors to help guide you through the platform. This means that project managers and teams can quickly learn the platform.
Basecamp is also easy to learn, but it lacks some of the customizable views and the intuitive feel that Asana offers. If you're looking for a highly user-friendly platform, then Asana is our top pick.
Support
Winner = Basecamp
Both Basecamp and Asana offer similar support, plus guides and online tutorials. Basecamp wins in the support department because support is included with all plans. With Asana, you'll need to upgrade to its Premium plan to get priority support and a faster response time.
Asana Support
To contact Asana support, you'll need to use the online support request form. Asana hasn't provided a phone number for help, meaning it can take longer to get answers to your questions.
Asana does offer many other help-related resources. The Asana Academy provides training, webinars, and online courses to help you learn the platform's basics. Asana also offers developer-specific information and a forum where you can connect with Asana experts who can help answer questions.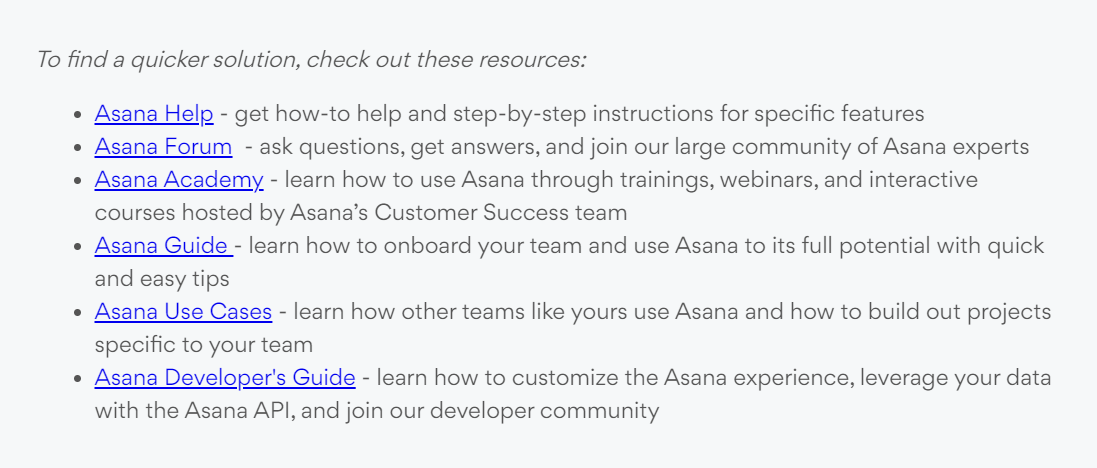 Basecamp Support
Like Asana, Basecamp's support is accessible through an online form. Basecamp does provide estimated response times, which is reported to be about 20 minutes at the writing of this article. Basecamp's support department operates from 8:00 am to 6:30 pm, Central Time, Monday through Friday for all tiers of subscribers.
Basecamp also offers tutorials and help guides that cover some of the most common topics and questions.