Asana and Wrike are among the two most popular project management software options. They both deliver excellent results for teams that need to collaborate on and monitor complex projects.
These two packages may have similar features, but they have different audiences. Asana works better for those who want simplicity in their project management software packages. Wrike has a number of add-on features that help it deal with highly complex projects.
Our Recommendation = Get Asana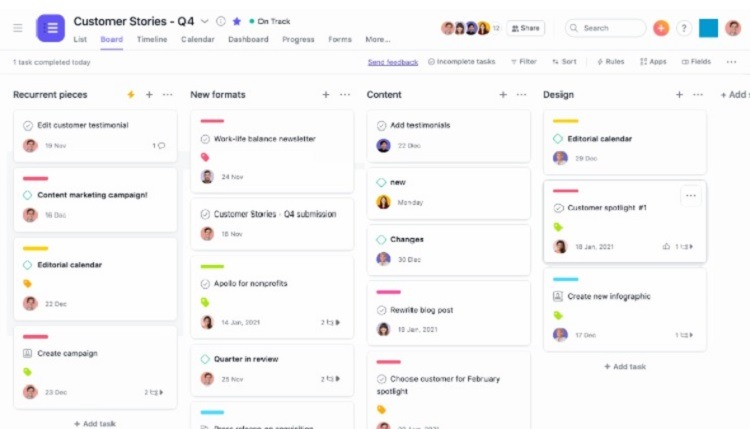 For the majority of organizations, Asana will be a better option than Wrike. Asana's biggest advantage in this Asana versus Wrike comparison is its ease of use. Teams will be up and running when using Asana in very little time.
Asana focuses on helping teams and businesses keep track of the tasks required to complete a project. It doesn't add many other extra features that go beyond the basics of project management. This simplifies the process of using Asana.
Because it keeps all conversations and information about the project contained within Asana, it's ideal for project management. Team members don't have to search through emails or refer back to notes from telephone calls to find a key piece of information. Having a built-in messaging option within Asana gives it an edge versus Wrike.
Within each task card that's part of the project in Asana, team members can add a wide range of information, including:
Due dates
Assignees
Comments
Links to informational websites
Documents
Video files
Image files
Even though Asana has a basic interface, it still provides enough flexibility and customization options to fit some non-standard situations. Teams can use integrations with other software and apps to seamlessly add features to Asana as well.
When to Get Wrike Instead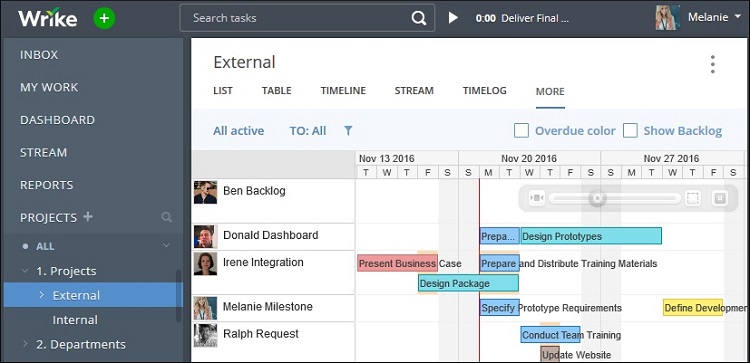 Wrike has similar features to Asana. It works very well for teams seeking to track and manage projects. Like Asana, team members can collaborate on each task of a project.
For teams that want the ability to track tasks and projects with a bit more complexity than what Asana offers, Wrike is a strong option. It offers multiple customization features inside the majority of its pricing tiers. And it offers a series of add-on components (for an extra cost) that deliver even more features for the team that needs them.
It has separate designs for marketing teams and creative teams that help them handle specific needs they have. These types of projects sometimes have a bit of extra complexity, which means these teams may prefer Wrike.
As another advantage, Wrike has two advanced pricing tiers, compared to one for Asana. This again points to the ability to customize Wrike to perfectly meet the needs of the team.
Pricing – Is Asana or Wrike the Better Deal?
Winner = Asana
Both Asana and Wrike have similar price points, but Asana's pricing tiers are a little easier to understand. Wrike's ability to solve complex project management issues for teams leads to some confusion about its pricing structure.
In the free version of both software packages, Wrike has an advantage, as it has no user limit. Asana has a 15-person limit.
In the middle-tier pay versions, though, Asana has the advantage for large organizations. Wrike places a 200-person limit in these tiers, while Asana has no user limit.
Additionally, Wrike bills teams in five-person increments, which means if a team has 31 users, Wrike charges the team for 35 users. Consequently, Wrike subscribers may pay a bit more than they'd expect with Wrike. Asana bills teams in one-person increments. This pricing model gives Asana a slight edge in this category.
Finally, Asana offers a 30-day trial period for those who sign up for a paid tier, while Wrike only provides a 14-day free trial.
Asana Pricing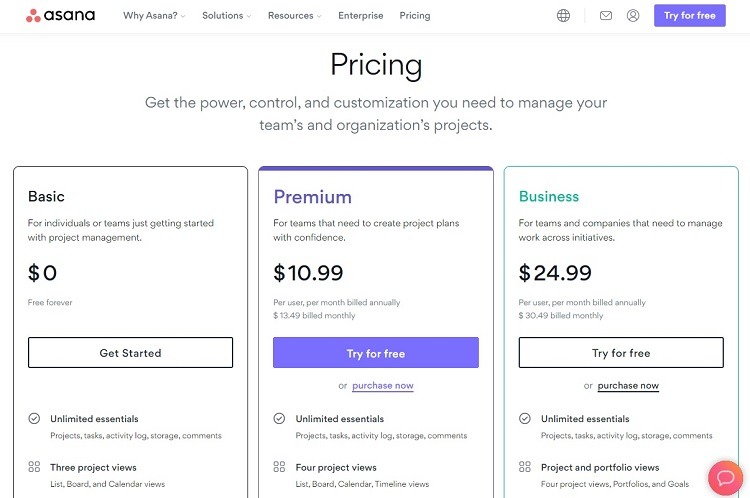 Asana offers three pay tiers and one free tier for customers. For its Premium and Business tiers, customers can try the software during a 30-day free trial period.
Basic: The Basic tier is free to use indefinitely, rather than being a free trial period. However, organizations will have a limit of 15 people on the account. Asana does not place limits on the number of projects an organization can create in the Basic tier.
Premium: Organizations selecting the Premium tier of Asana will pay $10.99 per user per month when billed annually. This tier has the same features as the Basic tier, but it improves on the Basic account's security and reporting features. It has no limit on the number of users on the account.
Business: The cost for the Business tier is $24.99 per user per month billed annually. It includes the same features as the Premium tier while providing additional view options. It also delivers significantly more options for creating reports.
Enterprise: On the Enterprise tier, organizations receive advanced security options and more options for using customer service. Potential customers will need to contact Asana for a pricing quote.
Wrike Pricing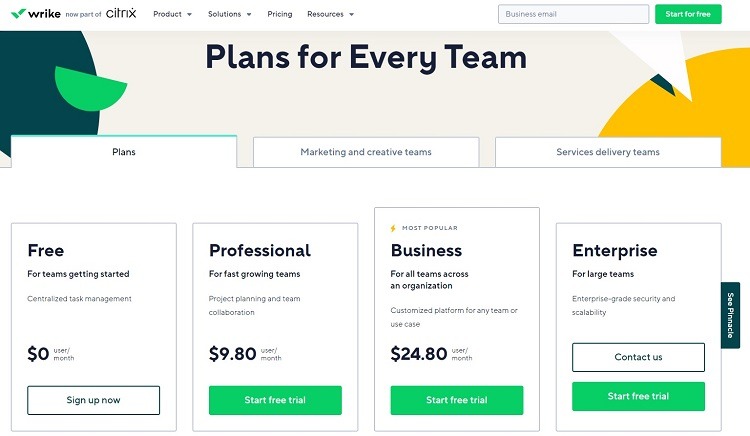 Wrike offers several different plans for organizations, making it easier to find just the right features for each team. Wrike offers 14-day free trial options for all of the paid versions of the software.
Free: The Free tier in Wrike has no trial period and remains free to use indefinitely. It does not place a limit on the number of users on the account. Subscribers have up to 2 GB of total storage on the free Wrike account. Wrike integrates with the most popular cloud storage accounts, which simplifies file storage.
Professional: Wrike's Professional tier has a cost of $9.80 per user per month. It requires at least five users on the account, and it limits organizations to a maximum of 200 users. It includes the same features as the Free tier and offers integrations with productivity apps, such as Excel. It allows up to 2 GB of storage per user. It has built-in Gantt charts.
Business: Subscribers to the Business tier will pay $24.80 per user per month. Subscribers to the Business tier must pay on an annual basis. Organizations must have between 5 and 200 users on the Business tier account. It integrates with all of the same apps as the Professional tier, plus a Salesforce integration and up to 5 GB of storage per user.
Enterprise: Those who want more than 200 users on the account will need to consider the Enterprise tier, which has no user limit. It offers the same features as the Business tier, along with advanced security features and administrative features. It provides up to 10 GB of storage per user. Contact Wrike for a custom price quote.
Pinnacle: The Pinnacle tier provides the same features as the Enterprise tier, plus the ability to track budgets, track billable hours, and manage bookings. It has no limit on the number of users. It offers up to 15 GB of storage per user. Customers must contact Wrike for a price quote.
Wrike also offers a few packages for an add-on cost that provides customized integrations, customized automation, marketing insights, and advanced data encryption.
Project Management
Winner = Asana
Asana's simple interface, which allows users to be up and running in very little time, gives it a slight edge in the area of project management. Teams seeking the basics in project management will appreciate Asana, which delivers these basics a little bit better than Wrike.
However, Wrike certainly has strengths in its project management features. It delivers excellent results for those who need complex project management tracking and reports. It will pay dividends for those teams that have the time to invest in learning how to use Wrike's features.
Asana Project Management Features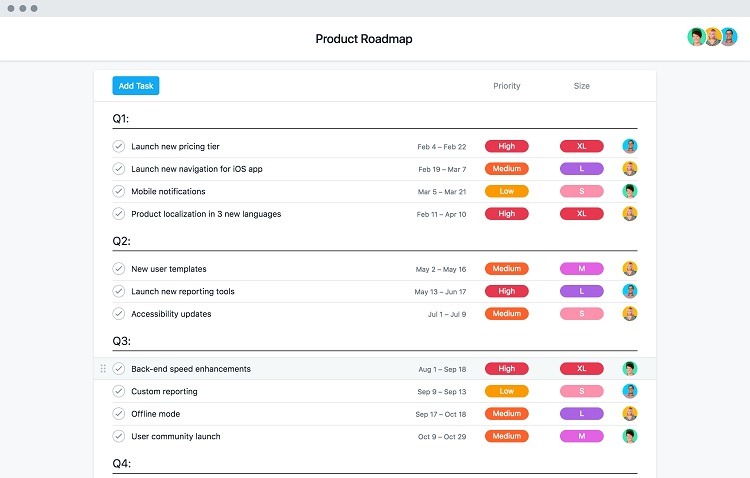 The Asana interface looks great, but it also delivers most features teams need to track their tasks and projects. Asana's features are easy to learn to use as well.
Team members will create cards in the Asana software that contain each task and all of the information required to complete the task.
They can collaborate on any of the tasks with fellow team members. This allows all discussions about the task and project to remain on an Asana card rather than lost in a long email chain.
Asana offers multiple ways to view the cards, allowing teams to digest the information about the project in the most useful way possible. A Kanban board view makes it easy to see the progression of the task cards toward completion. A calendar board view allows team members to stay on top of upcoming deadlines.
Wrike Project Management Features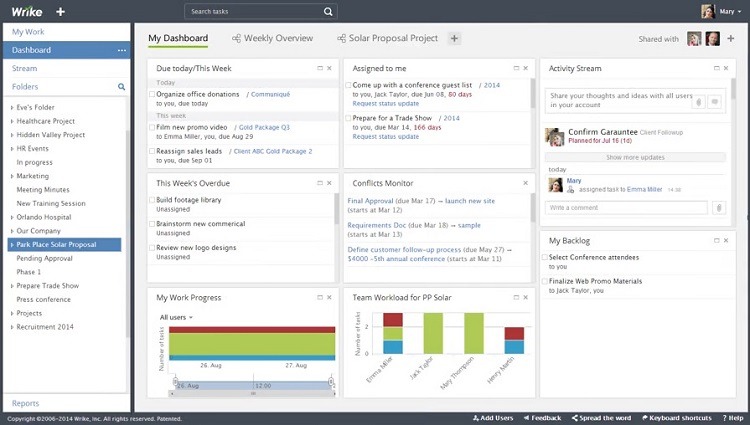 Wrike gives team members the ability to manage and collaborate on projects, just like Asana. However, its interface isn't as intuitive as Asana's interface.
Where Wrike outperforms Asana in project management features is in the complexity it offers. For example, when a project requires stages to show progress, Wrike gives teams the ability to create custom stages that meet the project's exact needs.
Teams can pick among multiple project view options when using Wrike, just like with Asana. One of Wrike's most popular views is the Gantt chart view. Gantt charts allow you to see how tasks relate to each other and how they fit into the overall project timeline. This view isn't available in all project management software packages, but Wrike emphasizes it.
Integrations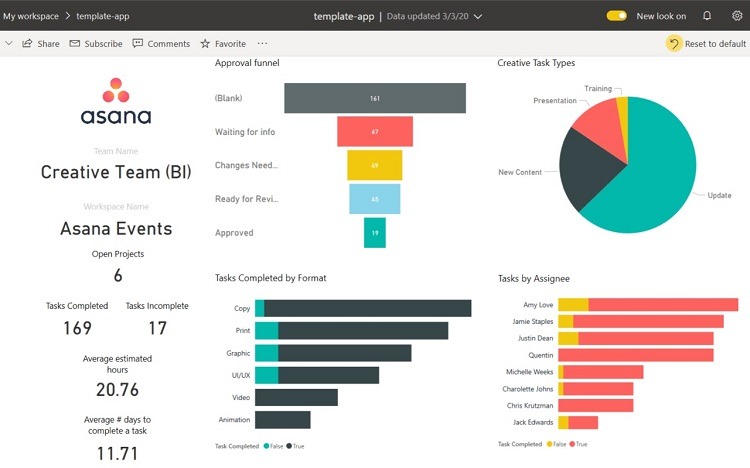 Winner = Draw
Organizations can make both Wrike and Asana more useful through the use of integrations with third-party apps. The integrations simplify the process of sharing data between Wrike or Asana and other apps the organization already uses.
Both Asana and Wrike provide integrations with popular apps, delivering several dozen integration options. Some of the most common integrations that both software packages offer include:
Adobe Creative Cloud
Box
Dropbox
Gmail
Google Drive
Microsoft Office 365
Microsoft Teams
Salesforce
Slack
Tableau
With Wrike and Asana, organizations will receive many basic integrations in the free tier, but they will have to subscribe to a paid plan to receive the most integrations. The Salesforce integration is only available in the Business tier in both Asana and Wrike, for example.
Reports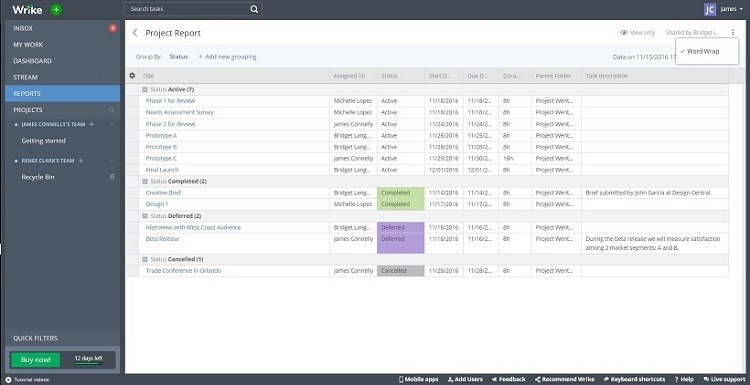 Winner = Wrike
One of Wrike's strongest features and most significant advantages over Asana is its ability to create detailed reports. These reports provide a quick overview of the progress of the project. These reports can be invaluable for administrators looking for information on why some tasks are falling behind.
With the information in hand, administrators can see which team members have too many tasks. They then can adjust due dates or pass off some tasks to less busy team members, keeping the overall project on track.
Wrike's versatile reports will allow organizations to take a shallow look at the project, studying only the most basic information. Or Wrike's reports can drill down to specific details on key aspects of the project, taking advantage of Wrike's ability to handle project complexity.
In the Wrike Business tier, administrators can use timesheets and time tracking reports, making it easy to calculate billable hours.
Asana does not have budgeting features or time tracking features built into it for report generation. It also cannot go as far in depth with its reports as Wrike can. Asana users can deploy some integrations with third-party apps to achieve some of these features. But it's far easier to have the reporting functions built into the software, as with Wrike.
Templates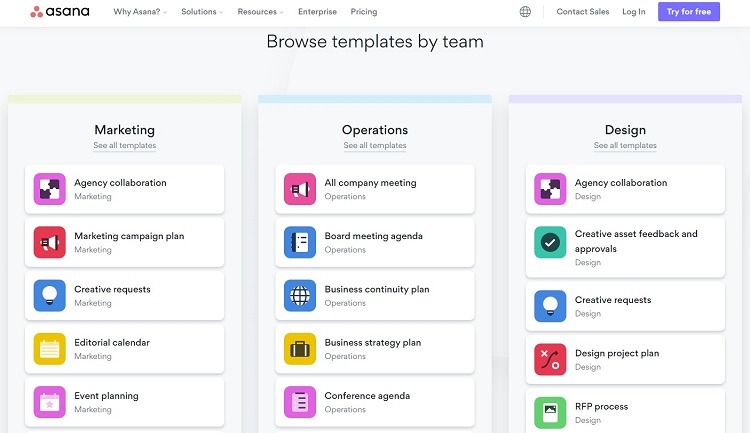 Winner = Draw
Wrike and Asana both have dozens of templates available. Think of these like a pre-built project board that has some information pre-filled for the team, saving time building out the project.
Both software packages have specific and general-use templates that can fit many different project types. Finding just the right template is an easy process, as both tools have a searchable template list.
Teams that want to create custom templates to meet specific types of projects can do this with both Wrike and Asana. Teams then can save their custom templates for use on projects in the future.
Automation and Rules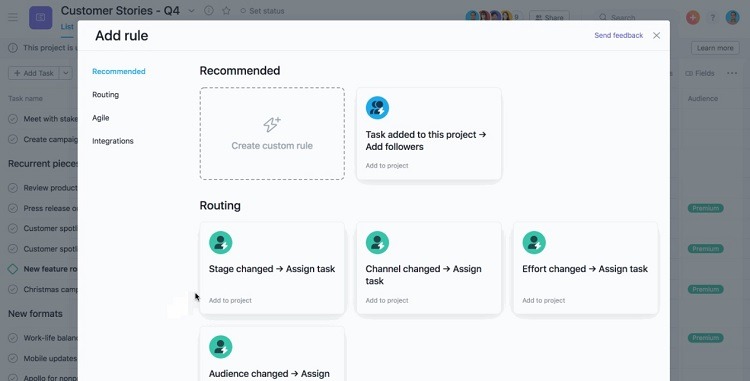 Winner = Asana
Setting up automation for tasks simplifies the process of using project management software. With automation, administrators can tell the software to perform a task when a specific event happens. This simplifies using the software, as team members can focus on completing the tasks rather than on the busywork required to adjust and set up the task cards.
Both Asana and Wrike offer advanced automation tools that greatly simplify using the software.
As an example, Asana allows teams to set up rules that automatically assign specific types of tasks to a particular team member based on the category for the task. When someone creates a card, Asana also can set up automatic due dates based on the overall project timeline. Wrike has a similar ability to create rules to handle automation.
However, Asana receives a slight advantage here because its automation features are available in its Premier pricing tier or higher. This is the lower of Asana's two mid-priced tiers.
For Wrike, users would have to subscribe to the Business tier or higher to access automation. The Business tier is the higher of Wrike's two mid-priced tiers.
Mobile App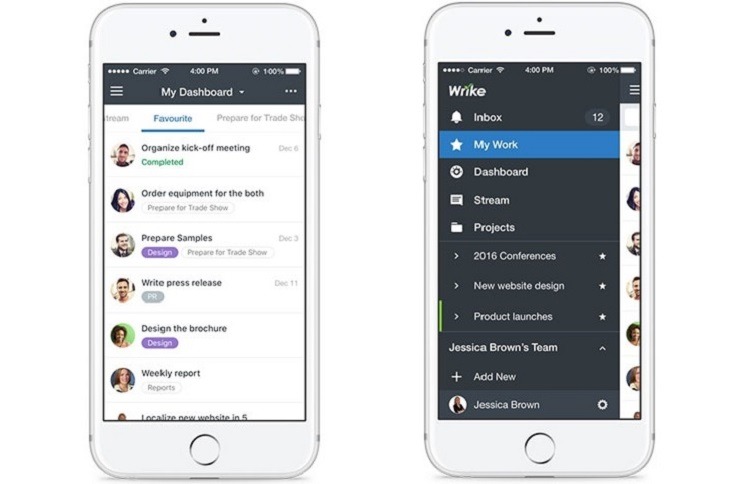 Winner = Draw
Both Asana and Wrike represent cloud-based software. They both operate from an app that runs inside a web browser when working from a desktop or laptop computer.
The two tools also have strong mobile versions available that will run on smartphones or tablets. Wrike and Asana both offer iOS and Android versions of their mobile apps that provide access to most of the features in the browser version. Both mobile apps are easy to use and very convenient.