Both Asana and Smartsheet are world-class SaaS products for project management, task management, productivity, and collaboration.
They offer numerous work management features that allow teams to manage, process, and track their workflows and get things done more efficiently.
But which product is more suitable for your business?
We'll answer this question by comparing the key features, benefits, and pricing of Asana and Smartsheet in this detailed article.
Let's dive in.
Our Recommendation = Get Asana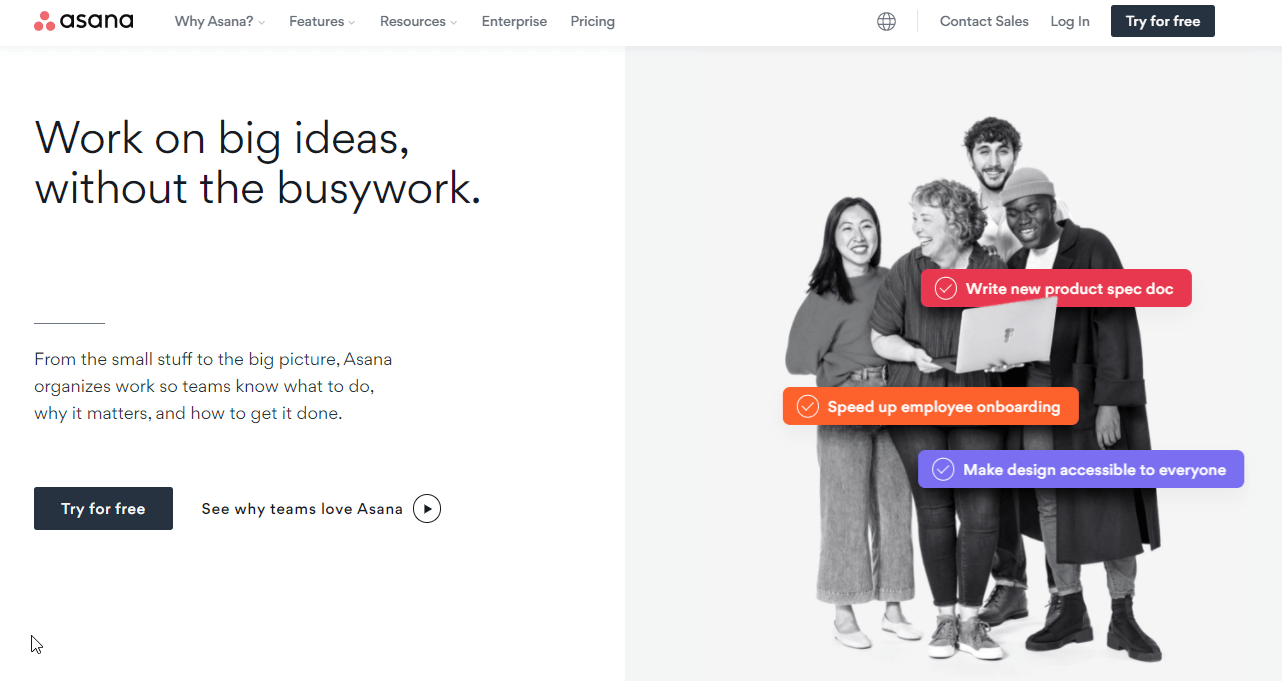 Asana is among the world's most popular project management SaaS products and we recommend it for most businesses.
Asana's ideal clients are small businesses, remote project teams, agile software development companies, and fast-paced startups where stakeholders are used to wearing multiple hats simultaneously.
Both Smartsheet and Asana are similar products, but we prefer Asana for various reasons.
Asana Is More User-Friendly
Asana's user experience and interface are among its biggest strengths and advantages over Smartsheet. It has a modern and attractive interface where all the essential options and features are clearly listed.
Its onboarding process is also much superior to Smartsheet's. When you sign up for an Asana account, it gathers all the basic information about your business goals and helps you quickly get started with the best project management approach.
Asana Is Designed For Modern Project Teams
Asana is designed for modern and fast-paced project teams that are focused on getting things done efficiently. It offers a wide range of project templates for various use cases to help you hit the ground running.
It also offers various project views like list, board, calendar, and timeline to help you view your projects from multiple perspectives and present them effectively to your team and other stakeholders.
Asana Allows Better Communication
Asana is designed to streamline communication, counter uncertainty, and help teams get things done faster through instant connectivity.
It offers various communication tools and features for instant chat, announcements, discussions, and feedback on tasks.
Moreover, it provides a central platform where remote teams can easily collaborate without compromising project quality and efficiently meeting deadlines.
Asana Is Fully Customizable
Asana is commonly used by agile software development teams and tech companies. However, it offers tools and capabilities to help any type of business bring more transparency to their processes and get things done more efficiently.
It offers workflows for various non-technical business functions such as marketing, finance, HR, sales, etc. It also allows you to fully customize workflows according to your business needs and processes.
This is why Asana is ideal for any size and type of business.
When to Get Smartsheet Instead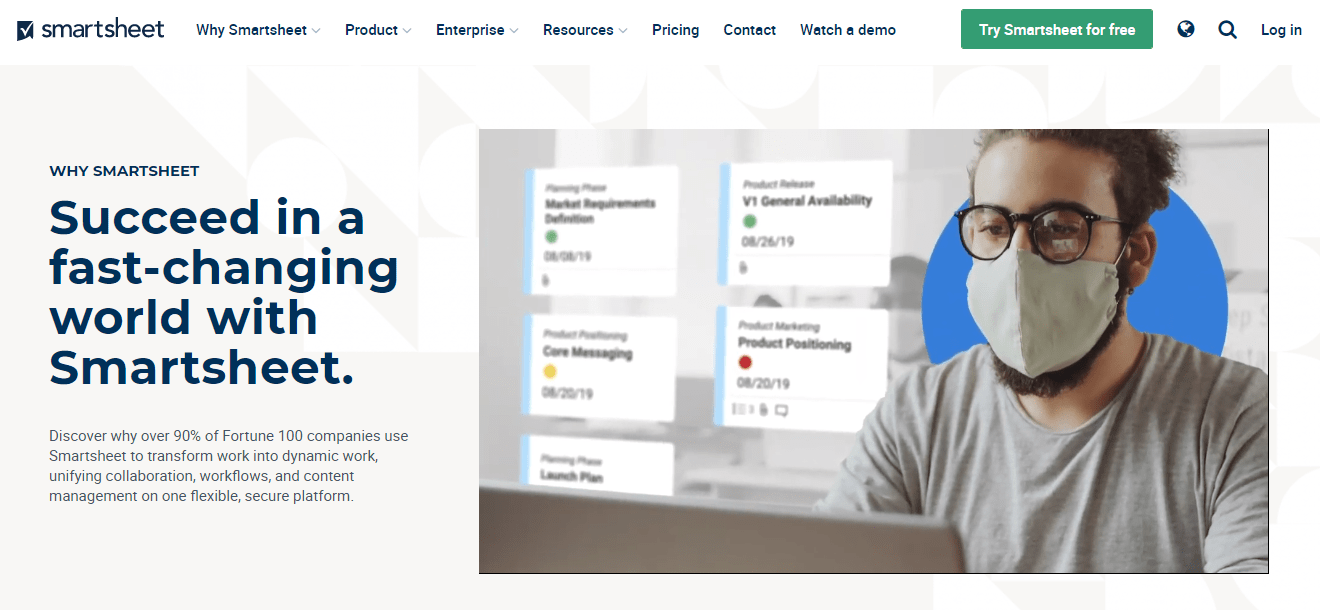 Smartsheet is a robust enterprise platform for dynamic work that aligns people and technology. It offers a tabular interface for project management, task management, collaboration, and work management.
Smartsheet can be an excellent choice for companies where teams rely on Excel or Google sheets for most of their project management tasks. For such companies, moving to Smartsheet would feel like a natural transition.
However, Smartsheet is a much more powerful tool than Google Sheets because of its advanced project management, tracking, and collaboration features.
Apart from its default tabular interface, Smartsheet also offers a board view and calendar view for managing projects and tasks.
Moreover, Smartsheet is a no-code platform designed for both technical and non-technical teams. It allows users to create solutions backed by powerful tools that anyone can use. So if you need a platform your team can start using without a hefty coding backend or steep learning curve, Smartsheet might be a solid choice for you.
This is why some of the world's biggest companies, including many Fortune 500 companies, trust Smartsheet for managing everything from projects, tasks, operations, and communication with in-house and remote teams.
It also integrates with all the popular business and work management apps, allowing it to easily gel with your existing work environment.
In short, Smartsheet offers many of the same features as Asana and is indeed a powerful application. However, Asana provides a better user interface, more robust project management features, and more accessible collaboration capabilities.
Pricing – Is Asana or Smartsheet the Better Deal?
We've discussed some general strengths and weaknesses of Asana and Smartsheet so far.
To put things into perspective, let's analyze their pricing plans to evaluate the value they offer for your money.
Asana Pricing, Free Plan, And Trial
Asana is a flexible project management tool that's suitable for businesses of all sizes and types. And this flexibility reflects in its pricing as well.
Asana offers three different pricing plans for various types of businesses. It is one of the few project management SaaS products that offer a free plan.
Here's what Asana's subscription plans cost.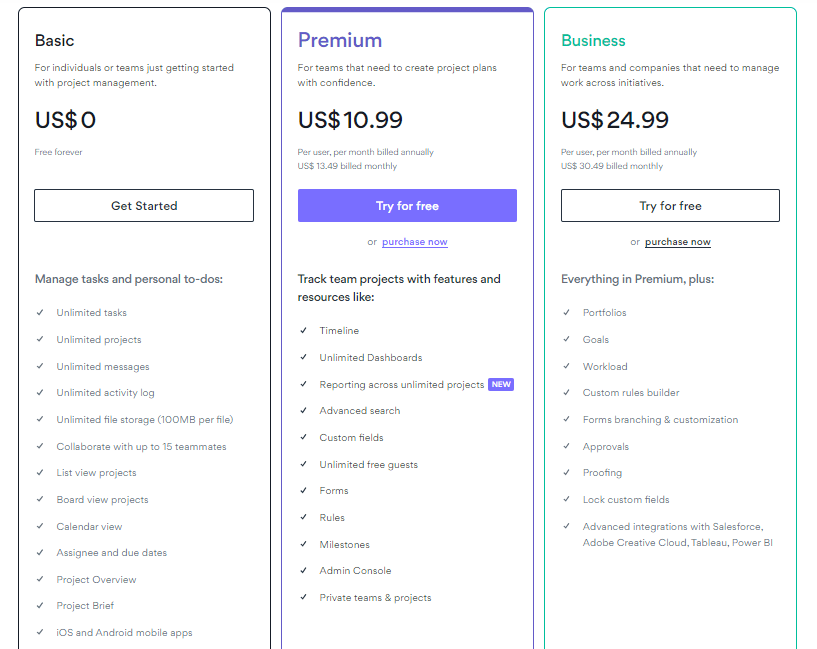 As you can see, Asana Basic is a completely free plan for individuals or small teams just getting started with project management.
For a free plan, Asana Basic offers a host of project management and task management features that are enough for an individual's needs.
Its Premium plan, designed for bigger and more established teams, costs $10.99 per month per user (billed annually). It offers unlimited projects, tasks, messages, and reporting along with advanced features like custom fields, guests, private projects, and many other features.
Asana Business, its top-tier plan designed for organizations with cross-functional project and portfolio management needs, costs $24.99 per user per month (billed annually). It offers everything in the Premium plan plus portfolio management, a custom rule builder, and several advanced third-party integrations.
Both of Asana's paid plans come with a 30-day free trial during which you can take the product and most of its features for a test drive.
Considering the wealth of features Asana offers, its free and paid plans are pretty affordable for businesses looking to grow by increasing productivity and project efficiency.
Smartsheet Pricing, Free Plan, And Trial
Like Asana, Smarthseet is also a powerful product with tons of features for all kinds of businesses looking for work management and productivity solutions.
However, its pricing plans are quite different from Asana.
For starters, Smartsheet does not offer a free plan like Asana. However, its paid plans come with a 30-day trial during which you can explore its features and decide if it's the right product for your business needs.
Here's what the various Smartsheet premium plans cost.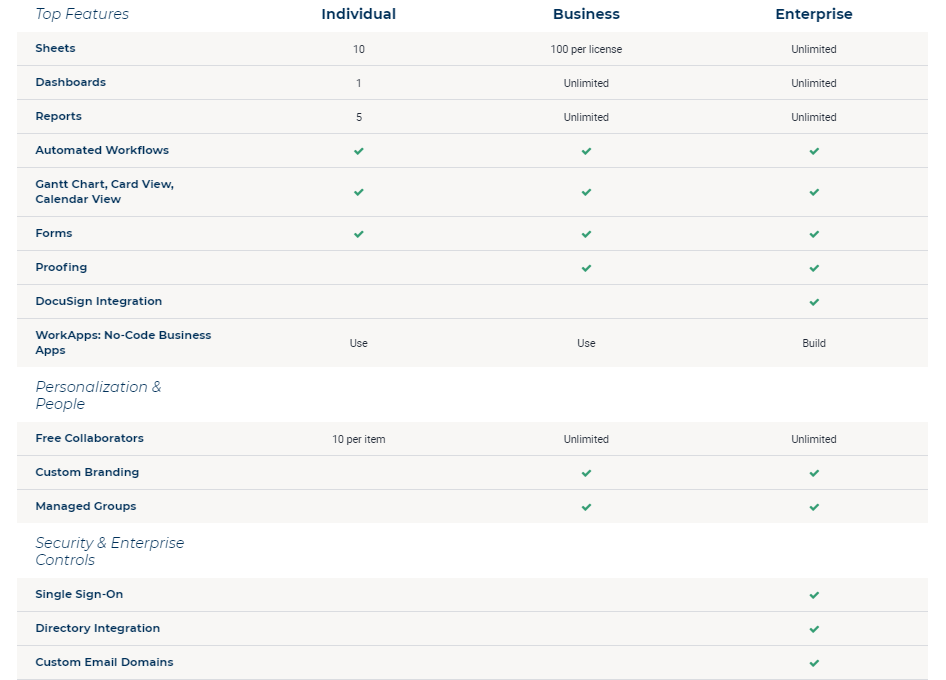 As apparent from the screenshot above, Smartsheet's Individual plan costs $14/month for one user (billed annually.) It provides you access to up to 10 sheets, one dashboard, and five reports. Moreover, it includes features like automated workflows and multiple project views.
The Business plan, designed for small/medium-sized teams, costs $25 per user/month (billed annually.) It gives you access to 100 sheets per user along with advanced features like custom branding, unlimited collaborators, and managed groups.
The Enterprise plan is designed for bigger organizations with large portfolios. It offers the full range of Smartsheet's features along with priority customer support. However, its monthly pricing is available on request only.
Which Product Offers More Value For Money?
Both Smartsheets and Asana offer a wealth of project management features and capabilities.
However, if you're looking for comprehensive project and task management features, Asana clearly offers more value for money in all three of its pricing plans.
Its free plan is beneficial for individuals and small teams, while its entry-level paid plan would cover the needs of most mid-sized tech companies and startups.
Smartsheet Features Vs. Asana Features
Let's now evaluate the key features and benefits of both Smartsheet and Asana and try to pick a winner for each.
Feature 1: Project Views
Winner: Asana
Asana is a robust project management tool that offers advanced project creation, tracking, monitoring, and overall management features.
It provides you with four different project views that are equally valuable depending on your project type and the kind of information you're after.
The four project views are lists, board, calendar, and timeline.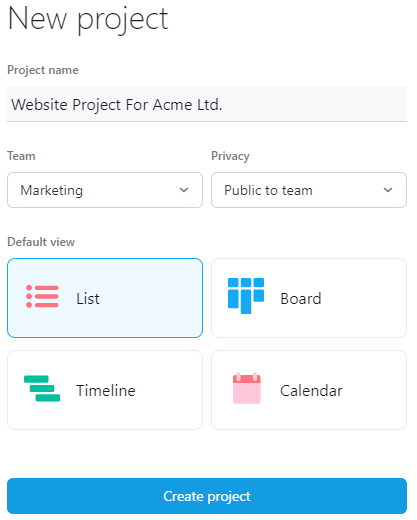 When creating a new project in Asana, you can choose your default view depending on your project type. However, you can always switch between views to get a different perspective or highlight a specific aspect of your project to stakeholders.
Here's what the different project views in Asana look like.
List view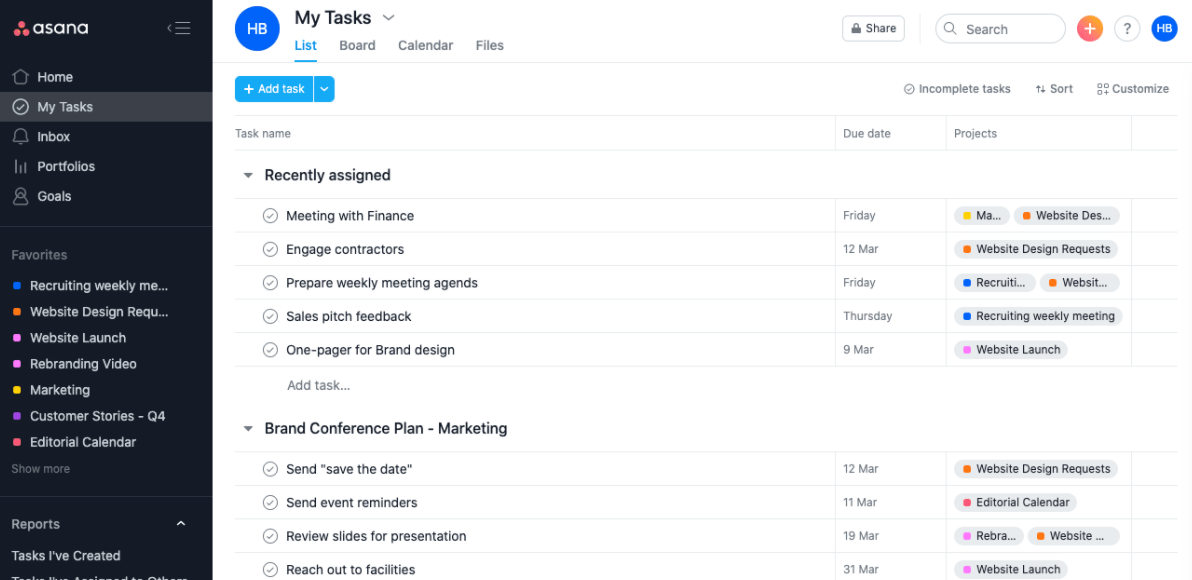 Board View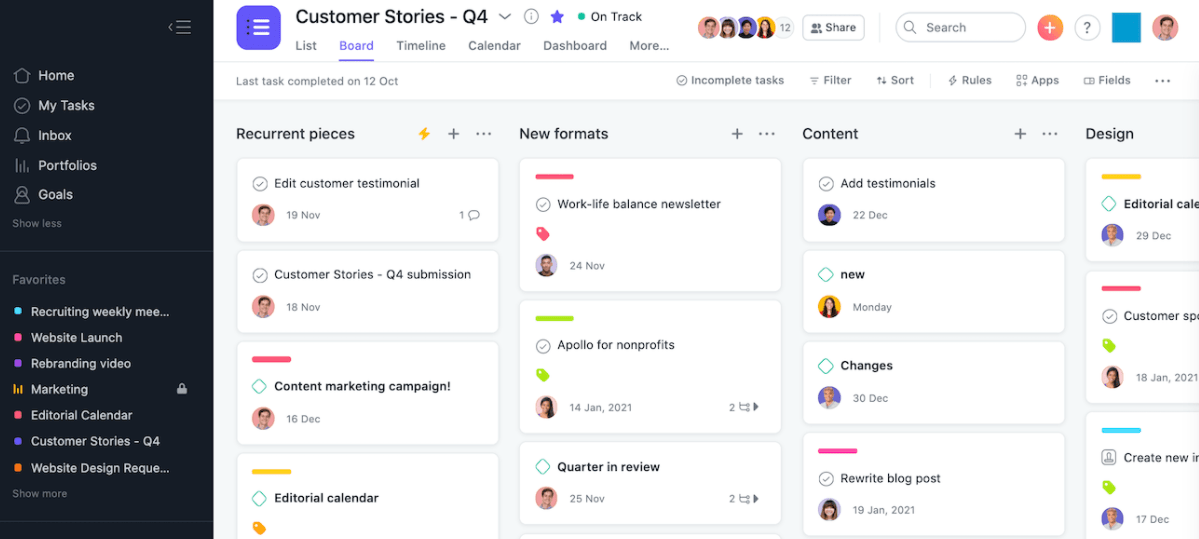 Calendar View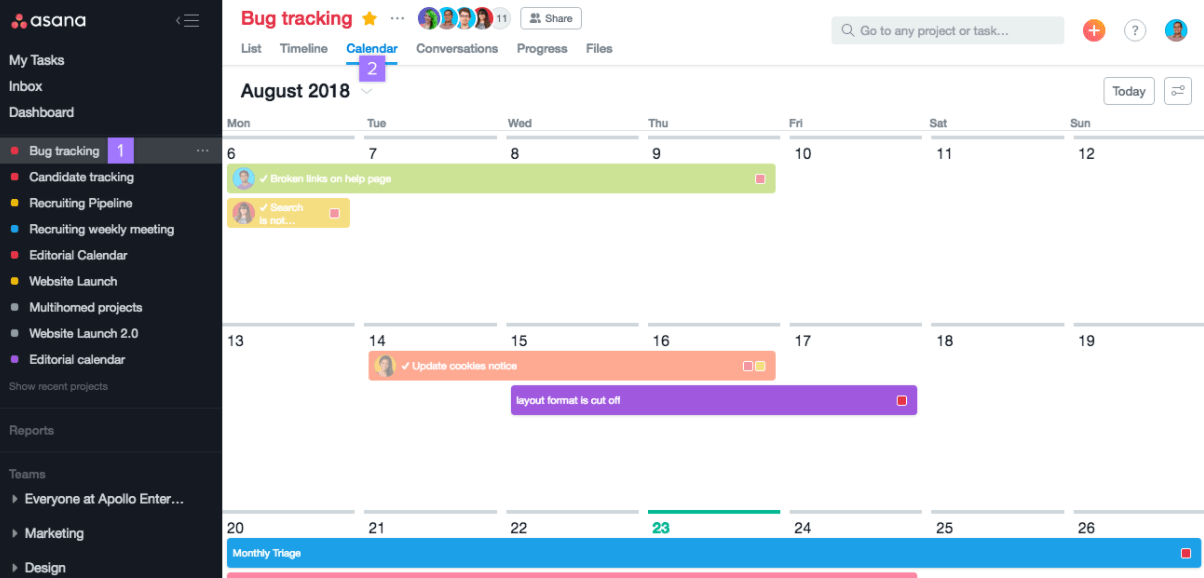 Timeline View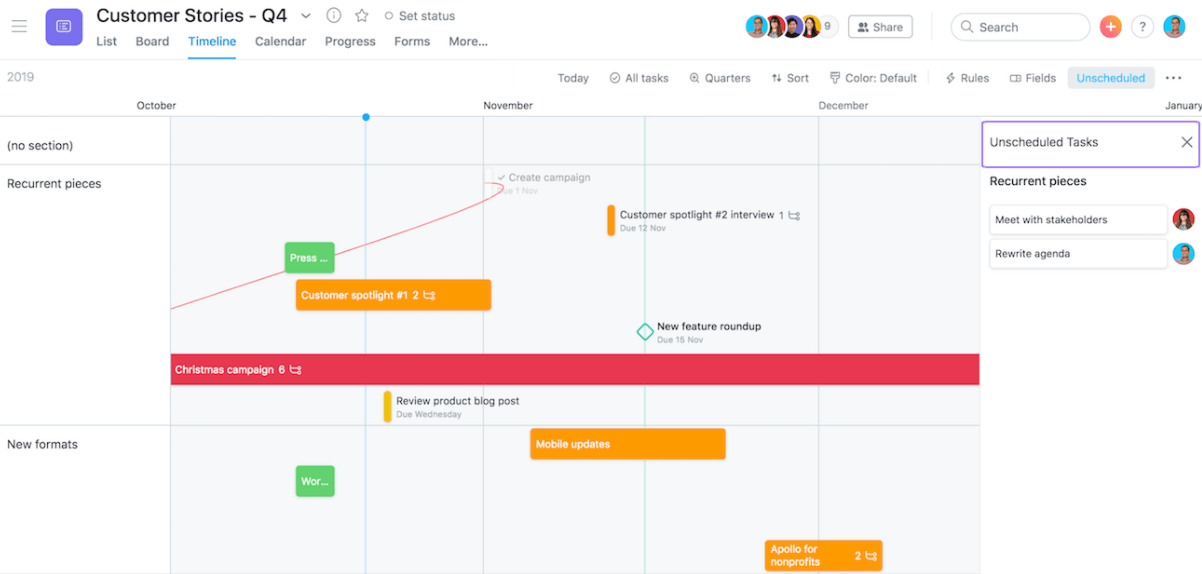 As you can see in the screenshots, each view offers a different perspective to the viewer. Plus, Asana's intuitive user interface makes using these views very easy, even for complete beginners.
In comparison, Smartsheet also offers various project views. However, its default view is in tabular r grid form, and this is where it performs the best.
The four views in Smartsheet are Table/Grid, Card, Calendar, and Gantt.
Table/Grid

Gantt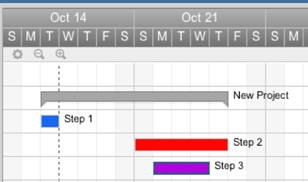 Card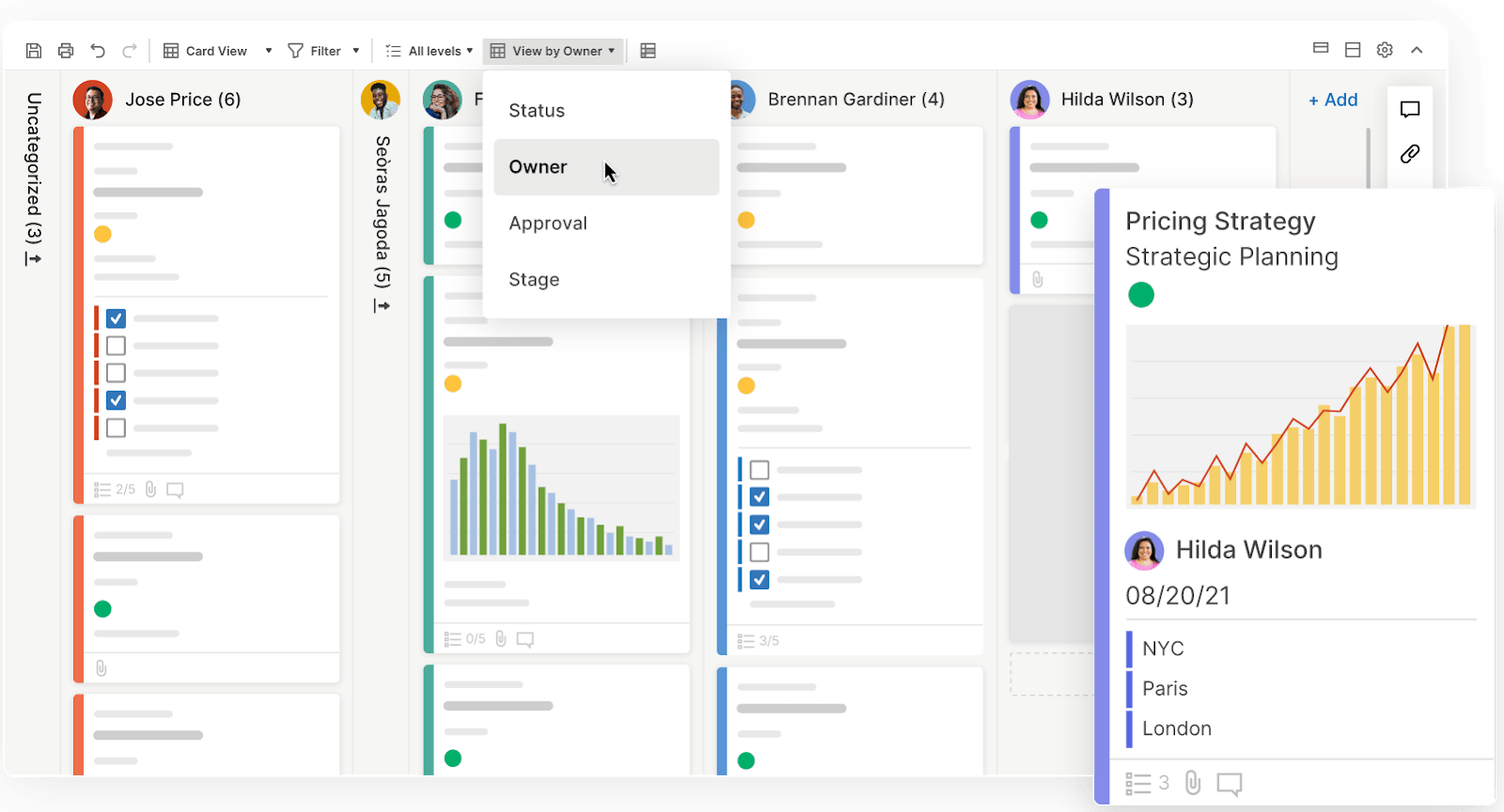 Calendar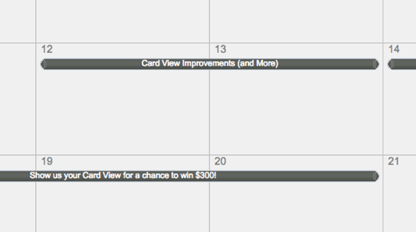 Overall, Asana's superior user interface and more integrated project management features make its project views more useful for its users.
Feature 2: Workflow Templates
Winner: Asana
Asana is a user-friendly product that provides its users with various ready-to-use tools and features. Workflow templates are among its best features.
No matter what industry you're from or what business function you're looking to manage, Asana has got you covered with dozens of professionally designed templates.
Its workflow template library has numerous templates for all kinds of businesses.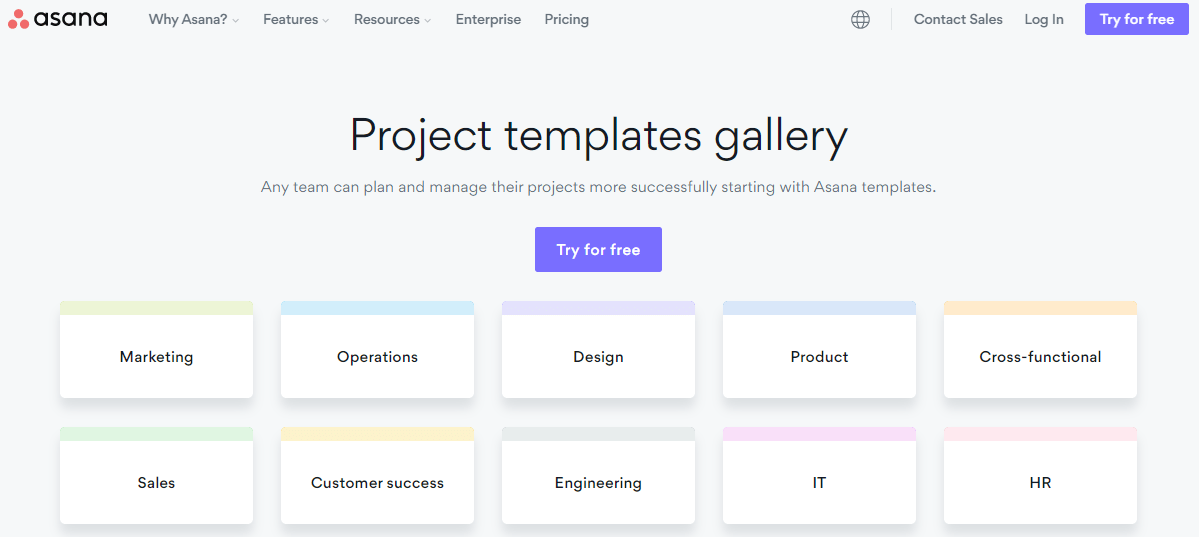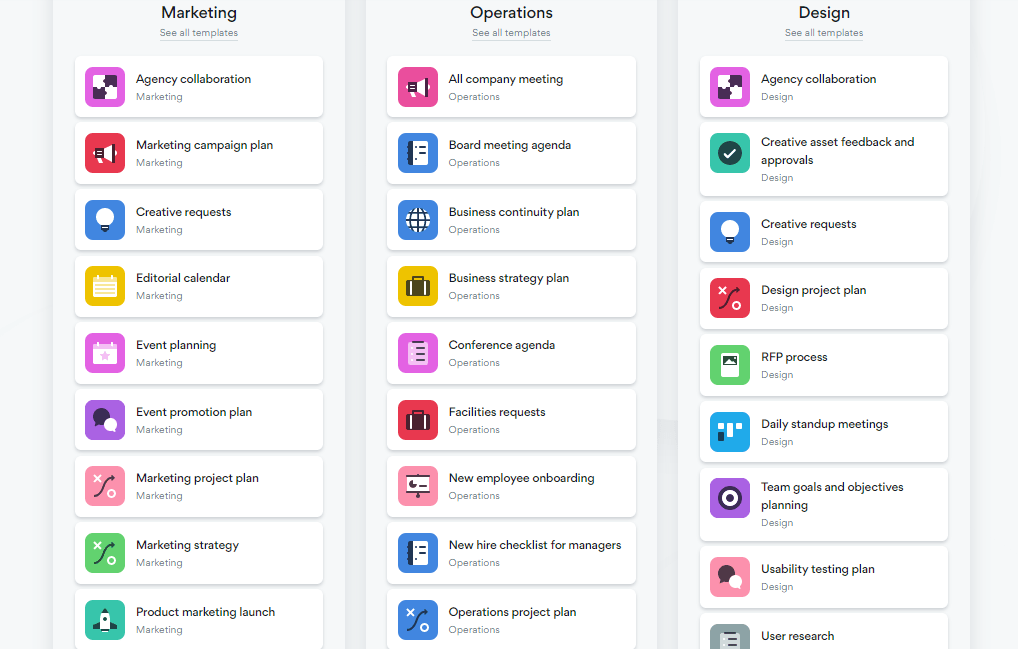 Every template comes with dummy data to help you understand the context in which a workflow is created. Plus, a short description with every template shares instructions on using it.
You can enable any template and add it to your Asana dashboard with a single click.
In comparison, Smartsheet also provides you with a long list of workflow templates for various business functions like development, sales, marketing, finance, HR, etc.
However, its template range isn't as comprehensive as Asana's.
Feature 3: Automation
Winner: Asana
Asana allows you to automate everyday tasks that consume countless hours of your team every month. It helps you free up that time by automating recurring tasks enabling you and your team to focus on the other critical business tasks that need your input.
Asana's automation engine comes with different automation rules and triggers.
Using its capabilities, you can automate things such as assigning tasks to a resource, setting due dates, moving tasks between projects, handing off work to other teammates, submitting projects, etc.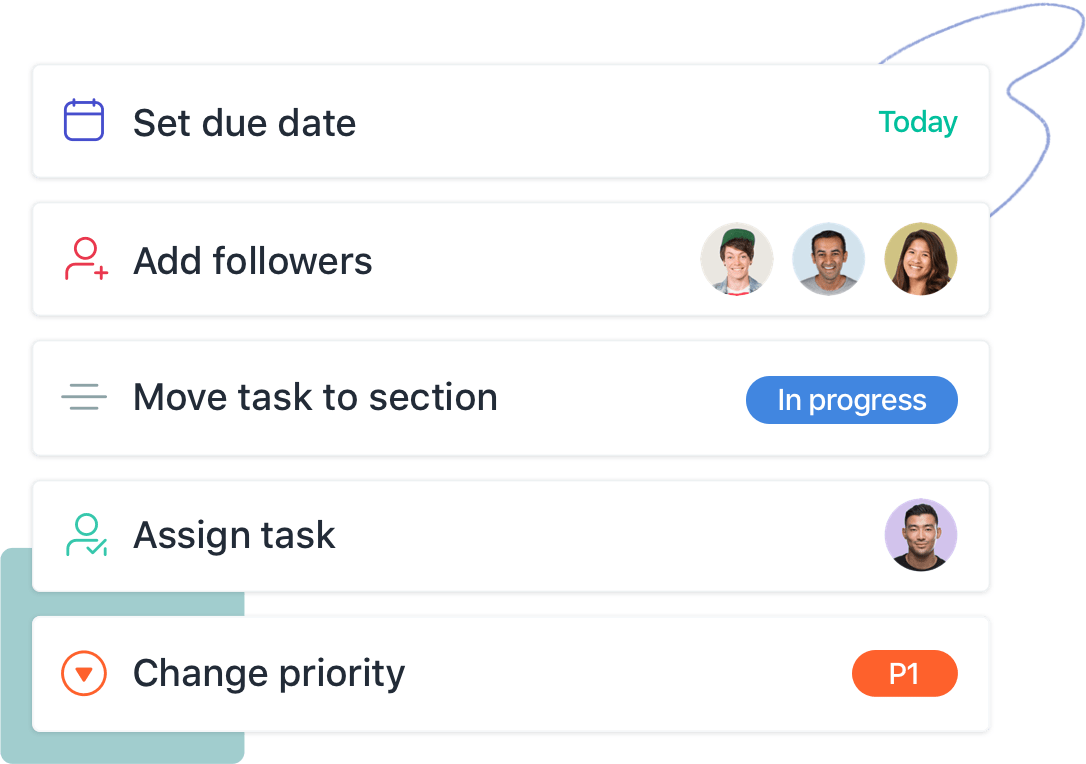 You can also create custom automation rules for unique tasks that follow a set pattern.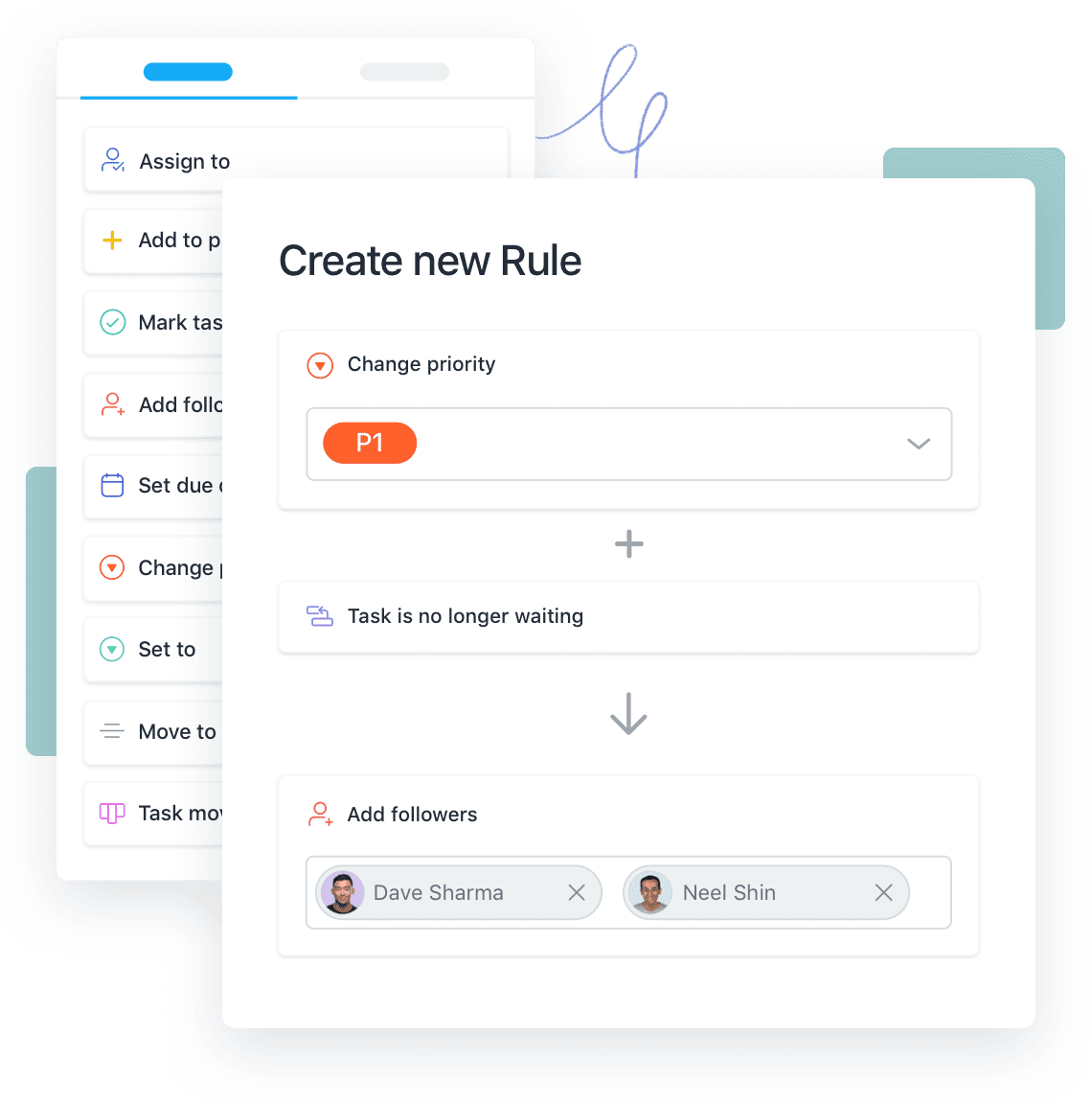 For example, you can create automation rules to take tasks from Slack, Gmail, or Outlook to your Asana project dashboard. Similarly, you could create forms to assign tasks automatically based on your defined criteria.
When you combine Asana's automation capabilities with its workflow templates, it becomes formidable project management and productivity tool.
In comparison, Smarthseet also comes with a robust automation engine. It allows you to create automated workflows using a combination of triggers, conditions, and actions.
However, it doesn't offer the comprehensive range of automation possibilities you get with Asana. Plus, Smartsheet's automation features are slightly more complex to use than Asana.
So overall, Asana is once again the winner.
Feature 4: Customer Support
Winner: Smartsheet
Both Asana and Smartsheet offer comprehensive help sections with articles and guides about every aspect of their products. Additionally, both products have active blogs where users can learn about various project management best practices.
However, a thorough analysis of the top software review sites shows that most users aren't satisfied with the speed of Asana's customer support team. For regular users, Asana only offers help articles and knowledge base content.
In comparison, Smartsheet offers email support for regular users.
For advanced users, both products offer dedicated support. However, public reviews indicate that Smartsheet does a better job at responding to customer queries and resolving their problems faster.