With thousands of users worldwide and a market value of millions, Asana and Monday.com are two of the leading project management and team collaboration platforms currently available.
Both applications are equipped with features and tools to help teams organize, track, and manage their work. But which one is the right tool for you?
In this article, we'll help you answer this question by comparing Asana and Monday.com head to head and feature by feature so that you can decide which one of them meets the requirements for your team.
Our Recommendation = Get Asana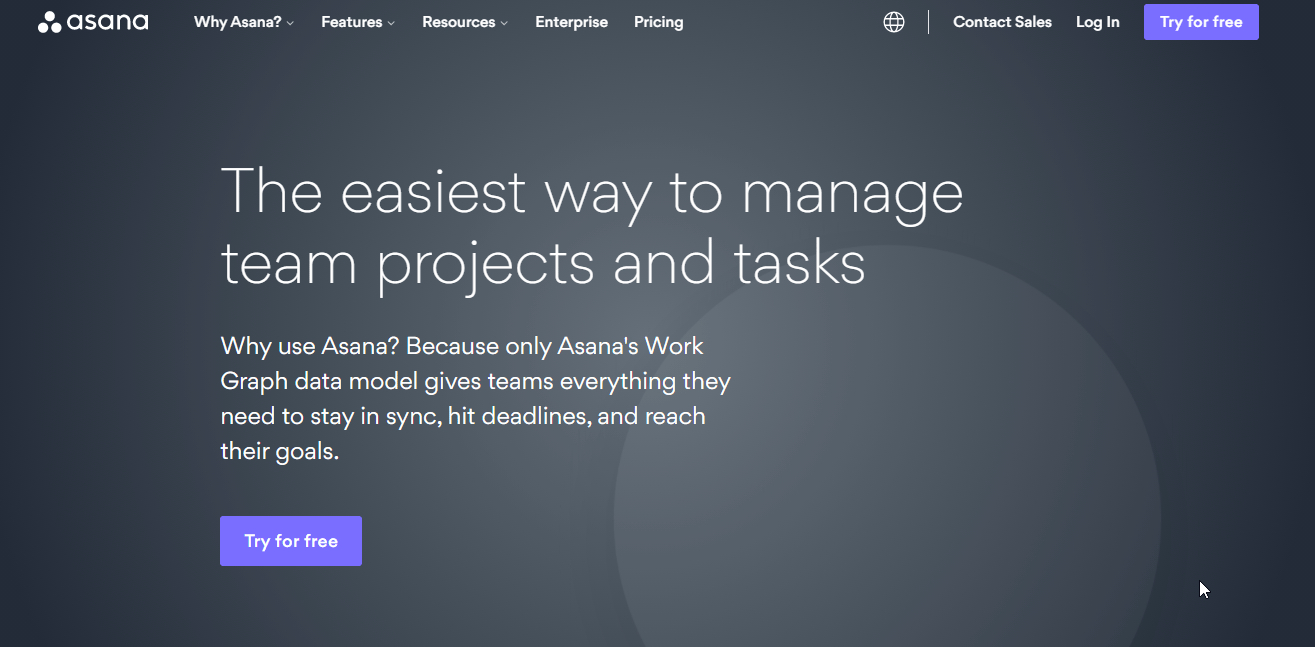 While Monday.com is not short of features and tools, if you're looking for the ultimate solution for your team's project management needs, get Asana.
There's a good reason why more than 90,000 organizations around the world trust Asana for their project management and team collaboration needs. With the changing dynamics of shifting to remote work, Asana helps orchestrate your team's work from daily tasks to meeting deadlines.
With Asana, you can connect with your team by bringing all your work into one place while keeping track of everything through calendars and Gantt charts which helps you organize work in your own way.
Asana is maintained and updated frequently to adapt to changing work environments by over 900 employees working in 10 different locations worldwide.
Asana's Free Plan Offers More Value
Monday.com and Asana are among the rare project management tools that offer a free plan. However, Asana's free plan provides much more value than Monday's. For starters, Asana's free plan allows collaboration with up to 15 team members. In comparison, Monday's free plan offers only two users.
Couple that with all the essentials like unlimited projects, tasks, storage, and activity history, making Asana's free plan a clear winner and ideal for any startup/small team looking for a solution to collaborate on projects.
Asana Is Fully Customizable
The extent of detailed customizations available in Asana is among the top reasons leading tech companies prefer using it.
Every option and feature is customizable to fit your needs depending on the use cases. Not only can you customize your project templates, but Asana also allows you to convert an existing project into a template.
This is especially useful for teams working on different repetitive tasks. You can further add customized fields to a project for tracking that is tailored to your requirements.
With Asana, you can smartly collect data for your projects by customizing your forms through branching that enables you to create follow-up questions associated with individual responses to dropdown or multi-select questions.
Asana Is Ideal For Agile Software Teams
Asana is equipped with all of the flexible tools and features for working in a fast-paced and quickly changing work environment.


Instead of relying on agile-specific tools, which add unnecessary complexity, organizations can use Asana and customize it according to their team's flavor of Agile while keeping it flexible for work that might not follow conventional Agile processes.
Asana lets you create project portfolios (epics) where you first create a portfolio that allows you to group related projects and easily monitor them together.
Once a project is added to a portfolio, you can add custom fields to the project to track features, size, cost, time to finish, business goal, and other related epics.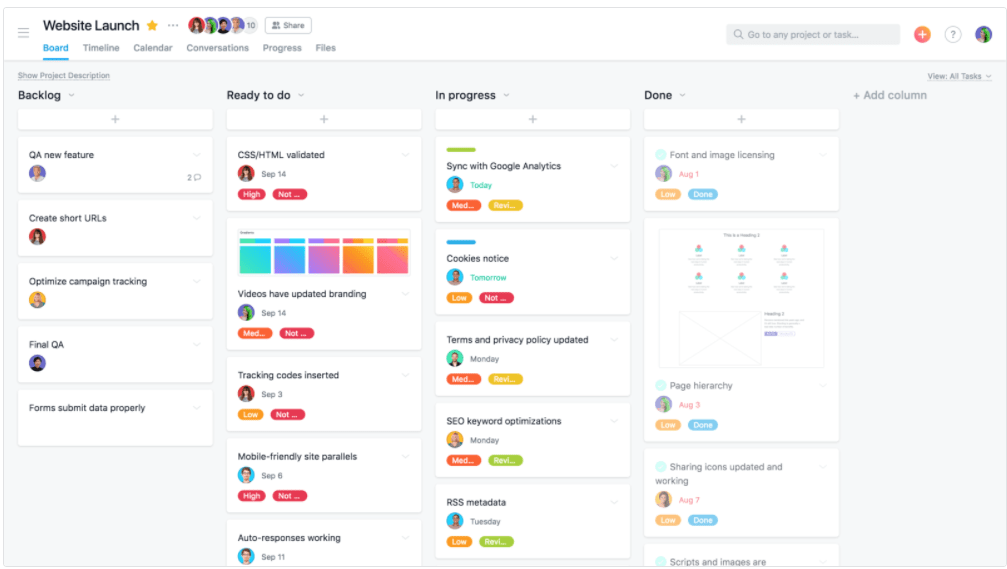 After the project is ready, you can break it down into actionable parts by creating stories and adding them to your sprint. For each task or story added to your sprint, you can specify start and due dates to further analyze them in a timeline view, where you'll see all your sprint tasks in a Gantt-style view.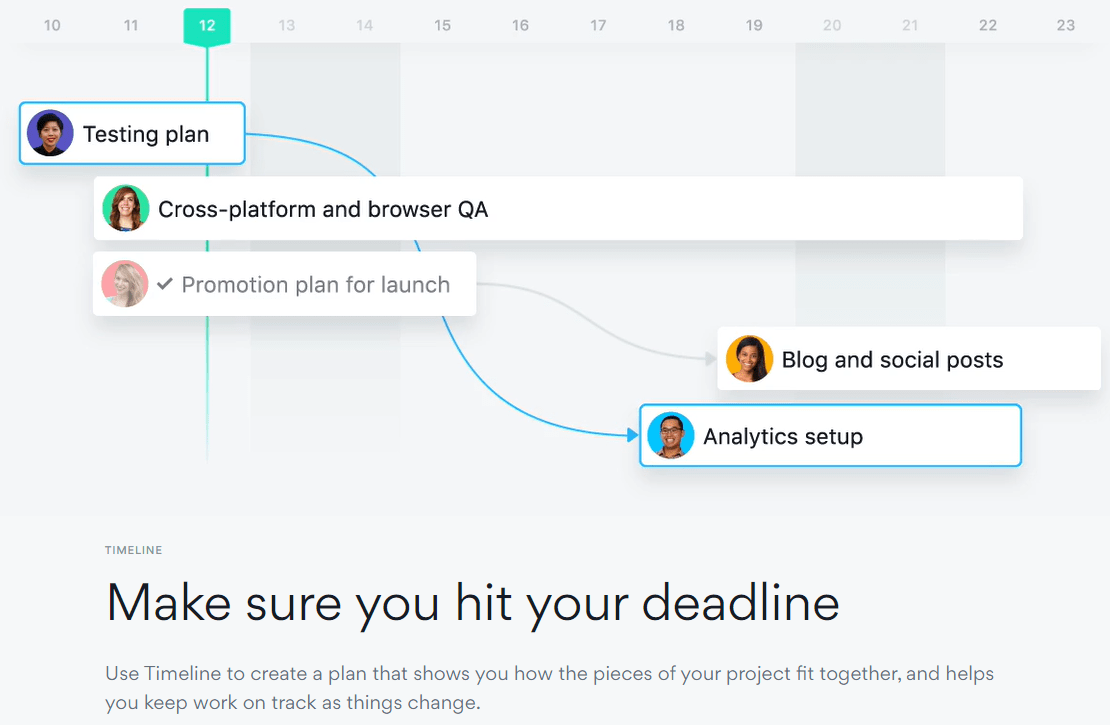 When to get Monday.com Instead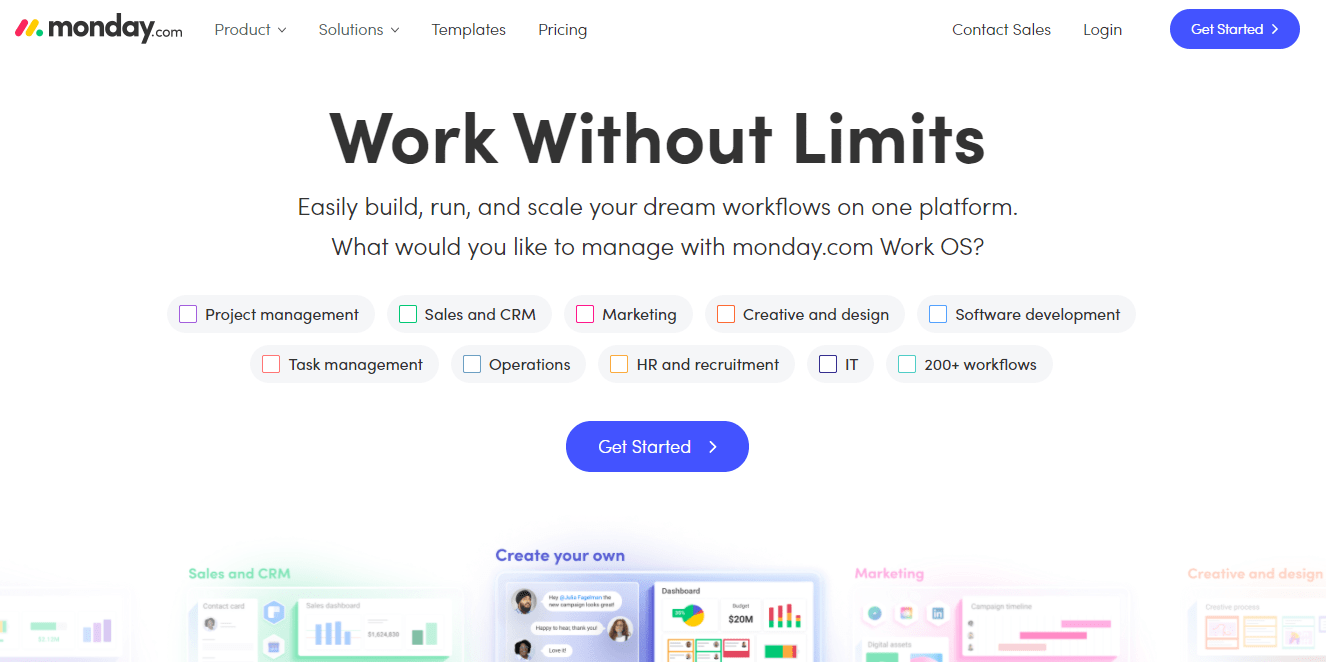 While Asana may be a better overall product, its features might be overkill for smaller organizations or teams not interested in such comprehensive project management features.
For such businesses, Monday.com is an ideal alternative that offers just the right feature range without overwhelming its users.
It offers robust project management features that are fully customizable according to your business needs. For example, Monday.com provides customized templates for all kinds of project management and collaboration tasks.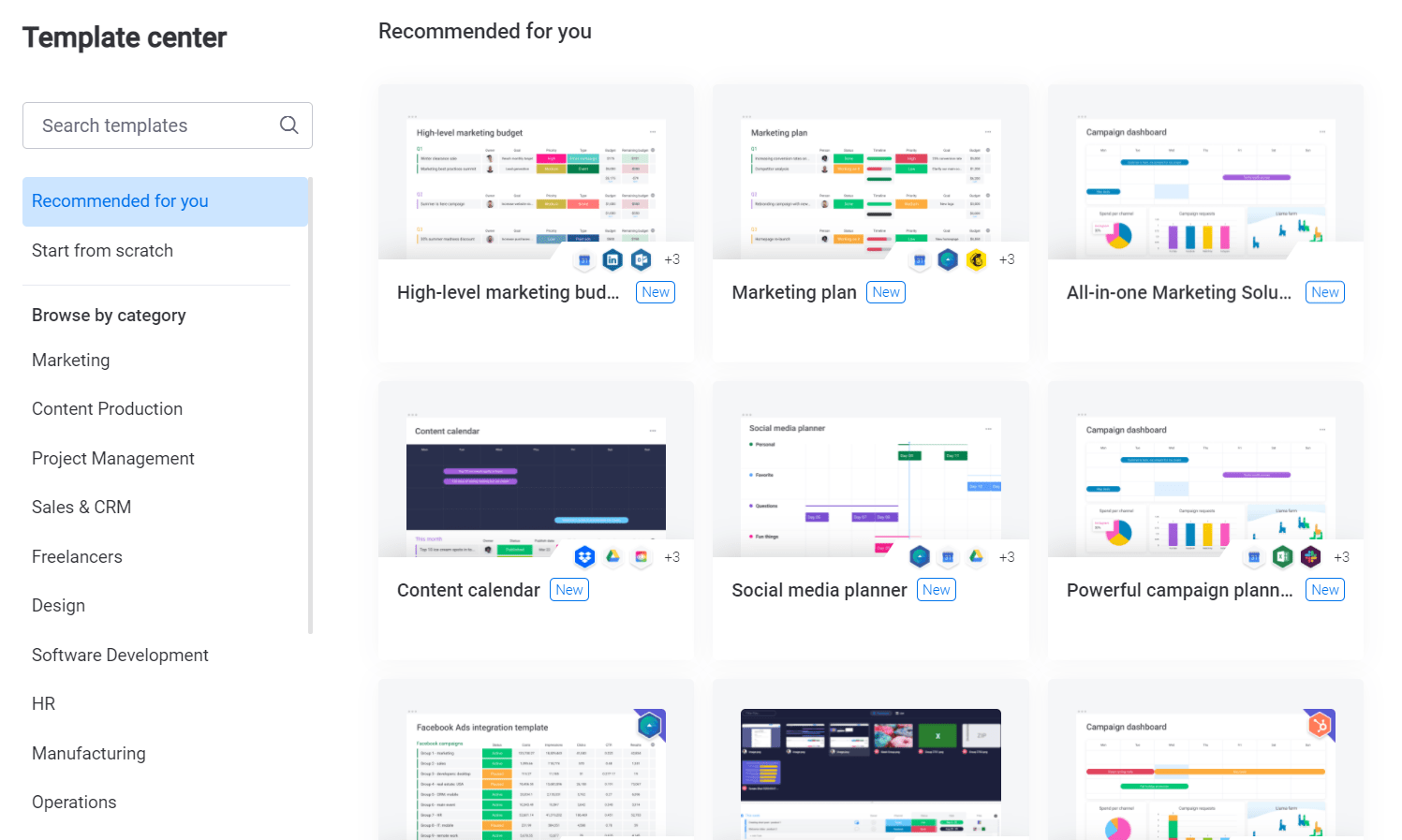 The template center in Monday.com lets you quickly choose a suitable template from more than a dozen different categories. It doesn't matter what the nature of your work may be, you can simply select the template that covers your needs, and you're ready to go.
For someone already used to working with other tools, you can easily integrate all your data with monday.com with its 40+ integrations in just a few clicks and have all your data centralized in one place.
In short, if you're a small team looking for a custom solution for collaboration across boards and tasks while keeping track of the progress of every project, Monday.com will have you set up and ready to go in no time. Plus, its affordability and ease of use make it an ideal solution for startups, growing companies, and distributed teams.
Pricing – Is Asana or Monday.com the Better Deal?
Winner = Asana
Having gone through some general strengths and features, let's analyze the pricing structure of both platforms to get a better sense of the value they provide for your money.
Asana's Pricing and Free Plan
Asana offers a broad range of pricing plans to fulfill the needs of all kinds of customers. It is among the rare project management tools that provides a free forever version.
Plus, its premium plans come with a 30-day free trial during which you can take its features for a test drive to determine if it is the right tool for your business.
Here's what Asana's pricing plans look like: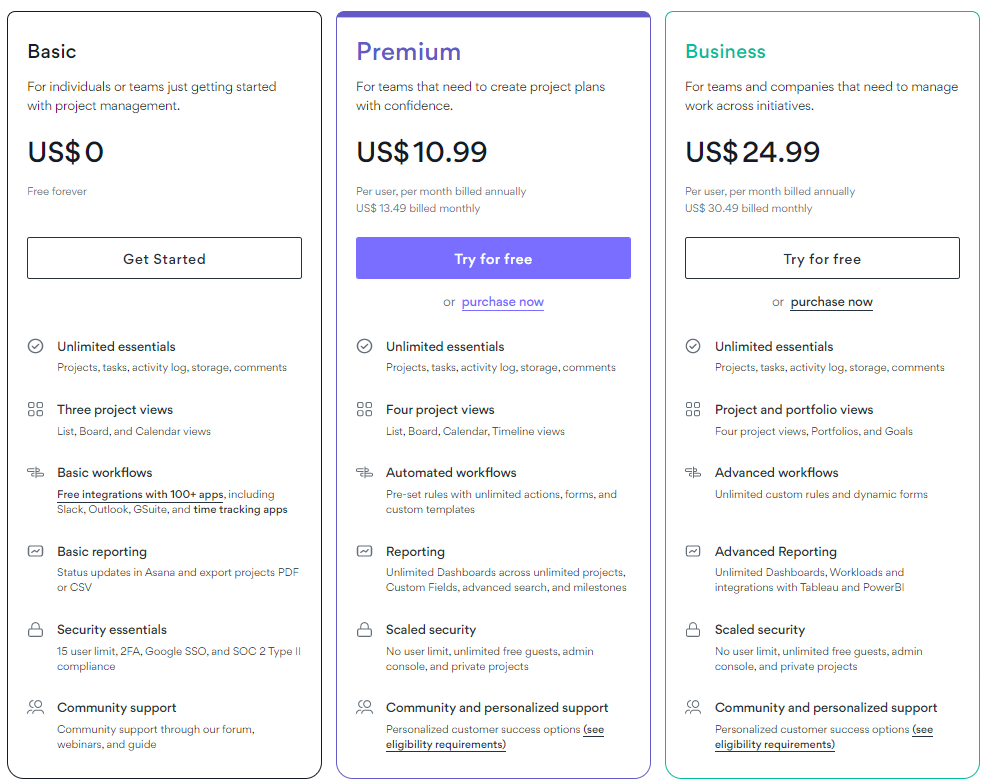 The free plan offers collaboration with up to 15 different team members. Though some of the more advanced features are not available in this plan, you're still getting access to task tracking with multiple views or Kanban board, storage, activity logs, and the ability to integrate your data from other platforms.
The free plan is ideal for small teams as it offers all the essential features needed to manage small to medium-scale projects.
However, for serious businesses looking to increase their project management efficiency, Asana's Premium plan is an excellent choice. It costs $10.99 per user per month and offers all the essential features in the free plan, along with advanced functions such as Gantt charts, automated workflows, and advanced reporting. Thus, it is ideal for fast-growing startups and tech companies with multiple teams and large-scale projects.
Asana's Business plan unleashes its full potential. Priced at $24.99 per user per month, this plan has everything in the previous two tiers, plus advanced workflows, portfolio and goal management, workload management, and priority support. It is ideal for large businesses and distributed teams using Asana for portfolio management and goal alignment.
Overall, Asana's pricing plans are intelligently designed for businesses of all sizes. Considering the features you get in each plan, it certainly offers great value for the money.
Monday.com's Pricing and Free Plan
Monday's pricing plans are also designed for different end-users with various business needs. Like Asana, Monday.com also offers a free forever version with limited features for small teams and individuals.
Apart from the free plan, Monday.com offers three premium plans that all come with a 14-day free trial during which you can explore its features.
Here are the plans: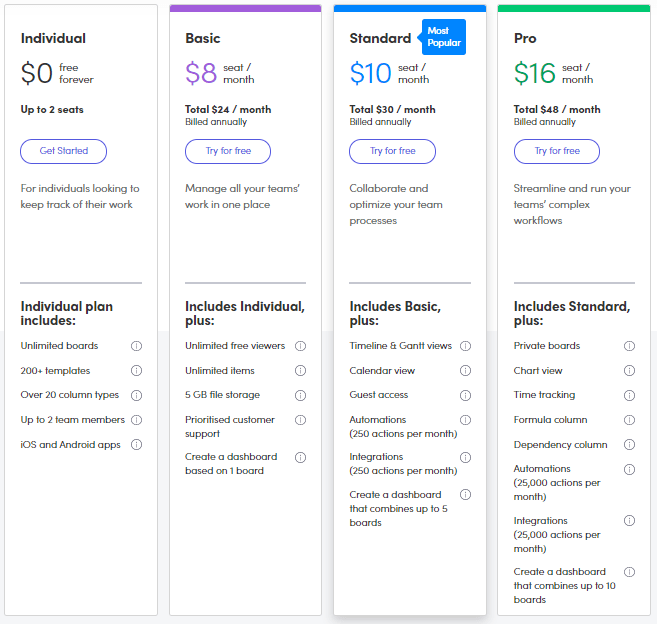 The free plan, designed for individuals and small teams, offers unlimited boards and over 200 templates for up to two team members. So you can use it for day-to-day project management without getting too advanced.
The Basic plan, designed for small teams and startups, costs $8 per user per month for a minimum of three users. This means you're charged at least $24 per month. It offers everything in the individual plan and 5GB storage, unlimited items, and priority customer support.
The Standard plan, designed for startups and growing teams, costs $10 per user per month for a minimum of three users. You're charged at least $30 per month with this plan. It offers additional features such as Gantt and Calendar views, automation, integrations, and advanced dashboards.
The Pro plan is designed for bigger teams looking to fully automate their workflows. It costs $16 per user per month for at least three users, coming to at least $48 each month. This plan includes advanced automation, additional chart views, private boards, time tracking, and other advanced features.
For most businesses, the Standard plan offers the best value for the money.
However, when you compare the pricing plans of both Asana and Monday.com, Asana clearly offers more robust features at a comparatively lower price.
Asana Features vs. Monday.com Features
Let's analyze some of the core features in Asana and Monday.com to see how they fare against one another.
Dashboards
Winner = Monday.com
Dashboards are an essential component of any project management tool, allowing teams to track progress and identify blocks in a project by zooming out of the daily view using graphs and visualizations.
Asana Dashboards
Asana dashboards give you a bird's-eye view of your projects and allow you to analyze your processes from a strategic perspective.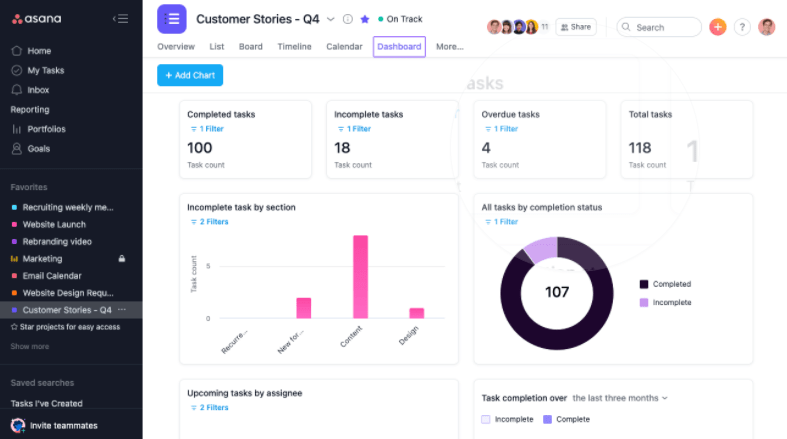 The dashboard contains different charts, visualizations, and statistics that give you a snapshot of your project status.
You can customize your project's dashboards in Asana by deciding which information shows up first. Similarly, you can use different charts such as bar charts, donut charts, assignee charts, and burnup charts to understand your data better.
Asana offers dashboards in its premium plans only.
Monday.com Dashboards
Monday.com also offers attractive and eye-catching project dashboards that give you a quick view of where your project stands.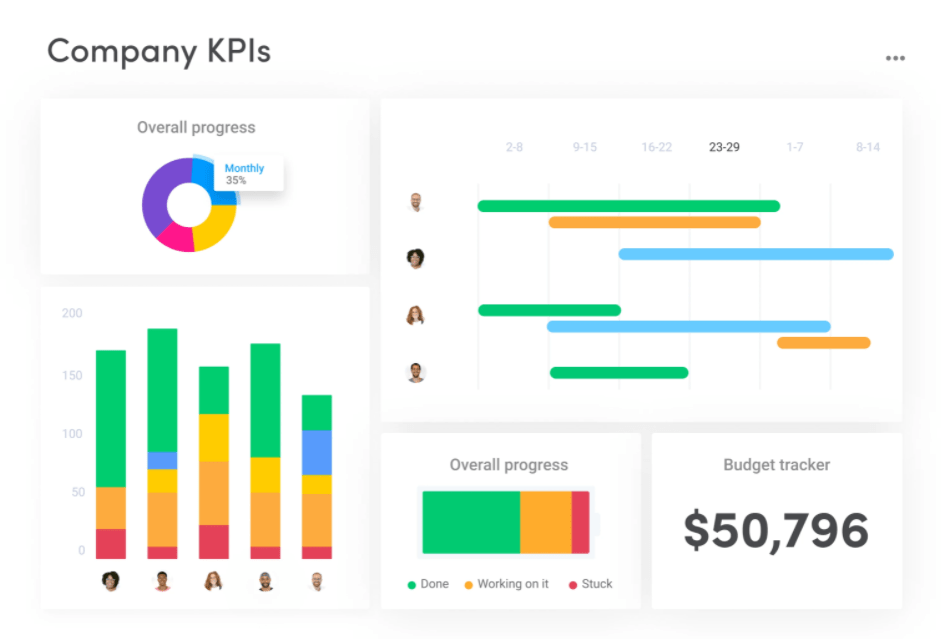 Its dashboards are customizable according to your project needs and allow you to use various visualizations and statistics to highlight the most crucial information.
You can add various charts and creative visualizations like battery, numbers, timelines, etc., to create attractive project dashboards easily.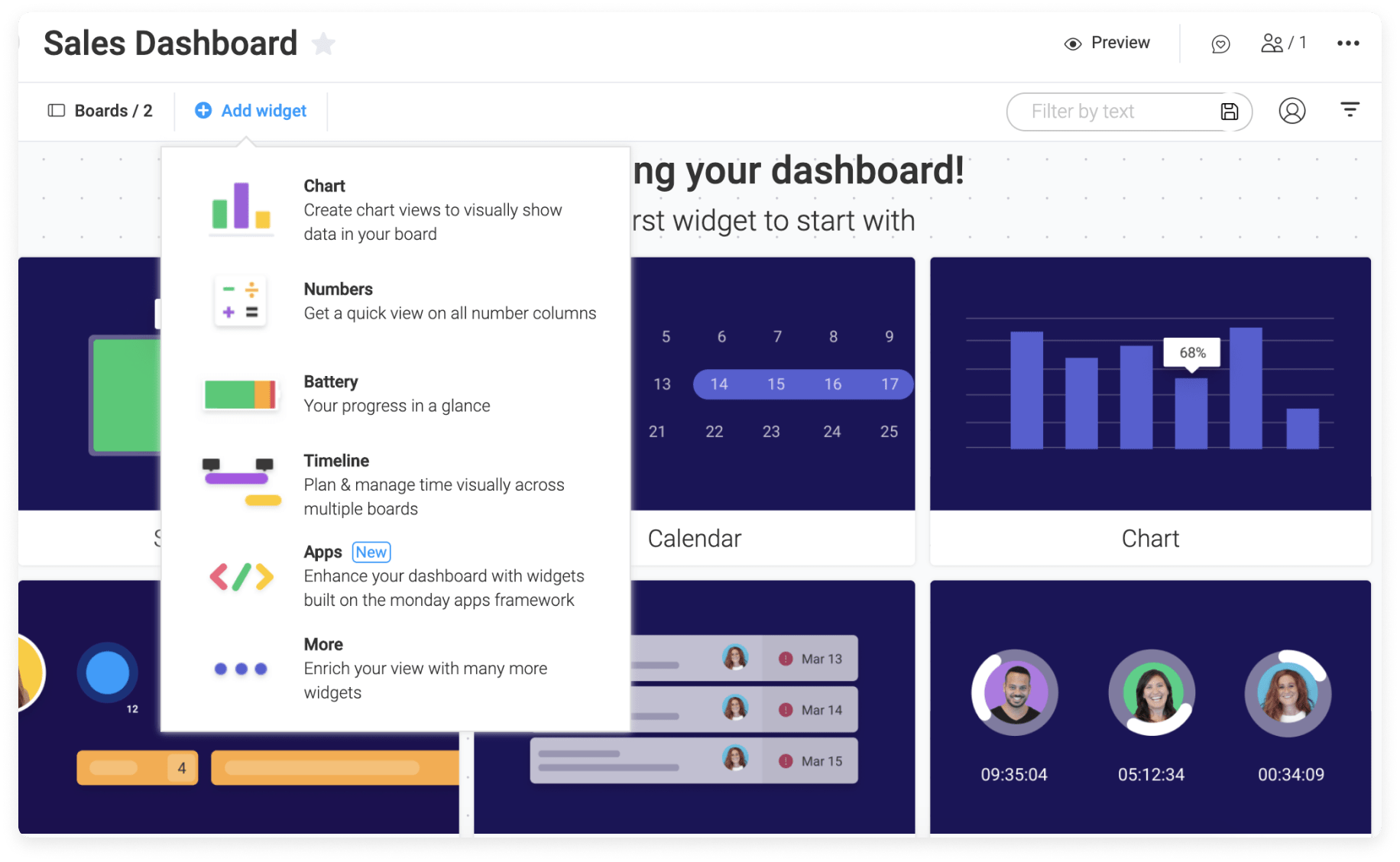 Plus, you also have the choice to create separate public and private dashboards for every project. This allows you to offer unique views to internal stakeholders depending on their needs.
Workflow Management
Winner = Draw
Workflow management is the act of overseeing a process from start to finish. Both Asana and Monday.com offer comprehensive workflow management features.
Asana Workflow Management
Asana is a complete workflow management solution that allows you to create, manage, and track workflows for all kinds of business processes.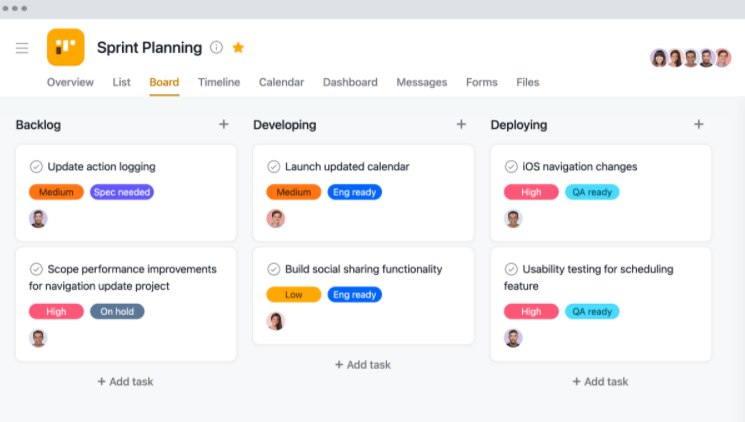 It gives you different project views to visualize your workflows and develop optimized processes suitable for all your project stakeholders.
You can use various project views for workflow management such as Kanban, timeline, lists, and calendar views.
Plus, Asana's robust automation features allow you to automate repetitive tasks, reduce human errors, and help you focus on more productive tasks.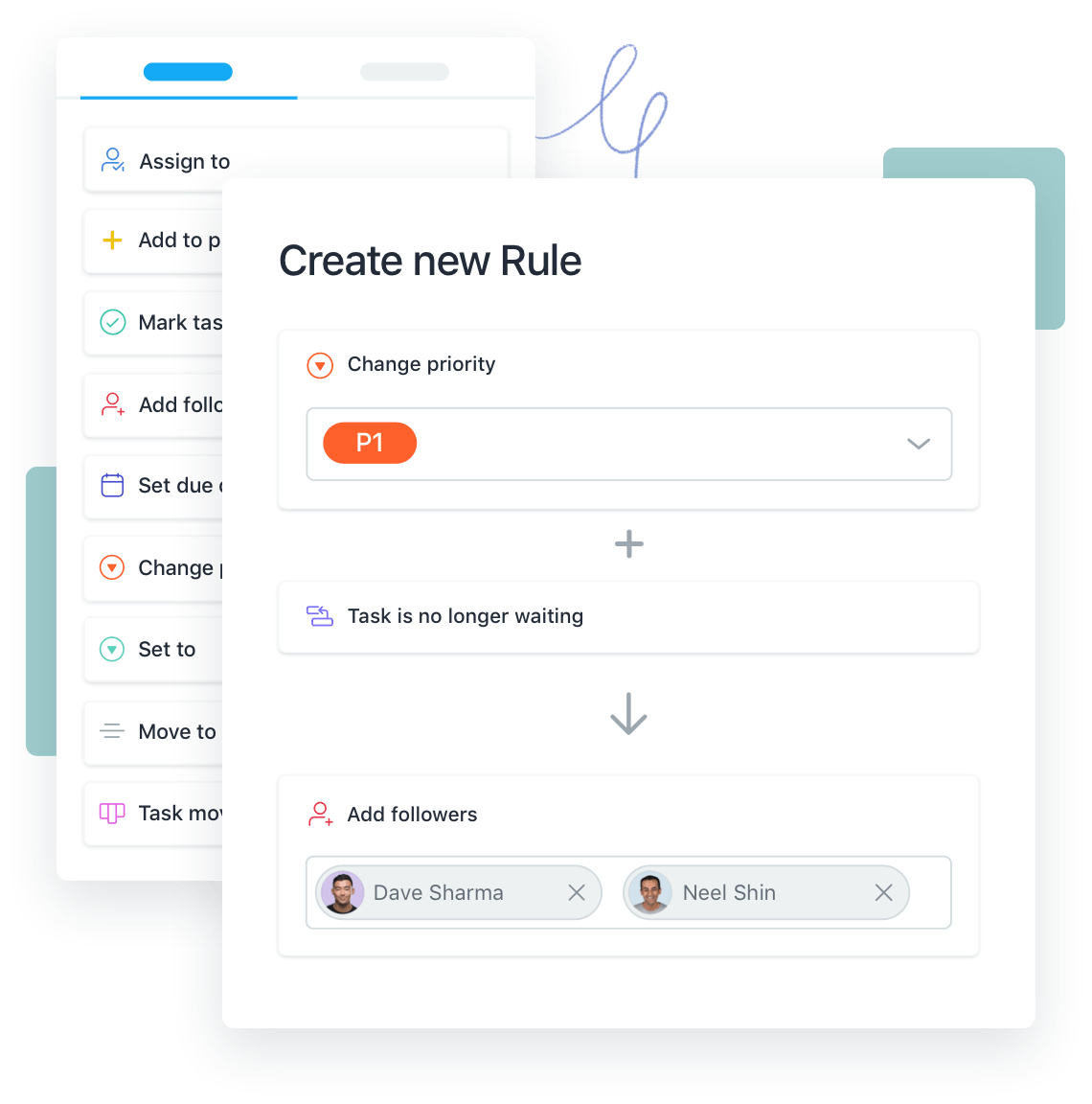 You can use pre-designed automation templates or create custom automation rules designed specifically for your business.
Monday.com Workflow Management
Monday.com also comes with robust workflow management features using which you can create custom workflows for your business processes. You get several project views such as Gantt charts, boards, and calendar views.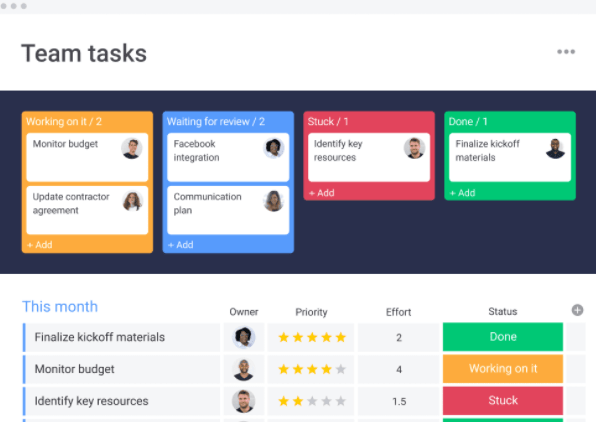 You also get advanced workflow automation features in Monday.com. For example, it offers an automation recipe library that contains pre-built automation for various repetitive tasks.
You can also create your own automation recipes using a combination of triggers and actions.
Integrations
Winner = Asana
Third-party app integrations allow you to expand your project management tool's scope and use it for a broader range of business objectives.
Asana Integrations
Asana is the ultimate project management tool that brings all your work to one platform through smart integrations with hundreds of apps.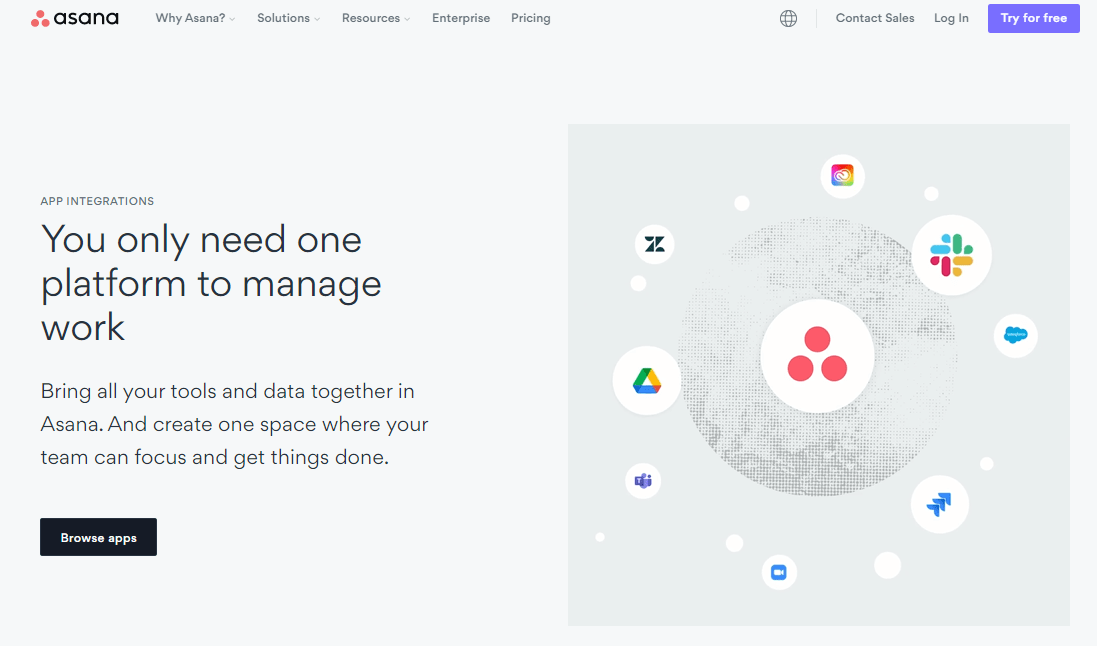 Its integration library contains hundreds of business, productivity, marketing, software development, CRM, sales, HR, and communication apps.
Monday.com Integrations
Monday.com also integrates with more than 60 productivity, communication, and general business apps.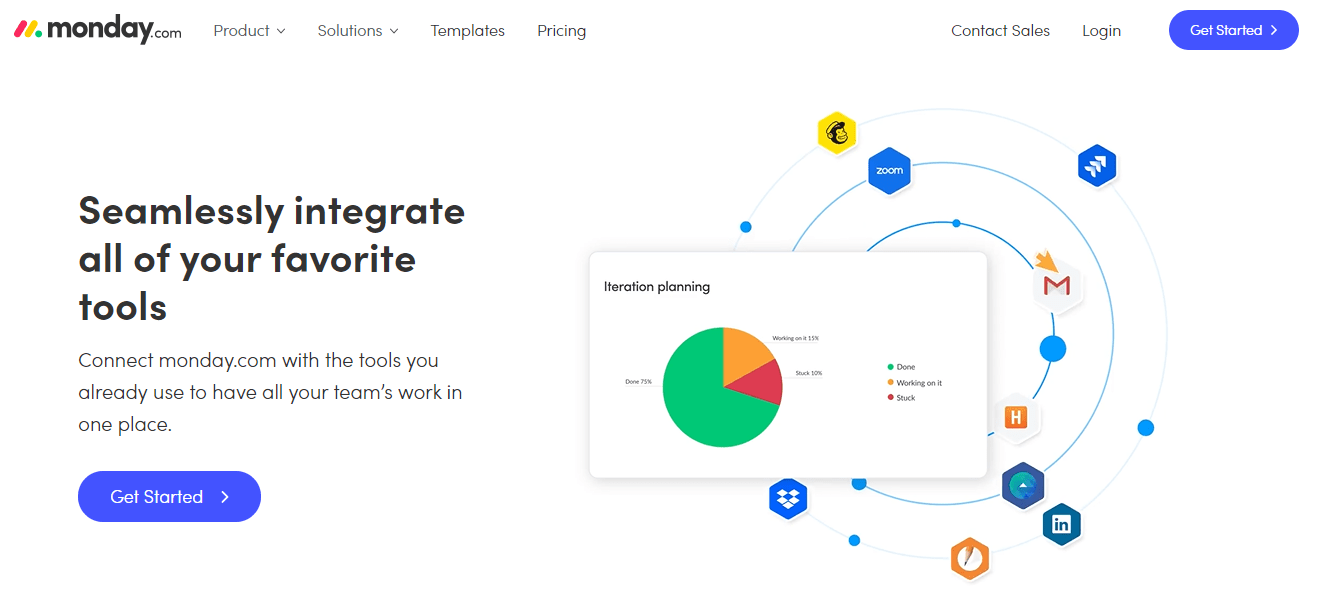 You can also use it with Zapier to enable additional integrations and bring all your work to a single platform.