Asana and Basecamp are two top-tier cloud-based project management solutions often compared to one another. Both platforms provide features and tools to help teams organize, track, and manage their work.
But which one is right for your business?
In this article, we'll make a side-by-side comparison of Asana and Basecamp, evaluate their pricing, and analyze their stand-out features to determine which one is a better fit for your business.
Our Recommendation = Get Asana

There are many similarities between Asana and Basecamp. However, Asana stands out with its vast array of tools and features that are also completely customizable for the specific needs of your team or organization.
This is why Asana has more than 80,000 customers worldwide who trust it for their project management and team collaboration needs.
With Asana, you can connect with your team by bringing all your work into one place while keeping track of everything through dashboards, calendars, and Gantt charts which helps you organize work in your own way.
Asana is maintained and updated frequently to adapt to changing work environments by over 900 employees working in 10 different locations worldwide.
Asana's Free Plan
While Basecamp does offer a free plan called "Basecamp Personal," it's heavily restricted on features.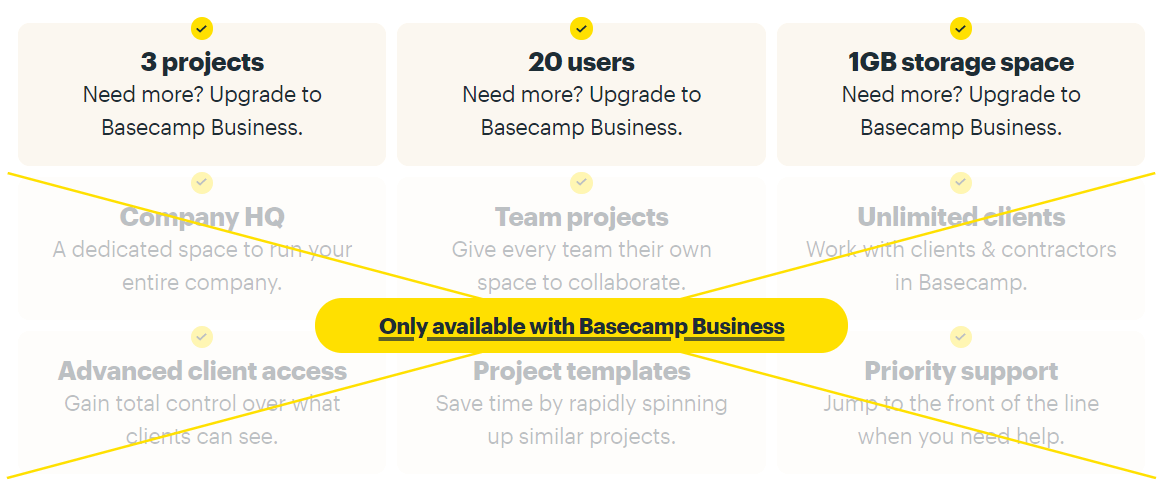 Asana's free plan provides much more value than Basecamp. For starters, Asana's free plan offers all the essentials like unlimited projects, tasks, storage, activity history, list view projects, board view projects, etc.
But when you couple that with the ability to collaborate with up to 15 team members on all of the features mentioned above, Asana's free plan is a clear winner and ideal for any startup/small team looking for a solution to collaborate on projects.
Asana Has More Features
Basecamp offers many features that you'd need to work on projects, including task lists, file/document sharing, task-based comment sections, forums, automated project check-ins, schedules, due dates, and a message board.
But Asana offers a lot more.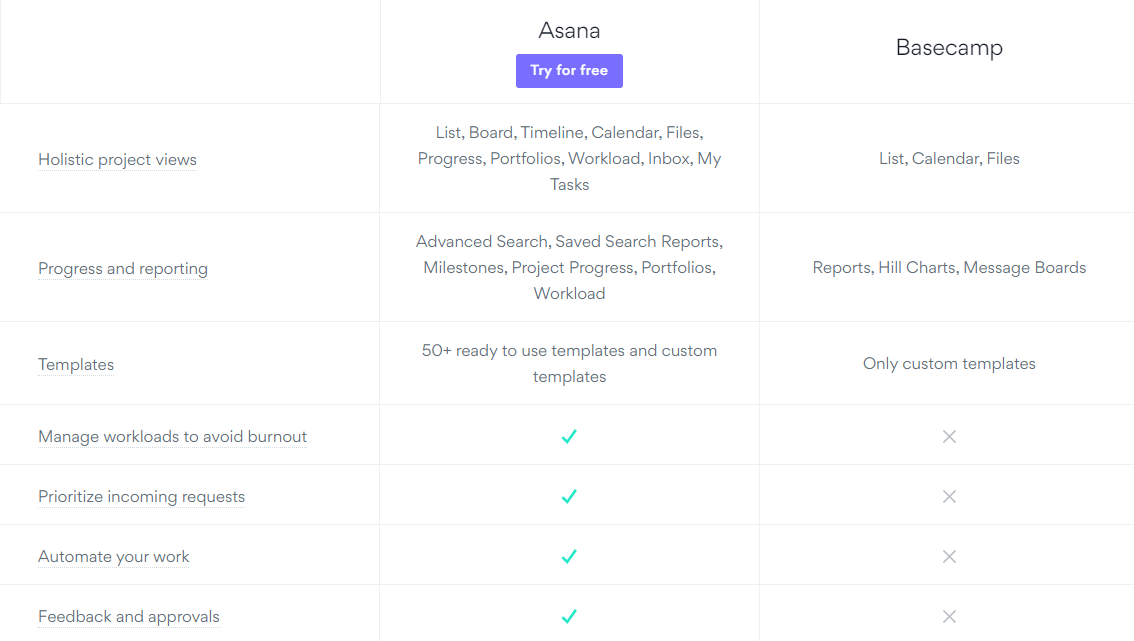 Asana gives you multiple ways to track your team's progress towards company goals using saved search reports, milestones, project progress, and portfolios. You also get access to 50+ fully customizable templates designed for specific business needs.
You're also able to track your team's workload with Asana, which allows you to effectively allocate resources to ensure project deadlines are met without risking employee burnout.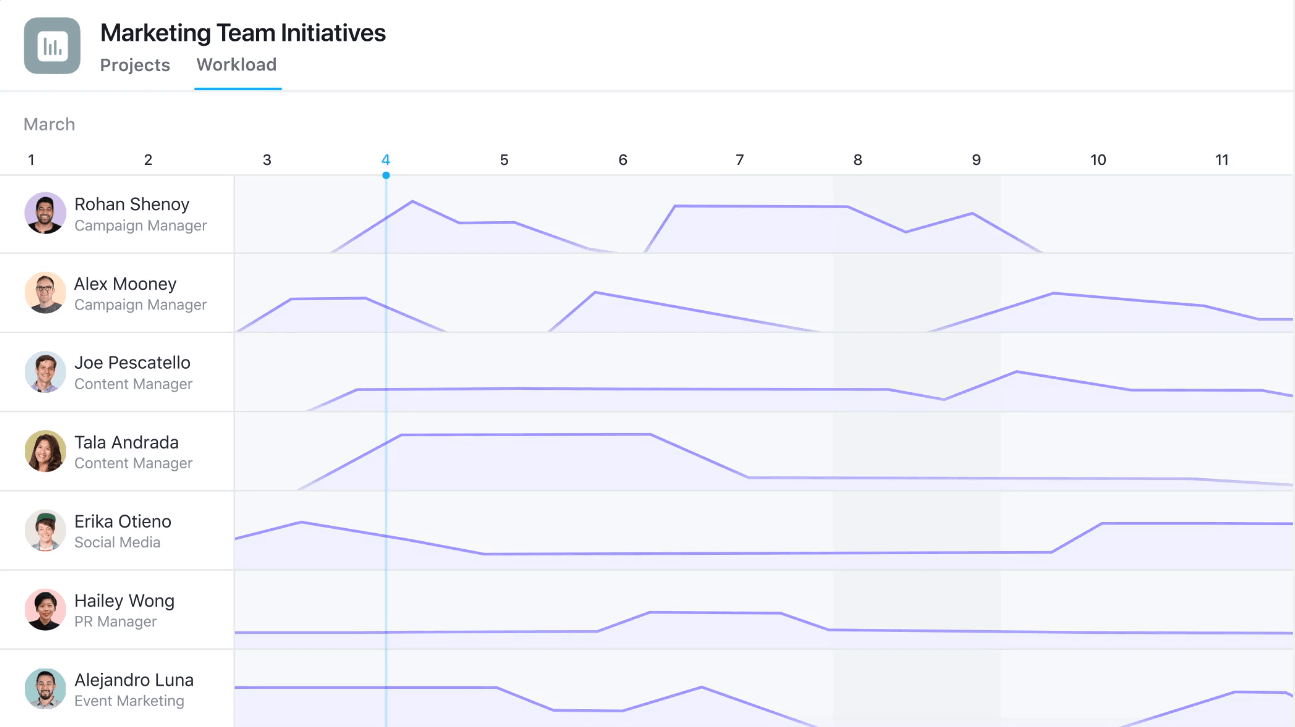 Asana allows you to automate repetitive tasks and free up your teams to work on the more strategic projects that require their expertise.
You can auto-assign tasks to different team members based on the type of work while also dynamically setting due dates after tasks are assigned and adding those tasks to projects based on status changes.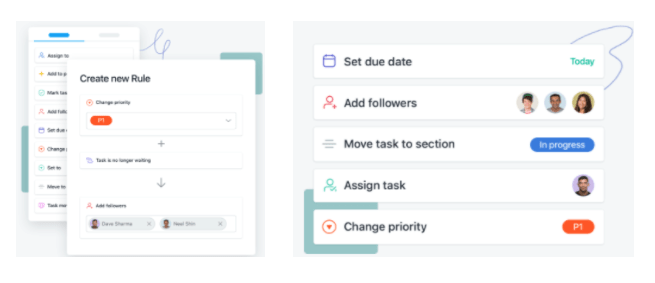 Asana Offers Numerous Customization Options
The extent of customization available in Basecamp is limited to enabling and disabling features for specific projects. On the other hand, Asana lets you customize every feature based on your requirements.
With Asana, you can customize project templates or convert existing projects into templates to efficiently manage similar projects. You can also customize dashboard charts to track blockers and see where work is going off track.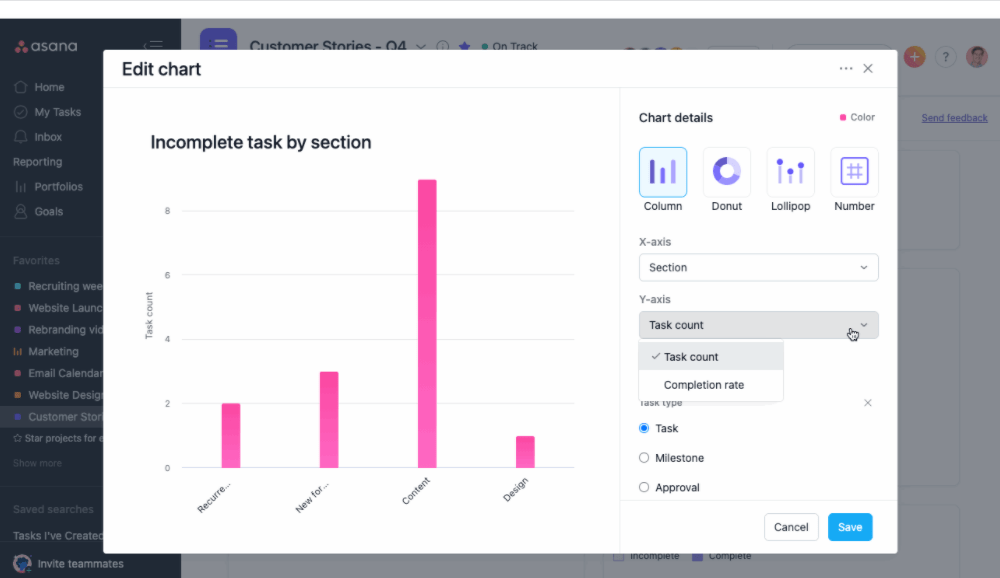 You can also create custom fields either for a specific project or portfolio. These fields are reusable across your organization and allow you to capture names, types, and values. Again, this will enable you to keep the essential information for your workflows.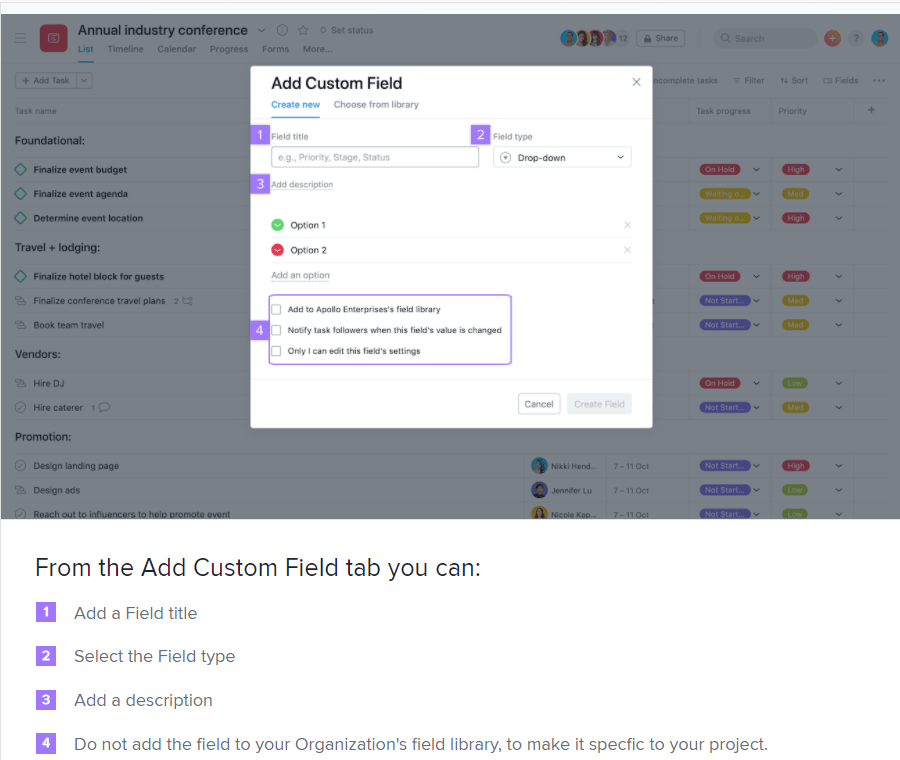 When To Get Basecamp Instead
Asana naturally becomes a more complex solution with so many advanced features. It has a steep learning curve that demands extra time from the users to learn its features before using it to its full potential.
Basecamp's simplistic design and ease of use make it a no-brainer for any team looking to get up and running on a project management solution without needing to spend hours or days learning it first.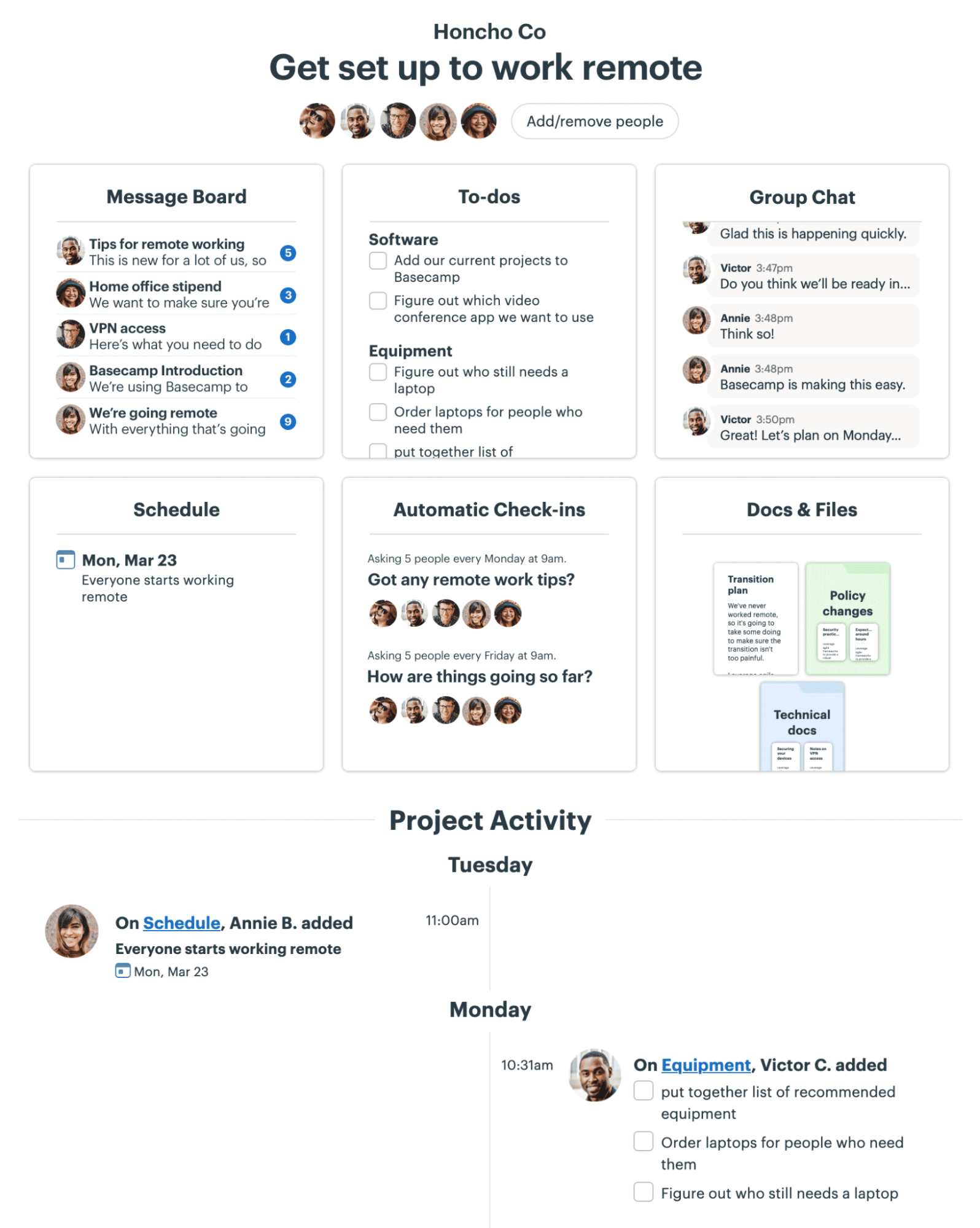 With its self-explanatory labels and dedicated blocks for to-do lists, files and documents, check-ins, schedules, and "campfire" forums, you're always one click away from what you need.
The very fact that Basecamp keeps away from complex features like budgeting, invoicing, and reporting means that it stands out purely as a collaboration tool.
This makes it ideal for teams looking to work together on a project without the added complexity of tackling so many additional features that may or may not get used.
Unlike Asana, Basecamp does not charge you based on the number of users .added. This means that the price remains the same whether you're working with 10 users or 100 users. For a startup, this adds up to significant savings as your company starts growing over time.
In short, if scaling your team in an easy-to-use task management environment without suffering additional costs or user limitations is what you're looking for, then Basecamp is probably the better option for you.
Pricing – Is Asana or Basecamp the Better Deal?
Winner = Basecamp
So far, we have discussed the general strengths and features of both platforms. Next, let's analyze the pricing structure of both platforms to understand the value they provide for your money.
Asana Pricing and Free Plan
Asana offers a variety of premium subscription plans designed for various business types. Though it's rare for project management tools to offer a free plan, Asana does offer one.
Additionally, its premium plans come with a 30-day free trial during which you can extensively test its features.
Here's what Asana's pricing plans look like: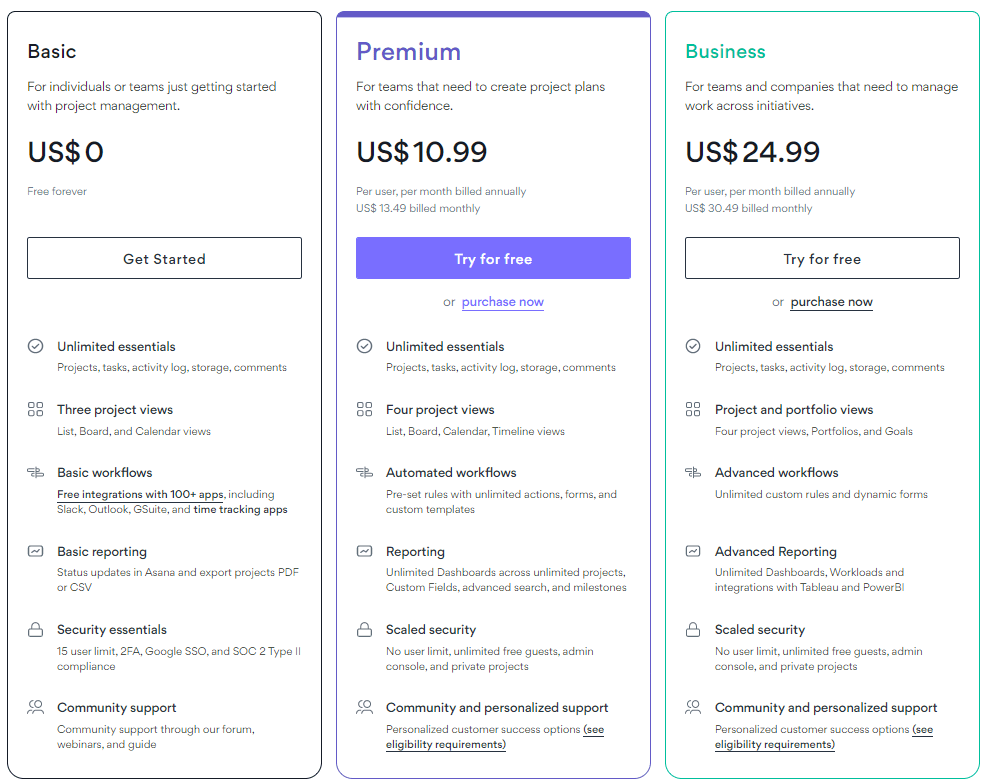 The Basic free plan offers collaboration with up to 15 team members. You'll also get access to features like task tracking with multiple views or Kanban board, storage, activity logs, and the ability to integrate your data from other platforms.
Some of the more advanced features are not available in the free plan. But it offers all the essential features needed to manage small to medium-scale projects, making the free plan ideal for small teams and freelancers.
However, for serious businesses looking to increase their project management efficiency, Asana's Premium plan is an excellent choice.
It costs $10.99 per user per month and offers all the essential features in the free plan along with advanced functions such as Gantt charts, automated workflows, and advanced reporting.
Thus, it is ideal for fast-growing startups and tech companies with multiple teams and large-scale projects.
Asana's Business Plan unleashes its full potential. Priced at $24.99 per user per month, this plan has everything in the previous two plans, plus advanced workflows, portfolio and goal management, workload management, and priority support. As a result, it is ideal for large businesses and distributed teams to use Asana for portfolio management and goal alignment.
Overall, Asana's pricing plans are intelligently designed for businesses of all sizes. Considering the features you get in each plan, it certainly offers value for money.
Basecamp Pricing and Free Plan
Basecamp's trend of adding simplicity to every aspect of its product is also reflected in its unique price plan.
Basecamp offers a single plan at a $99 per month flat rate instead of confusing the customer with three or four different pricing plans and does not limit the number of users.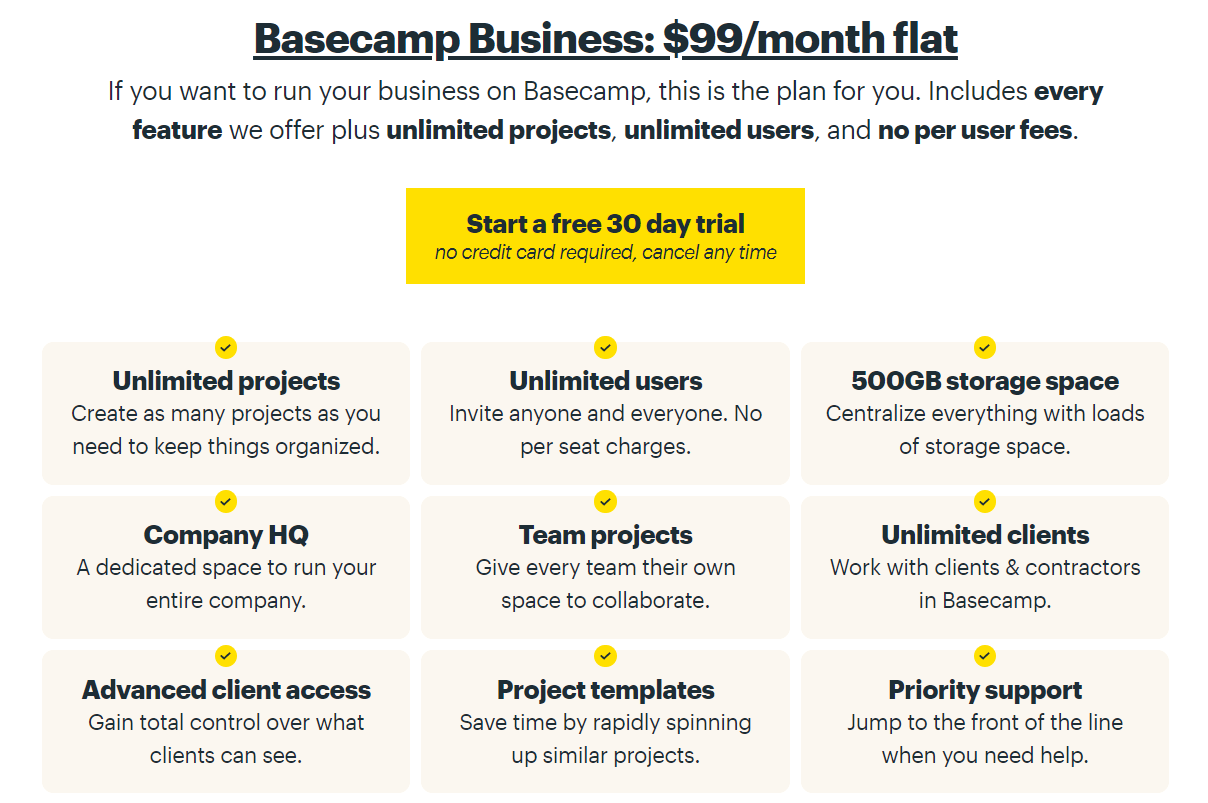 Unlike most project management solutions, Basecamp charges its customers per month instead of per user per month. This is especially attractive for any company that requires a basic collaboration environment for its teams with the potential to scale in the future.
With unlimited users, the more people you add to your plan, the less you pay per person.
Basecamp also offers a free plan if you have a smaller team, which it calls Basecamp Personal, where up to 20 users are allowed access to limited features along with three projects at a time.


Though it's tough to decide which platform has a better pricing plan because of such differences in their offerings and features, the fact that Basecamp's plan can infinitely expand with unlimited users gives it the upper hand.
And while Asana does offer a much more complete project management solution, it gets increasingly expensive as your team and organization expand.
Asana Features vs. Basecamp Features
Both Asana and Basecamp offer a lot of different features. Let's analyze and compare some of their key offerings.
To-Do Lists
Winner = Asana
To-do lists are a must-have for any project management solution where you can write down all tasks, create groups, add priorities, set deadlines, and assign tasks to team members.
To-do lists help the teams to focus on what matters at the right time and are an essential part of any project management plan.
Asana To-Do Lists
To-do lists can often get overwhelming if they contain random points from everywhere. This can become increasingly tricky when you're working on multiple projects simultaneously and need to catch up on project-specific items.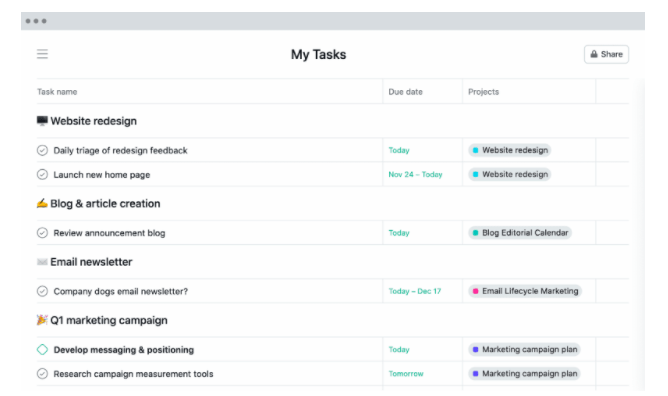 With Asana, you can smartly manage and segregate your lists based on specific tasks within a project. Everything in Asana is based on tasks. A task is an actionable to-do item that can be a building block for larger projects.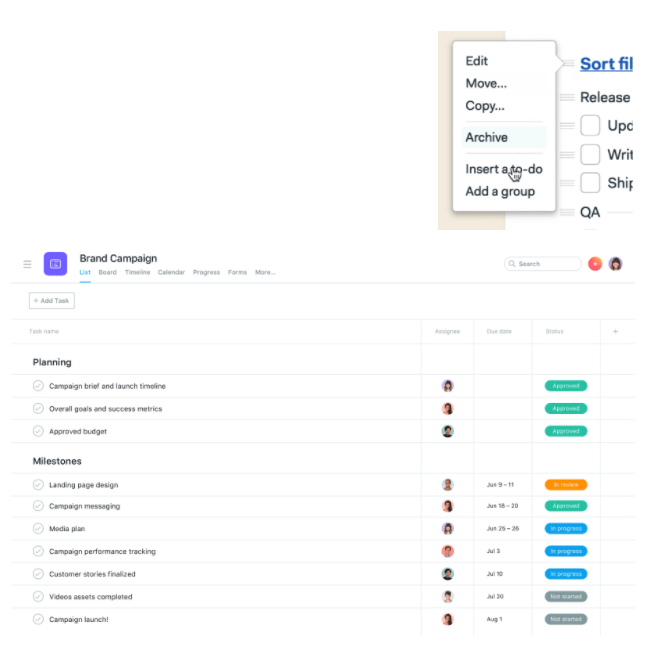 You can group your tasks based on sections and add descriptions, attachments, assignees, and due dates to ensure all the information is clearly communicated.
Basecamp To-Do Lists
Basecamp's to-do lists are a great way of tracking essential things you need to get done in one place.
You can create groups of to-dos on a list to better partition tasks based on different types of work.
In Basecamp, you can assign to-dos to different people, add notes and attachments, and comment directly on the task lists.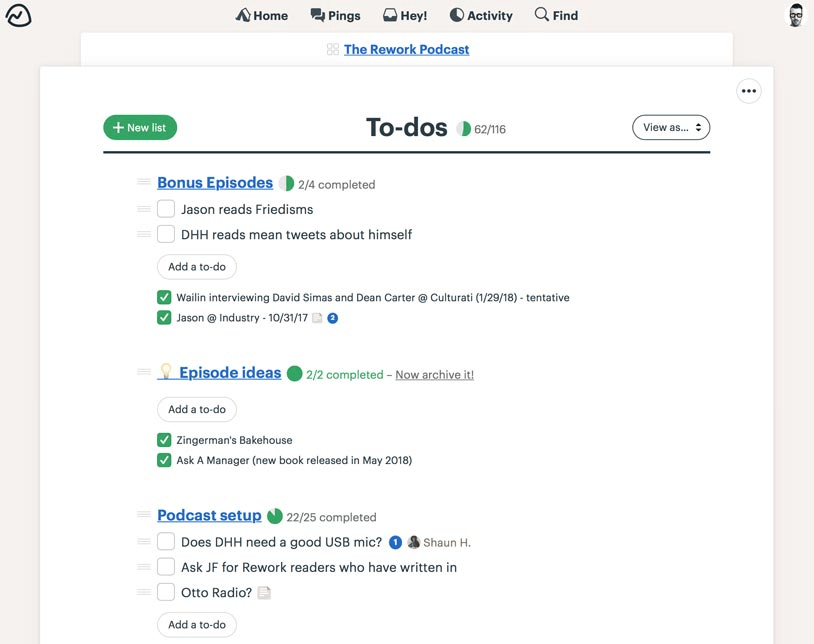 The straightforward approach in Basecamp is reflected in every feature, and to-do lists are no exception. It is a powerful tool for any team that wants to collaborate on a project with minimal complexity of conventional project management tools.
Progress Tracking
Winner = Asana
As the number of tasks increases, project managers must track the progress of the tasks they have delegated to their teams to ensure that deadlines are met.
Progress tracking tools give you a zoomed-out view of all the in-progress tasks and deep dive into specific tasks and projects to inspect further details that help track progress.
Asana Progress Tracking (Timeline)
Asana Timeline helps your project plans to remain on schedule and allows your team to see how all the pieces fit together.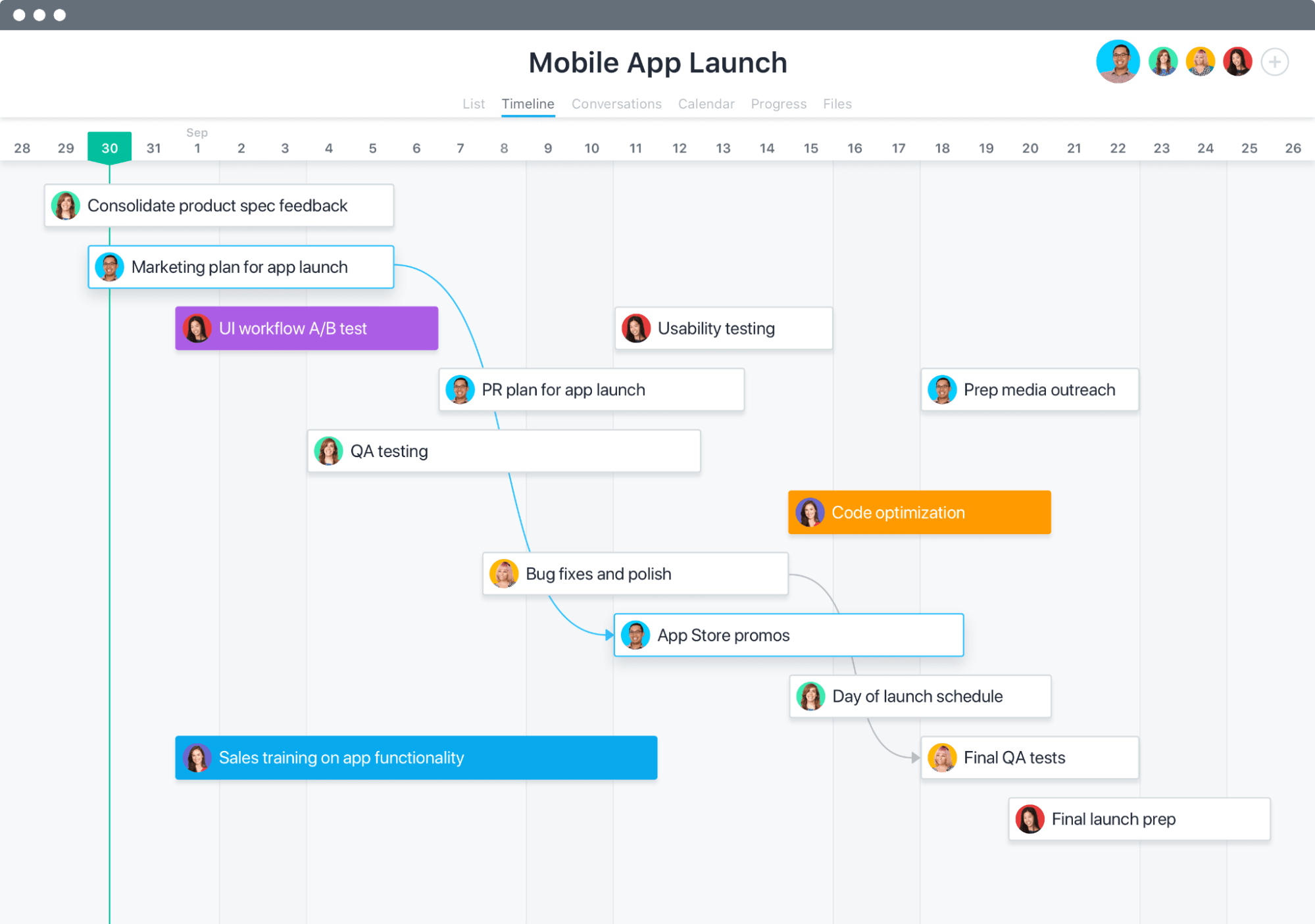 When you create a list of tasks for a project, the tasks are mapped on the timeline to show each task's progress.
It works best when you add start and due dates to each task and add dependencies to visualize what work is waiting on another task to complete before anyone can start it.
Asana's timeline also allows for easy modification if there's a change in plans and the team shifts the deadline of different tasks. This allows the team to stay updated on unexpected changes made to the project plan that would otherwise go unnoticed.

You can also sort your timeline view based on multiple filters. For example, you can use the assignee filter to check how much bandwidth each team has or task status to check whether a task is in danger of exceeding the timeline.

Basecamp Progress Tracking (Hill Charts)
Basecamp provides an innovative new way to track the progress of individual tasks through hill charts. Hill charts are derived from the to-do lists in Basecamp that allow you to track progress on each piece of work independently.
Every task goes through two phases where initially, you need to develop an understanding of what needs to be done and come up with an approach to best tackle the problem.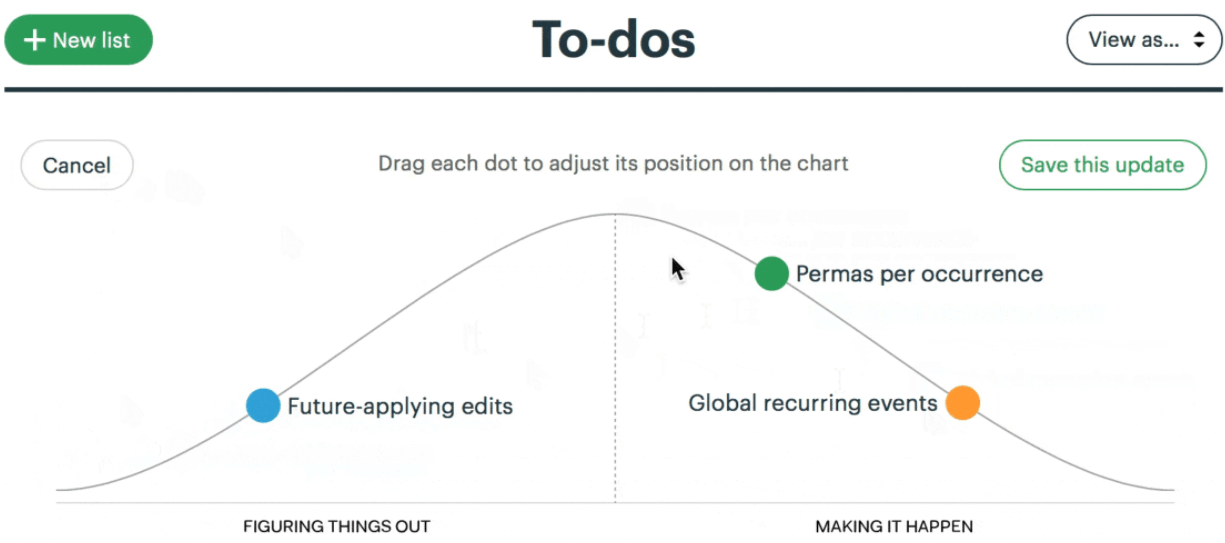 In this phase, you problem-solve and navigate around all the unknowns without being certain about the solution.
But once you find the missing pieces of a puzzle and start unpacking the mysteries, it's like standing on top of a hill. From this point onward, the only thing left to do is execute the plan and implement the solution that you came up with.
The Basecamp hill charts provide these phases where the task assignee manually drags each task to the best point in the charts that reflects its current status.
Managers can instantly check the status of all the tasks through the hill chart, and since all the dots represent actual list items from the project, the teams don't have to bother creating them separately.
Furthermore, a snapshot is saved in the project history every time there's a change in the hill charts, which provides additional context to the entire project without needing to question anyone from the team.
Integrations
Winner = Asana
Both Asana and Basecamp provide many features and tools for different business goals. However, third-party app integrations take functionality to a whole new level.
Integrations allow users to import all their data from third-party apps to expand and broaden the usability of the project management platform.
Asana Integrations
With hundreds of app integration options to bring all your work into one place, Asana is the ultimate platform where your team can work in a centralized environment and zero in on the most critical work.


With partners like Google, Microsoft, Zoom, Slack, and others, Asana provides an effortless integration process that streamlines the workflows and enables you to get more value from its features.
Basecamp Integrations
Basecamp provides many different integration options that will most likely cover all your needs.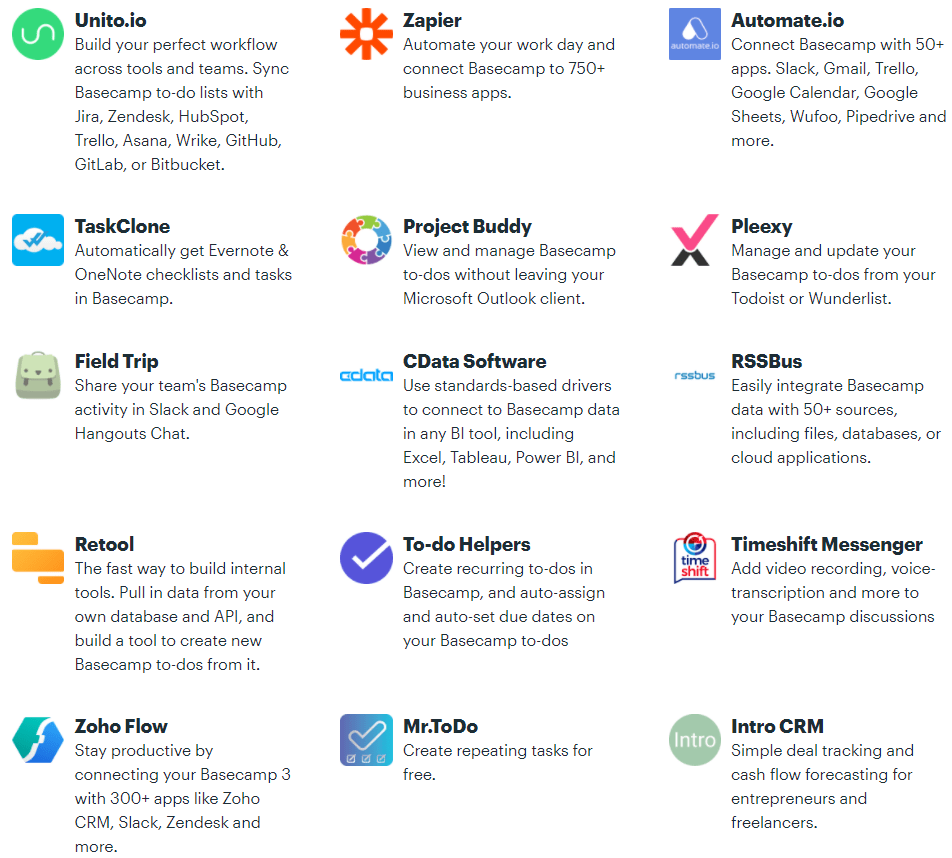 Some of these integrations even allow users to use functionalities that Basecamp doesn't natively offer.
However, Basecamp does miss out on some significant integrations like Slack and Mailchimp, which is a letdown for many users who rely heavily on these popular platforms.
Mobile App
Winner = Asana
When a team is working collaboratively on a single project, it is crucial for all team members to stay connected to avoid any blockers for the pending work.
Mobile apps for project management tools offer the solution to this problem by providing the same experience in the palm of your hand.
Asana Mobile App
With tons of features and options on the desktop version, Asana can be complex to navigate for someone not entirely familiar with it.
However, the Asana mobile app provides the same functionality packed in a relatively user-friendly and easy-to-navigate UI that allows you to get up to speed with your project updates in just a few taps.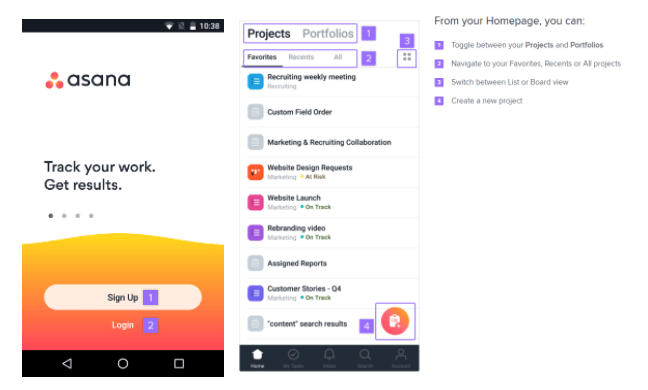 You can access various functions, including creating and managing projects, adding tasks, updating status, and communicating with your team on specific tasks.
In some instances, users prefer the mobile app as they find it a more efficient way to stay attached to their respective projects and colleagues.
Basecamp Mobile App
Scattered work is among the most significant work challenges for project teams. Basecamp resolves this with an intuitive mobile app that lets users view, edit or comment on projects on the go.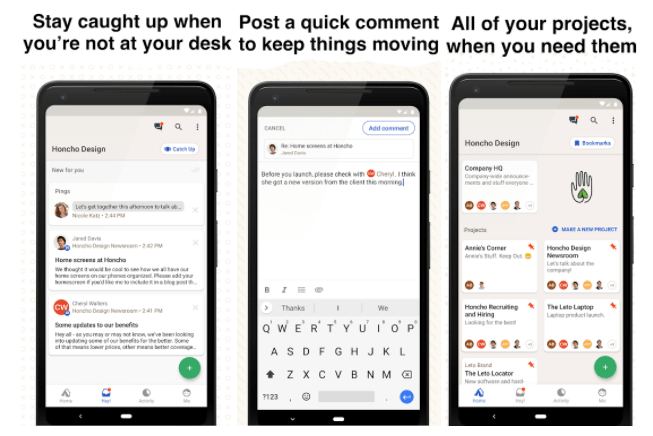 Basecamp app's home screen shows your Company HQ, Teams, and Projects. You can tap on cards to see all the tools available, like To-dos, Campfires, Messages, and more. When it gets a bit too crowded with many different projects, you can simply tap on the top right search icon in the toolbar and type the first few letters of whatever you're searching for.
Basecamp also lets you set bookmarks to get quick access to work that matters the most. By simply tapping on the Bookmarks button on the home screen, you'll see everything you've bookmarked.