Project management software represents a key tool for businesses looking to stay on top of their work. Finding just the right software to match the needs of the team can be challenging. Each package has slightly different features and capabilities.
Two of the most popular options are Asana and Airtable. They will both deliver strong results in the right situation, but they go about the process of organizing and managing projects in slightly different ways. We are here to determine the winner in the Asana versus Airtable comparison.
Our Recommendation = Get Asana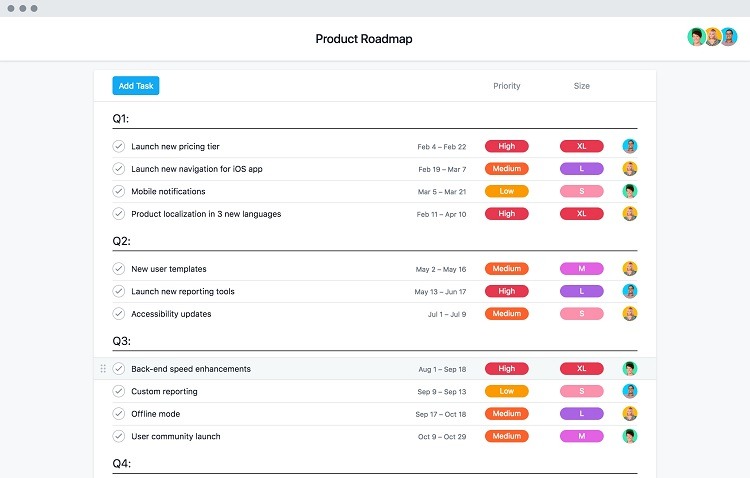 Although both project management tools have plenty of strengths, we recommend Asana for the average team of users.
When compared to Airtable, Asana delivers a more user-friendly interface. It gives users multiple viewing options to set up the project tracking to best match the end goal. Airtable has a few different views available, but not quite as many as Asana. Airtable isn't as easy to learn to use immediately as Asana, either.
Although both Asana and Airtable offer Kanban boards, Asana's Kanban interface is especially useful for those seeking project management features.
Asana supports several languages other than English, giving it more versatility in these areas versus Airtable, which is available in English only. Asana also delivers better overall security features than Airtable, which is important when storing sensitive documents on Asana cards.
Teams that need to collaborate on and manage progress for internal projects will undoubtedly appreciate Asana's features.
When to Get Airtable Instead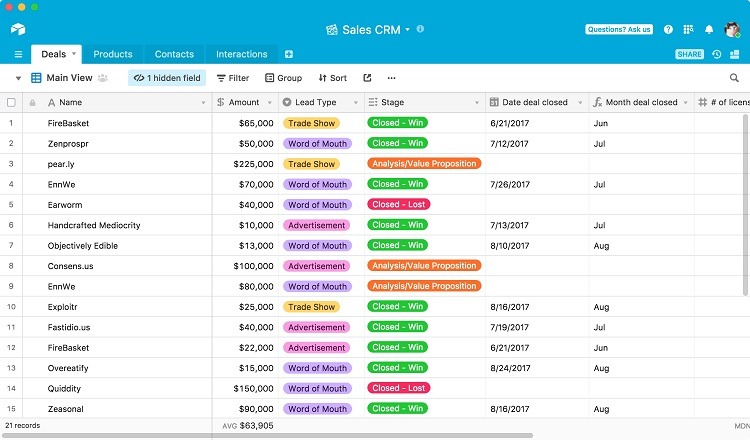 Those who already use Airtable may be very happy with it. In a case like this, we can't come up with compelling reasons to make the switch to Asana. Airtable is strong enough to do a great job for many different organizations.
Airtable does a better job of organizing and storing large amounts of data than Asana. It has several features that allow it to mimic the benefits of a spreadsheet. Asana's features work more like a database-only package, while Airtable has both spreadsheet and database capabilities.
Following on that theme, Airtable has better budgeting and invoicing features than Asana offers.
Ultimately, Airtable will be the preferred choice for those small businesses that need to work closely with external clients. The spreadsheets, invoicing, and budgeting functions in Airtable are ideal for this use case.
Pricing – Is Asana or Airtable the Better Deal?
Winner = Draw
Although there is a slight difference in price between Asana and Airtable, the difference is not significant until reaching the upper-middle subscription tier.
Airtable is slightly cheaper per user than Asana, and when an organization has a large number of users, this price difference expands quickly.
However, Asana offers a few more features in its middle pay tiers, making up for the difference in pricing and leaving the two packages providing a roughly equal value.
Asana Pricing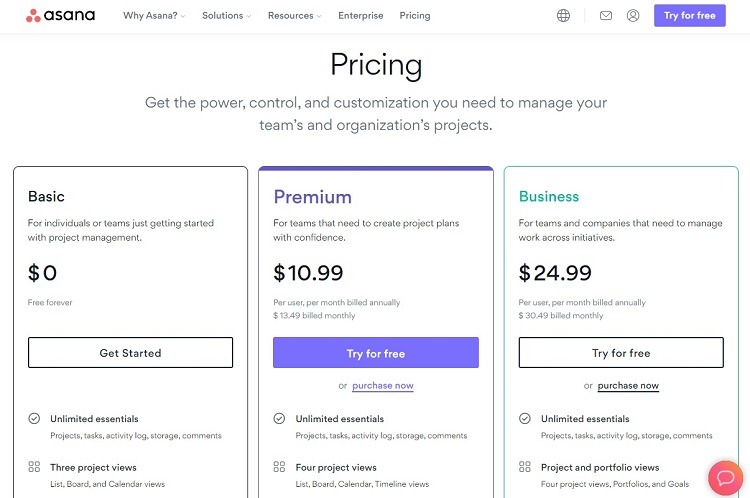 Asana has four different service tiers available. It offers a free trial period for both the Premium and Business tiers.
Free: The Free version is always free to use (rather than being a free trial period). With the Free tier, organizations have a 15-user limit, but they can create as many projects and tasks as desired.
Premium: Asana's Premium tier starts at $10.99 per month per user. It has no limits on users, projects, or tasks. It has improved reporting functions versus the Free tier, along with more robust security capabilities.
Business: The Business tier starts at $24.99 per month per user. It also has no limits on users, projects, or tasks. The Business tier offers more views than the Premium tier, along with expanded reporting functions.
Enterprise: Those interested in Asana's Enterprise tier will need to contact Asana for a custom price. It has the same features as the Business tier, along with extra security and customer support options.
Airtable Pricing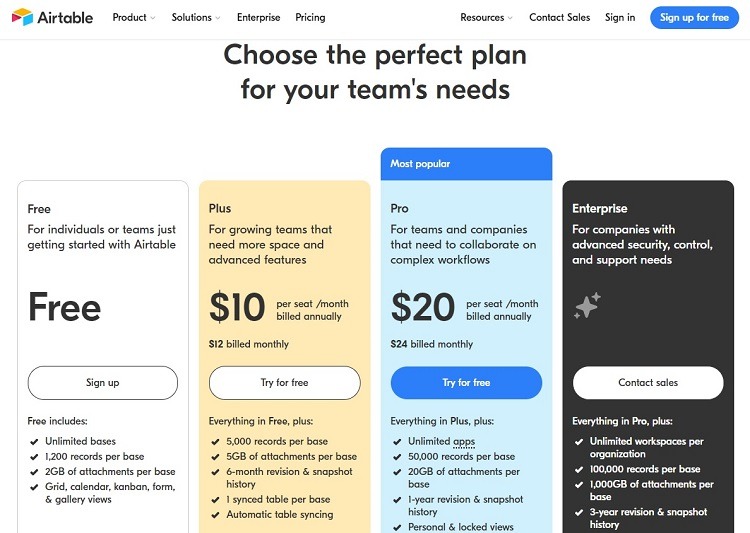 Airtable also has four pricing tiers available, including a completely Free level. Free trial periods are available for the Plus and Pro tiers.
Free: The Airtable Free version is not a trial period. It remains free to use for as long as an organization uses it. The Free tier allows an unlimited number of bases in the software with a limit of 1,200 automation runs per month.
Plus: The Plus tier starts at $10 per month per user. It is nearly identical to the Free tier, although it does offer up to 5,000 automation runs per month.
Pro: The Pro tier in Airtable starts at $20 per month per user. It offers 50,000 automation runs per month. It improves on the Plus tier by offering additional view options, built-in integration with important apps, design customization options, and branded capabilities.
Enterprise: Those looking to use the Enterprise tier will need to contact Airtable for a custom pricing quote. It has the same features as the Pro tier, but it allows 100,000 or more automation runs per month. It also offers administrative control features that aren't available in any other tier.
Project Management
Winner = Asana
Because both Asana and Airtable serve as project management software packages, it would be odd if they didn't excel in this area. Fortunately, they do!
That said, Asana's robust and intuitive user interface and outstanding Kanban board view give it a slight edge over Airtable. However, for those who need budget tracking and invoicing in conjunction with project management, Airtable offers these features very clearly while Asana's offerings are less accessible.
Asana Project Management Features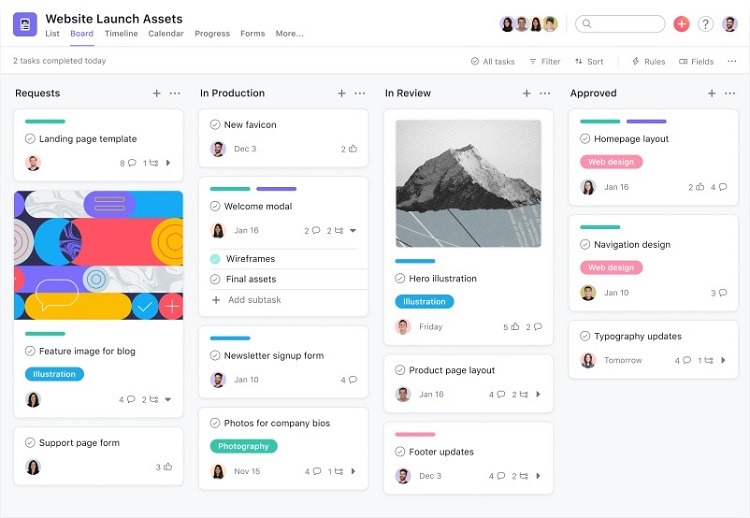 Because Asana focuses on project management, its interface and feature set entirely deal with organizing projects. This means it's easy to use, even for those new to this kind of software.
Its interface makes a lot of sense, as users create cards with individual tasks on them. Administrators can assign tasks to individual team members, and they can set deadlines for those tasks. Add files, description text, or images to individual cards, keeping all tools required for the project in one place.
Some of the most important project tracking features found in Asana include:
Collaboration: Individual team members can leave messages for each other on individual cards. The cards maintain a complete record of the messages, making it easy to go back and find important information later.
Creating Tasks: Breaking up a large project into smaller tasks can make the overall project more manageable. Users can see when they're making progress and hitting goals easier with individual tasks versus when viewing the project as a whole. Should one task become too large, Asana simplifies the process of breaking it up into multiple subtasks.
Personalization: Users can configure Asana in various ways, making the software work as efficiently as possible for their needs. Users can configure the software to only show the tasks and messages that relate to them, for example, reducing clutter.
Sprint Campaigns: Asana works especially well for teams that need to complete projects quickly and efficiently. Set up a new board for the sprint campaign, allowing team members to fully focus on the tasks and deadlines the campaign requires.
Views: Asana users can select from several different view options. Set up a project's organization in a way that makes sense for the type of project occurring. Projects where tasks must follow specific steps from start to completion will want to use the visually appealing Kanban boards. The calendar or goal views may work better for projects with strict deadlines.
Airtable Project Management Features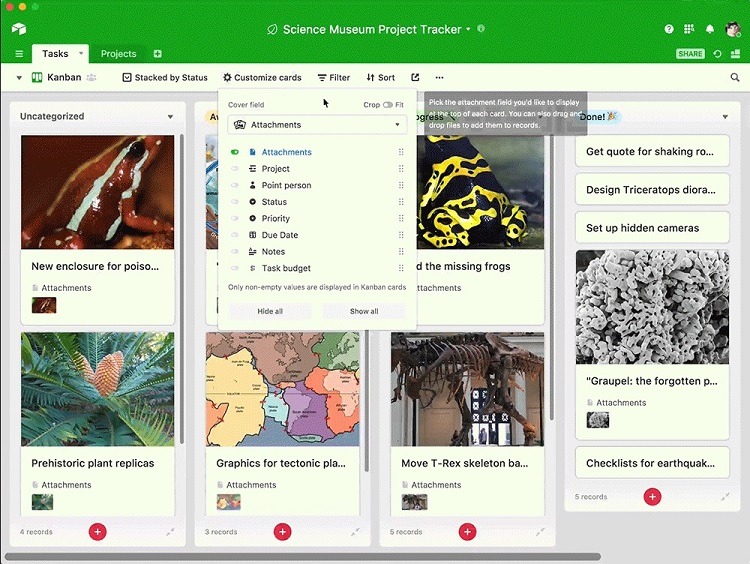 Airtable has a significant number of customization features. It allows organizations to set up and track projects to make the most sense for their teams.
Airtable tackles project management from the base of a spreadsheet design. Although this software relies on many of the same data entry techniques used in spreadsheets, it applies graphical elements to the interface to make it more enjoyable to use and provide a visual representation of how projects progress.
Some of the most important features found in Airtable include:
Collaboration: Through Airtable, users can leave comments for each other about different tasks and projects. They can upload files and make editing changes to the files as well. Collaboration can occur whenever the user has time, making it convenient.
Financials: Airtable sets itself apart from Asana by offering the ability to set budgets for projects and generate invoices from within the Airtable interface.
Reporting: Airtable offers multiple reporting functions that allow users to pull data directly from the software to create graphs and spreadsheet-like reports. These simple graphs can provide a quick snapshot of the progress of a project.
Versatility: With Airtable's features and templates, many different kinds of organizations and teams can benefit from this software. They include teams working on design projects, sales campaigns, editorial projects, promotional campaigns, product development, and project brainstorming, among others.
Views: Airtable offers a wide range of views for users, allowing them to manage projects in the way that makes the most sense. For example, a calendar view is helpful for a project that must follow strict deadlines. A Kanban board view helps with seeing how tasks within the project are moving toward completion.
Integrations With Third-Party Apps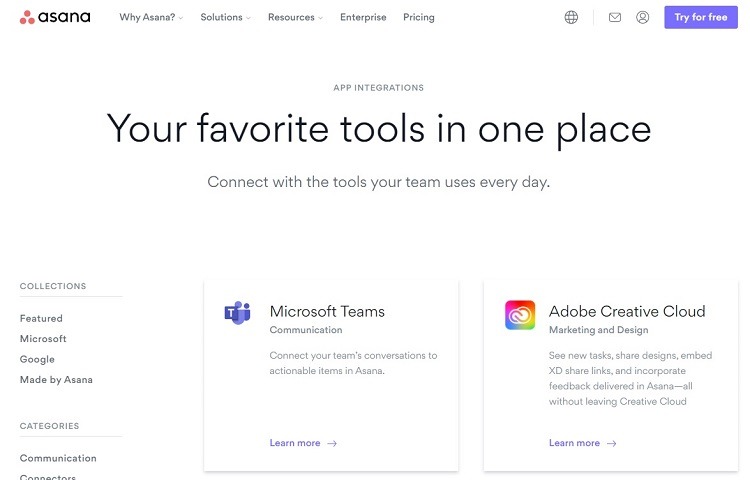 Winner = Asana
Many cloud-based software packages offer integrations with third-party apps. These integrations allow sharing of data between packages, simplifying their usage. The integrations also bring new features to the original software package, making it more useful.
Asana Integrations
Asana offers more than 150 different integrations. Through the Asana Integrations page, users can sort through collections of integrations before choosing to install any of them as part of the Asana package. Some of the primary integrations built directly into Asana include:
Adobe Creative Cloud
Box
Dropbox
Gmail
Google Drive
Jira Cloud
JotForm
Marker.io
Microsoft Office 365
Microsoft Teams
Salesforce
Slack
Typeform
Airtable Integrations
Airtable also offers access to dozens of integrations, but they aren't quite as easy to install and use as Asana's integrations. Airtable has several built-in integrations, including:
Box
Dropbox
Gmail
Google Drive
JotForm
Slack
Typeform
To gain access to the other integrations, Airtable users often will have to use Zapier as a go-between.
Templates and Project Ideas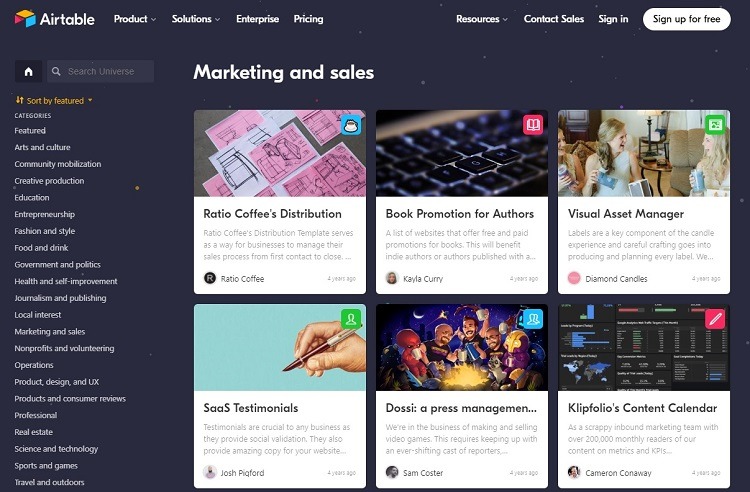 Winner = Airtable
Templates are helpful tools for project management software, as they provide a framework for starting a project. Templates also allow users to make slight tweaks to the original framework, personalizing it to meet specific functions.
Airtable offers many searchable templates, ensuring teams have a great starting point for using the software.
To help spark ideas for how to use Airtable in projects, the company offers the Airtable Universe. The Airtable Universe has a number of examples that show Airtable in use in great detail. These user experiences can help others solve problems and engage Airtable in new ways.
Asana also offers templates, although not quite as many as Airtable. Because of Asana's easy-to-use interface, though, its customers may prefer to build their own project frameworks from scratch rather than using a template.
Automation and Rules
Winner = Draw
One significant advantage of using project management software is its ability to save time for users. Team members can manually perform tasks as needed in the software. But they also can use rules and automation to reduce the amount of manual work they need to do.
Asana Automation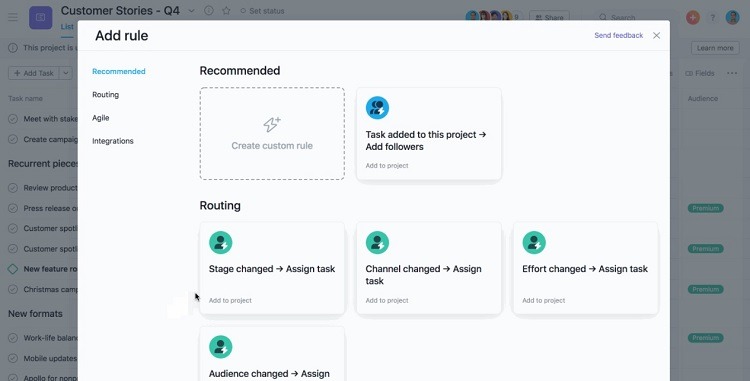 In Asana, team members can use the Rules feature to set up a process to run whenever a specific action triggers it.
When a team member creates a new task on a project board, for example, Asana can automatically create a due date based on the project's current status and other tasks within the project.
Additionally, Asana can automate assigning tasks to certain team members based on the type of work involved or the kind of project involved. Asana can measure the amount of work and assignments a particular team member already has, setting the due date accordingly.
Airtable Automation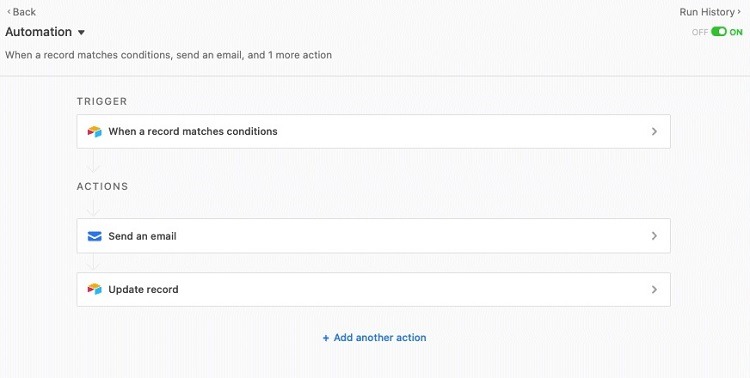 When running an automation in Airtable, users can set up triggers that kick in when certain events happen. The users can link those triggers to an automated action that the Airtable software will run.
Users can set up triggers for things like updating a record, creating a record, or passing a particular time and date. When one of these triggers happens, Airtable might run an action like sending a message in Slack, creating a tweet, or sending an email to team members.
Ease of Use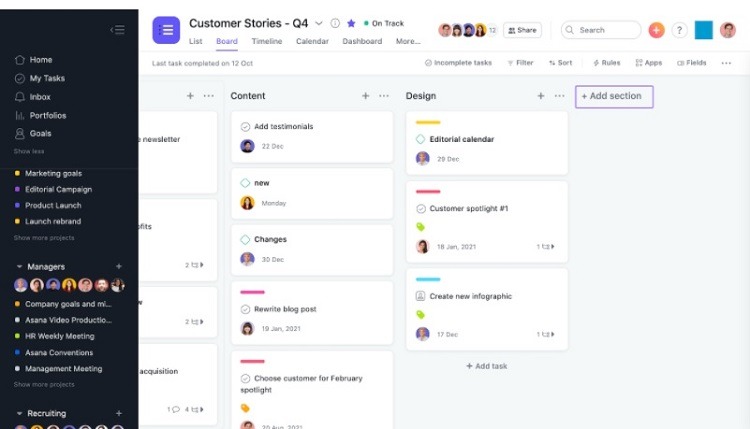 Winner = Asana
Asana is extremely easy to use, especially with its Kanban board interface. Users will be able to start using it successfully immediately.
Airtable isn't quite as easy to use as Asana, in part because it has spreadsheet functions at the heart of its design. To make the most of Airtable, users will need to have some experience with using spreadsheets and entering data in them.
Airtable does offer multiple templates that can simplify the process of learning to use the software quickly. Asana also has multiple templates.
Mobile Availability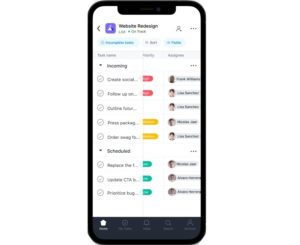 Winner = Draw
Both Airtable and Asana offer mobile and web browser versions of their software packages. Users can download iOS or Android apps for Airtable and Asana to use on a smartphone or tablet.
Asana and Airtable both offer cloud-based software, meaning there's no need to download copies of the software to install locally. Both software packages can run from a remote location through a web browser on a laptop or desktop computer. Users simply need a steady Internet connection to make use of these two project management software packages.
Asana carries over its strong design functions from its web browser to its mobile app version. Airtable's mobile design isn't quite as good as Asana's for beginners.
Customer Support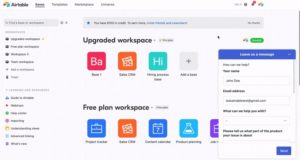 Winner = Draw
Airtable's customer service options will have limitations for those who subscribe to a tier other than Enterprise. With the Free, Plus, or Pro tiers, customers have access to email support, a searchable knowledge base, and community forums. Enterprise tier subscribers add the option of telephone support.
Asana's support levels are similar to Airtable's options. It has email support, a searchable knowledge base, and community forums available at all tiers. Asana offers a personalized support option for those who subscribe to its Enterprise tier.