The Ultimate Manual to Asana Integrations
Asana is one of the top project management software tools. But it doesn't perfectly fit every situation. The best way to give Asana more features and a higher level of usefulness is through adding integrations.
What Are Asana Integrations Anyway?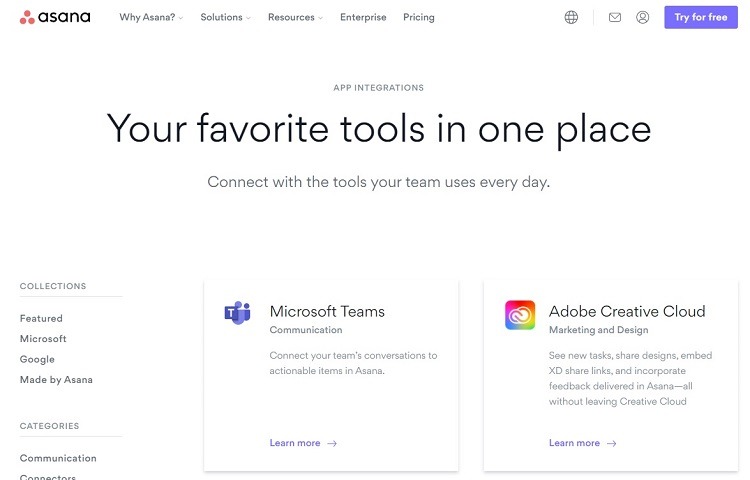 Integrations allow for connecting software packages and apps. Integrations help these separate tools share information, data, and settings and add functionality to the tools you use.
Syncing data and messages among the integrated software packages make both of them more efficient and beneficial for users. Integrations remove the issue of having data become isolated or siloed.
When a user makes a change in Asana, for example, Asana may send the information regarding the change to an integrated app. This saves the user from having to re-enter that information in two or more different tools, reducing the chance of errors.
The integration also keeps team members up to date about changes at all times. Rather than checking several different apps for changes and updates, the user can check one app, such as Asana, and see updates from all of its integrations.
Some of the top integrations that work with Asana include:
Box
Dropbox
Everhour
GitLab
Gmail
Google Calendar
Google Drive
Hubstaff
Jira
MailChimp
Marker.io
Microsoft OneDrive
Microsoft Teams
Salesforce
Slack
Time Doctor
Tray.io
How Asana Integrations Work
By allowing integrations, Asana can connect with other software packages. These connections enable the sharing of data, settings, and files while enhancing communication.
To create the integration, users must make a selection from Asana's list of integrations. The integration will ask the user to give permission to access the Asana account and to the account for the integrated software package. Users may have to create an account for the integrated software.
Once permission is granted, users can make changes in Asana and have them show up in the integrated software (or vice versa).
Asana Pricing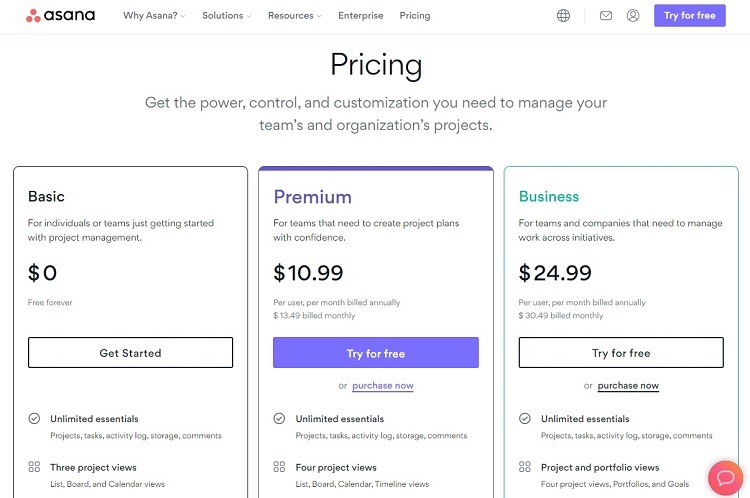 To use Asana integrations, users will need to have an account with Asana. There is one free tier and three paid tiers available with Asana.
Basic: The Basic tier is free to use indefinitely (rather than being a free trial). Organizations will have a 15-person limit on the account with the free version. Within the free tier, users can access more than 100 integrations.
Premium: The Premium level has a starting price of $10.99 per month per user. It has no limits on the number of users. It includes all of the integrations available with the free tier plus Jira.
Business: The Business plan has a starting price of $24.99 per month per user. Like the Premium tier, the Business tier has no limitation on the number of users. It has the same integrations as the Premium tier, plus integrations with Salesforce, Adobe Creative Cloud, Tableau, and Power BI.
Enterprise: Contact Asana for a custom price for the Enterprise level. It has the same integrations available as the Business tier.
Example 1: Integrating Asana With Communications Apps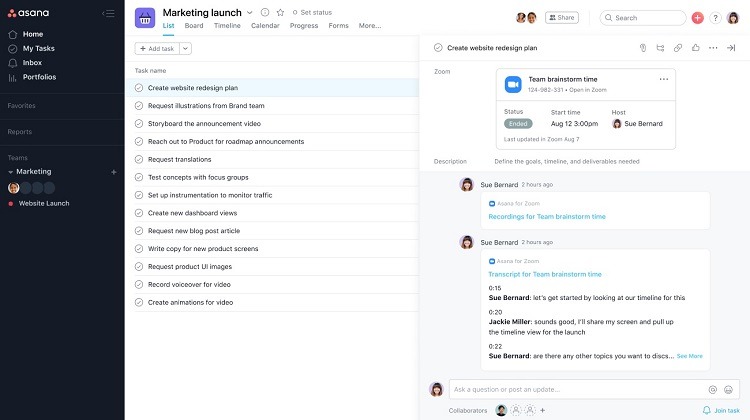 For an organization that uses email chains to handle communication, messages can stack on top of each other and get lost. When hoping to access a particular email message later to add to Asana, it's easy to lose track of important messages when they're part of a long email chain.
As a more efficient option, teams can create an integration between Asana and the email or communication apps they use most frequently. When an important message appears, users can link it with the appropriate Asana card to allow Asana users to find the information easily at any time.
Some of the most prominent communications apps with which Asana can integrate include:
Gmail
Microsoft Outlook
Microsoft Teams
Slack
Zoom
Benefits of Integrating Email Apps in Asana
When using an email app integrated with Asana, users have a few different options for making sure that a message becomes part of the information on an Asana card.
When someone sends an email message that should become a separate task in Asana, team members can use the integration to create a card based on the message. They don't need to open the Asana app.
Team members can also add an email message to an existing specific card inside Asana. This gives the person assigned to the card extra information to aid in completing the task.
As another option, team members can refer to an Asana card while composing an email. They can continue working in the email app, rather than opening Asana, to complete this task, thanks to the integration. Use the integration to search Asana for the right card directly from the email composition window.
Benefits of Integrating Other Communication Apps with Asana
Integrations with other communication apps, such as Slack or Zoom, pulling information from those apps into Asana is easy.
Team members working in the Slack interface can pull links from Asana tasks directly into a Slack channel. This ensures all team members are up to date on the progress of a task.
When setting up a Zoom meeting, team members can create a link to the meeting inside Asana. If the meeting has relevance to completing a task on a specific Asana card, team members can link directly to the card.
Depending on the team's subscription level inside Zoom, it may be possible to provide links to the recorded meeting file and a meeting transcript inside an Asana card.
Example 2: Integrating Asana With Development Apps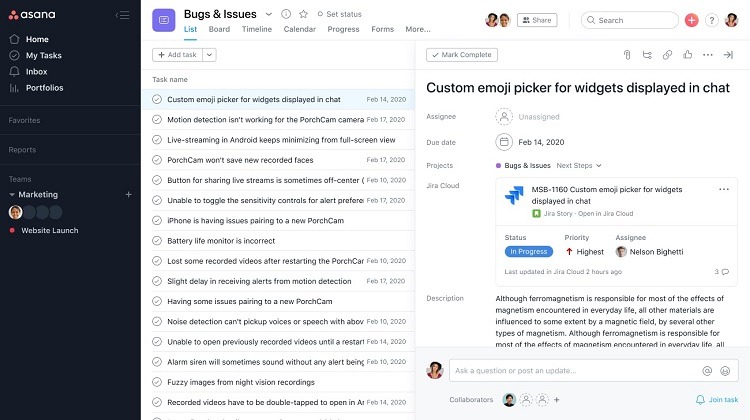 Teams looking to develop software, apps, or products may want to integrate Asana with apps that aid in development. These integrations can help with making workflows run smoother. Team members can connect with the development tools to monitor the progress of the project in Asana.
Some of the development apps with which Asana can integrate include:
GitHub
GitLab
Jira
Marker.io
ServiceNow
Tray.io
Benefits of Integrating Development Apps in Asana
Many development apps excel in helping teams track bugs. By integrating these apps with Asana, team members can create a task card in Asana to track the bug's process. They don't have to leave the development software interface to create the task in Asana.
Additionally, a team member working in Asana who needs to check on the status of a project idea in a development app can use the integration. Search the development app for the information without having to leave the Asana interface.
With either the Business or Enterprise subscription tiers of Asana, team members can set up rules that work with some development app integrations. These rules allow the team to automate certain tasks.
For example, when the development app sees an error occurring in a software product, web page, or app, the Rules feature in the Asana integration can take control. Rules can tell the development app to create an Asana task card automatically whenever a certain error occurs. This feature ensures that fixing any bug becomes part of the project in Asana.
Teams don't have to worry about missing any items that need fixing with the Rules function enabled. Even with Rules enabled, team members can still create tasks manually in Asana through the integration.
Example 3: Integrating Asana With File Sharing Apps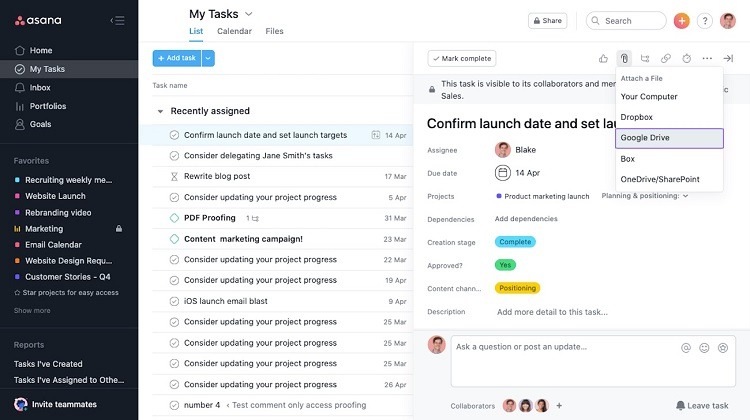 When seeking to add files to Asana cards, integrating Asana with a file-sharing app simplifies this process.
This is such a valuable tool that Asana developers chose to build access to several file-sharing apps natively as part of Asana. This means users don't have to download any integration software to make the connection work.
Some of the software integration options available for file sharing in Asana include:
Box
Dropbox
Google Drive
Microsoft OneDrive
Microsoft SharePoint
Benefits of Integrating File Sharing Apps in Asana
When linking a file-sharing app to Asana, users can simply add a file to any Asana card by clicking the paperclip icon on the Asana task card. The active integrations will appear in a popup menu. For those who have more than one file-sharing integration active, all of the options will appear in the popup menu.
Once the user selects a file to place on the card, Asana will create a link to the file. Asana does not download a copy of the file into the software. When users want to see the file's contents, they just click on the link on the card, and Asana can open the file using the integration.
As another advantage, users can be confident they always have the most up-to-date copy of the file on the Asana card. If other team members make changes to the file, Asana will always open the latest copy of the file when a user clicks on the link on the Asana card. It doesn't matter how long ago someone added the link to the Asana card. It always links to the latest version of the file through the integration.
Example 4: Integrating Asana With Reporting Apps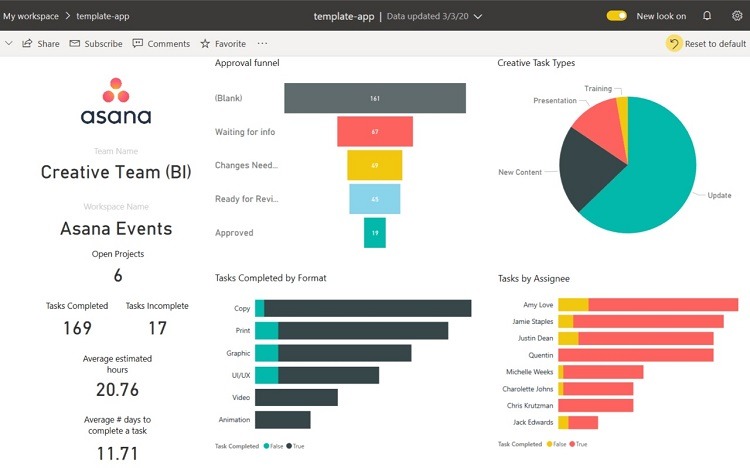 When managing a project within Asana, some teams need to understand the time spent on individual tasks and on the project as a whole. They also may need to monitor the project's overall progress or find areas where bottlenecks are causing the project to drag.
Integrating Asana with apps that can create reports provides this information. The integration allows the reporting app to pull data directly from Asana. This ensures accurate reports in real-time, making the information as useful as possible.
Some of the most common reporting app integrations available in Asana include:
Databox
Power BI
Tableau
Velocity
Benefits of Integrating Reporting Apps in Asana
Reporting apps can give teams information about how the progress of a project is occurring versus the team's goals. The reporting app pulls information from Asana to develop these reports. Project administrators can use this information to determine which project areas need more personnel and more attention to reach the team's goals.
Some reporting apps can pull data from Asana and other apps through a series of integrations to create an even more accurate snapshot. For example, pulling data from both Asana and tracking spreadsheets the team is using can give the reporting app extra information about the project's progress.
When a reporting app integrated with Asana is pulling real-time data about the project from Asana, it may give team members alerts about potential upcoming problems. The reporting app may even be able to create a message in Asana about the alert. This ensures those associated with the task card in Asana receive the information they need to deal with the alert.
Some integrations with reporting apps require a subscription to either the Business or Enterprise tiers.
How to Get Started With Asana Integrations
To begin using integrations with Asana, users have to follow a few different steps. To provide an example, we'll discuss the steps required to create an Asana integration with Slack. To see all of the integrations available through Asana, visit the Asana integrations webpage.
Step 1: Sign into Your Slack and Asana Accounts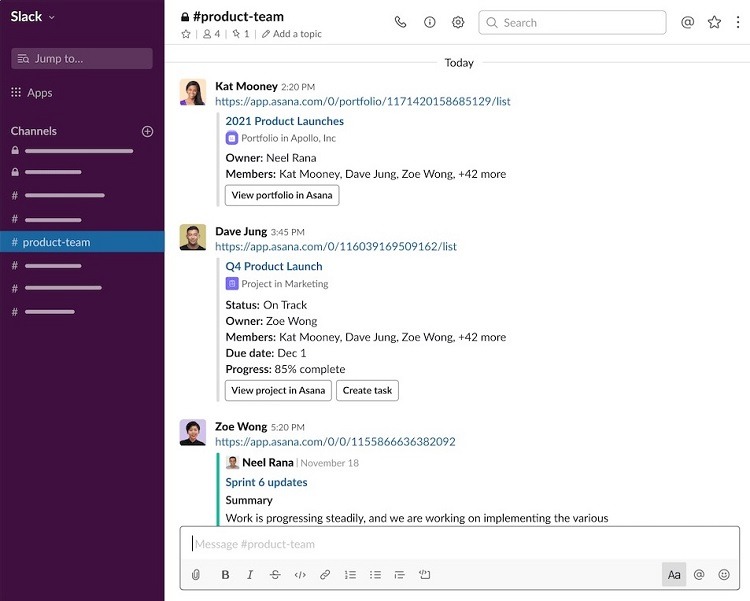 Sign in to the organization's Asana account. If you don't have a Slack account yet, you'll have to sign up for one. If you have a Slack account, be sure you have your login information available.
Step 2: Install the Integration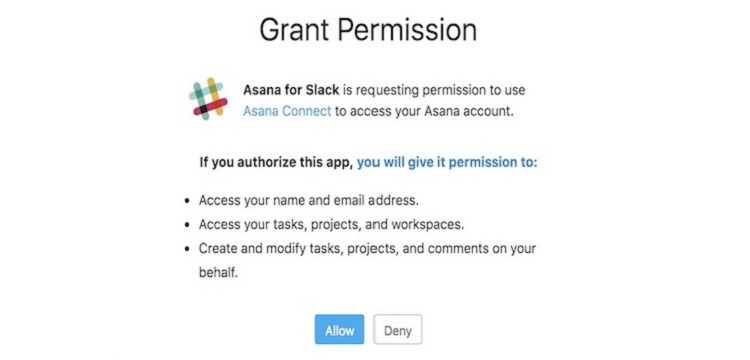 Open the webpage for the Asana-Slack integration to start the installation process.
Users then need to log in to the Slack account. Slack will walk users through the process of integrating Slack with Asana. You'll need to authorize your Asana account during this process.
Depending on how your organization has set up Asana, you may be unable to run the integration on your own. You may receive an error message indicating you don't have the authorization to use the Asana-Slack integration. Your system administrator may have to approve the integration on an organization-wide basis.
Step 3: Access Asana From Slack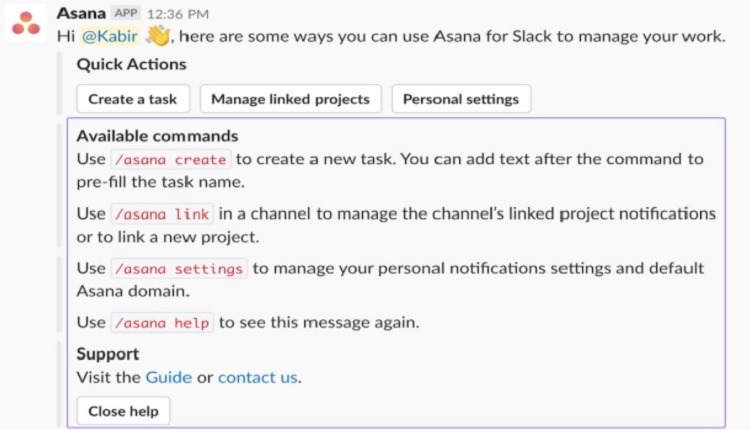 Once the integration is in place, Slack users can make changes that show up in Asana without having to leave the Slack interface.
Slack makes use of the /asana command from within Slack. Users can do things like create Asana tasks from Slack messages or manage notifications about Asana settings within Slack.
Additionally, Slack users can take information from a conversation occurring within Slack and send it to an Asana task. Users can even create a new task in Asana based on a Slack chat.
When you paste a link to an Asana task inside a Slack conversation, those with access to the conversation can make changes to the Asana task. They don't have to leave the Slack interface to do things like change the due date for the task or mark it complete.
Step 4: Create Automatic Notifications in Slack From Asana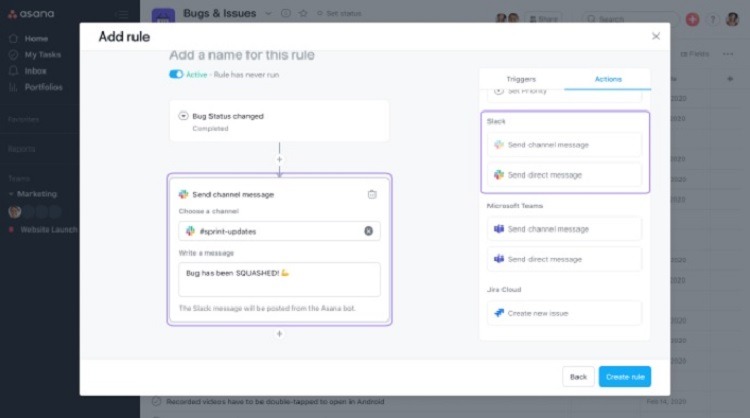 When working in Asana, you can create custom notifications within Slack while working in the Asana interface.
A common use for the Asana's Rules function is to create a message in Slack whenever a specific event occurs in Asana. These events may include having a task added to a board, assigning a task to a particular team member, assigning or changing a due date for a task, and marking a task as complete.
Through the Rules function, Asana creates the messages automatically. The Rules function allows Asana users to do things including:
Determining the action that automatically launches a message in Slack
Determining which channel in Slack will receive the message
Specifying the wording of the message that will appear