Amazon Cloud Storage – Should You Get It?
The business cloud is ever-growing. Companies of all sizes have replaced their infrastructure with a cloud-based service.
In fact, 81% of organizations now have at least one application or portion of their computing infrastructure in the cloud.
The simple reason is, it's a secure and cost-efficient way to process, store and manage data. Cloud infrastructure is also seen as more reliable and it's easy to scale as your needs, and indeed your business, grow.
Amazon Web Services is a premier option for businesses and is currently the biggest cloud-based infrastructure provider on the market. But the question remains, is it right for your business?
This post will look at some of the standout features of AWS, examine how it compares to other solutions, and help you determine whether it's the right choice for you.
What You Get With Amazon Cloud Storage
AWS (Amazon Web Services) is a cloud platform that offers over 200 services. It's the most popular cloud infrastructure service provider with a market share of 32%.
It's used by businesses of different sizes, from startups to enterprises, to power infrastructure and applications. For example, you can use it to build and operate infrastructures, such as compute resources, storage and databases, and applications, such as data lakes, analytics apps, and machine learning technologies.
What's interesting about AWS is that it provides on-demand tech services on a pay-as-you-go basis. Essentially you build your own package based on the services you need and only pay for what you use.
Now, let's examine some of the key features of Amazon cloud storage:
Feature #1 – A DIY Solution
The major selling point of Amazon cloud storage is its expansive range of services. There are storage and content delivery tools, databases built for specific industries, networking tools, developer tools, security apps, data transfer tools, and the list goes on…

With Amazon cloud storage, you also have access to the conventional cloud storage services you would expect, such as virtual servers, file systems, and archival storage. Basically, you can do anything you would do using a regular cloud storage provider and then some.
Each of the 200+ services offers high functionality as they are rich in features. And you can configure each service according to your needs. Furthermore, AWS is always expanding its list of add-ons and integrations.
So, essentially, you get to build exactly the cloud storage solution that you need. Picture each service as a building block that makes up your ideal cloud infrastructure. This makes AWS cost-effective, highly customizable, and high-performance. What's more, you can easily scale the service as you need to.
Feature #2 – Availability
Amazon offers a global cloud infrastructure with its services provided by data centers around the world. In fact, AWS has 77 availability zones within 24 geographic regions. A further 18 availability zones within 6 regions are planned in Australia, India, Indonesia, Japan, Spain, and Switzerland.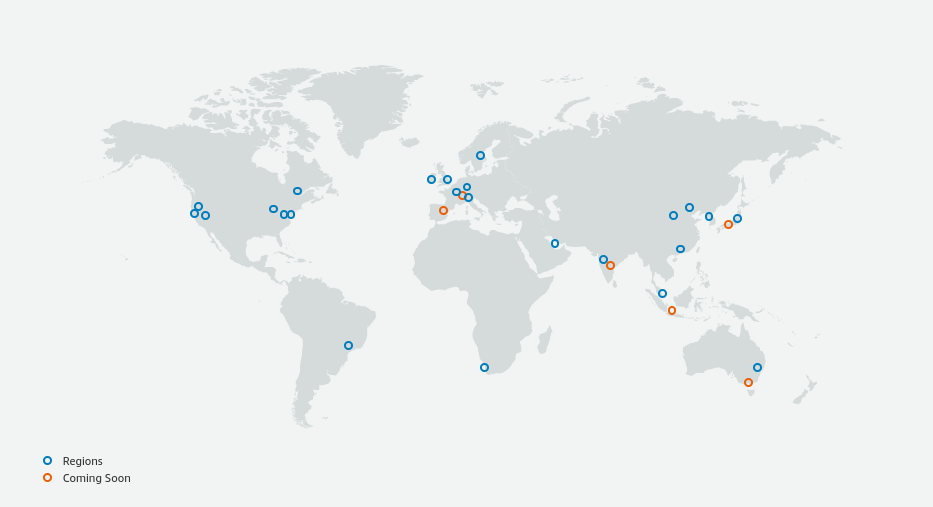 This means increased performance for your business, for example, if you need to connect users from across the globe to your cloud. It's also better for your customers. For instance, you can launch an app from a location close to the end-user with minimal delay.
Its huge global infrastructure also makes the service reliable and minimizes the risk of downtime. Naturally, the last thing you want is downed servers.
The fact that further availability zones are planned also indicates that AWS will be around for the long haul and continue to grow even further in the future.
Feature #3 – Easy Setup
Using AWS can be as complex or as simple as you like. Setting up a basic cloud solution is relatively easy.
Some of the more complex elements of setting up a virtual server have been automated. Other options and settings are a matter of clicking the right buttons and making choices from dropdown menus that suit your business.
All in all, it's likely that your IT person or team can handle the task. If you want to take advantage of the more complex AWS services, you may wish to hire a consultant. It depends on the kind of IT resources you have available.
But, essentially, what all of this means is that despite AWS seeming complex, it is accessible to SMBs, not just large enterprises.
Feature #4 – Scalable Storage
With Amazon Simple Storage Service (Amazon S3), you can scale cloud storage up and down according to your needs.
You store your data in objects of up to 5 TB. These objects are stored in buckets to keep them well-organized. And you can use intelligent tiering which prices data storage according to your access needs and therefore saves costs.

The scalability of storage, again, means that AWS is suitable for both small and large businesses.
There are further storage options among Amazon's services that cater to different needs. For example, if you don't need to access data very often then you can opt for long-term archiving and backup in the form of Amazon Glacier.
Another popular option is Amazon EC2, which provides a powerful virtual computing environment on a virtual server. You can use this computing environment for cloud storage, memory, networking, and running your business's applications.
As you get to determine how you use this environment, it's extremely flexible and scalable.
Feature #5 – Database Management
If you have a ton of data to manage, you can make use of the Amazon Relational Database Service. In case you were wondering, a relational database is a type of database that's highly intuitive and helps you gain insights into the relationships between data.
One great thing about this service is that a lot of the manual tasks involved in setting up and maintaining a database are automated. As with many of AWS's services, the Relational Database Service is flexible, depending on your needs.
The service integrates with a number of database management systems, such as MySQL and Oracle. Thus, it fits in nicely with your existing systems. You can also use Amazon's proprietary database, Amazon Aurora, which is speedy and affordable.

Essentially, database management through AWS is quick, secure, easy, and, again, scalable.
Feature #6 – Advanced Security
Being one of the largest cloud providers, security is a big deal for Amazon. As such, it offers a number of advanced security features.
For example, many manual security-related tasks are automated. This reduces the risk of human error when configuring security controls.
Amazon cloud storage also provides advanced admin and access controls. You have control over who has access to what and AWS carefully checks the identities of users.
All of your data is automatically encrypted in storage and when it's on the move. Plus, you have the option to add additional layers of encryption and security extensions.
Naturally, these security features are vital as cloud infrastructure is a major target for cyber attackers.
And finally, AWS accommodates thousands of global compliance requirements. You may need this if you operate in a heavily-regulated industry.
Feature #7 – AWS Free Tier
Another aspect of Amazon cloud storage that you'll no doubt be interested in is its free tier. This allows you to experiment, learn the ropes and try out a number of AWS services before you commit.
Services in the free tier fall into three categories:
Always free
12-months free
Free trial

In the always free category, you get services such as 10 GB of storage with Amazon Glacier, 750 hours worth of free database migration and access to productivity and management tools.
For 12 months, you can get 5 GB of S3 storage, 750 hours of Amazon EC2 per month and more for free. Plus, you can take free, short-term trials of advanced services, such as Amazon's machine learning capabilities.
These free services are supremely useful as they allow you to begin building your cloud-based infrastructure.
What Differentiates Amazon from Other Cloud Storage Solutions?
There are a number of Infrastructure-as-a-Service (IaaS) providers on the market. But, AWS's two main competitors are Microsoft Azure and Google Cloud:
Microsoft Azure
Microsoft Azure is the second-largest cloud computing service on the market. Many companies opt for Azure if they already have Windows systems and Microsoft software in place as it integrates so easily.
Another major differentiating factor for Azure is its hybrid and multi-cloud options. AWS and Google Cloud have introduced hybrid cloud solutions in recent years. However, AWS's main focus is on the public cloud. Azure, on the other hand, interoperates with companies' data centers and therefore offers a strong hybrid solution.
Google Cloud
Google's technological capabilities and expertise are what sets Google Cloud apart in this space. It may not be the top choice for large organizations just yet. But given its investment in machine learning, AI, and analytics, the future of Google Cloud could be really interesting.
It's also ahead of the pack when it comes to cloud container services, which makes the deployment and management of your company's applications more efficient and portable. Google Cloud's container services are cheaper than any other provider on the market.
What's the Bottom Line?
AWS can't be beaten on its breadth of services. Though Azure and Google Cloud offer similar major services to AWS in terms of computing, storage, and networking, they're still playing catch up. Azure has 100+ and Google Cloud 60+ services, compared to Amazon's 200+.
However, the sheer number of services and a pay-as-you-go pricing model makes adding up the costs involved with AWS confusing and difficult. Even if there are cost benefits to be had from choosing AWS.
AWS may have a couple of pitfalls, but it is still the leading IaaS (internet as a service) solution. Azure is generally seen as a solid number two and is beginning to close the competitive gap. Google Cloud isn't quite at the level of the other two yet. However, its technological capabilities in areas such as machine learning and analytics make it the right choice for some.
All in all, you may want to choose an alternative provider if you have certain specific needs and desires. But, AWS is currently the superior choice.
Who Should Consider Amazon Cloud Storage?
AWS is enterprise-ready. Large organizations can and do benefit from Amazon cloud storage. AWS counts some of the biggest global enterprises as customers, including Coca-Cola, Siemens, Netflix, Linkedin, and many more.
According to Gartner's Magic Quadrant for Cloud Infrastructure and Platform Services report, "AWS is the most mature, enterprise-ready provider, with the deepest capabilities for governing a large number of users and resources."
By comparison, AWS's competitors don't seem to be up-to-scratch. The Gartner report, also noted, "While Microsoft Azure is an enterprise-ready platform, Gartner clients report that the service experience feels less enterprise-ready than they expected, given Microsoft's long history as an enterprise vendor."
Though, what's really surprising about AWS is that it's a great option for small businesses and startups, too. It has the tools to help you build a company infrastructure from the ground up. And its flexibility and scalability mean that AWS can grow with you. Making the move to AWS as an existing company is also easy and budget-friendly thanks to its migration tools.
Overall, AWS is a scalable, flexible, and affordable solution for companies of all sizes.
Summing Up
Cloud-based infrastructure will likely be ubiquitous in the future. If you haven't already made the move to the cloud, you no doubt will in the years to come.
What makes AWS a good choice for your business?
You get to build your own solution from a wide range of services.
It has a global infrastructure that increases performance and minimizes the risk of failures.
Though seemingly a complex offering, it's relatively easy to set up.
It has a wide range of scalable storage and database services.
There's a free tier you can use to try before you buy.
What's more, AWS outranks its competitors, Microsoft Azure and Google Cloud. However, these are still solid options and it's worth keeping an eye out for what innovations they may come up with in the future.
Finally, AWS is suitable for businesses large and small, given its breadth of services and scalability.
Now it's over to you to find the right building blocks to create your custom infrastructure with AWS.