Airtable vs. Quickbase – Side-By-Side Comparison
When businesses need a repository to store critical documents and information, customized database software is a smart choice. Airtable and Quickbase are two popular options among business users.
Both Quickbase and Airtable allow users to create a database quickly. Users do not have to know how to code to customize the information and present it in a way that makes it easy to find and use.
We'll compare Airtable and Quickbase to help businesses determine which is the best model for each of them.
Our Recommendation = Get Airtable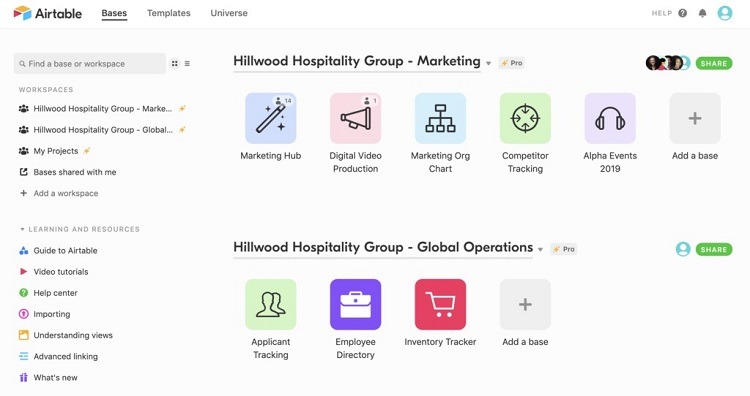 We prefer Airtable for the majority of businesses. Airtable has more versatility than Quickbase, which gives it an advantage for the average customer.
Airtable's greatest strength is its success in reinventing the spreadsheet. It uses a spreadsheet interface at its heart, then builds graphical elements that simplify using the software and finding the required data. This allows users to treat Airtable like a database.
Customization and flexibility set Airtable apart from Quickbase. Users can store and retrieve data in the format that makes the most sense to them. Airtable has multiple viewing options, so people can set up the data in the way they want for each project.
Airtable is extremely easy to use, a significant benefit for smaller businesses that may not have dedicated IT departments. Users do not need to understand programming to use Airtable actively.
Additionally, Airtable doubles as a project management software. Teams can store documents, photographs, and other files required to manage a project while also tracking work progress. This highlights Airtable's versatility.
Finally, Airtable has cheaper options than Quickbase, especially for businesses with fewer users on the account. Airtable even has an entirely free version for a company that simply wants to try the software or has very basic requirements.
When to Get Quickbase Instead


Quickbase's strength lies in its ability to solve specific problems. It doesn't try to deliver the same expansive versatility as Airtable, making it a better choice for teams that need focused features. It can provide a greater level of advanced features in its areas of focus.
Because of its pricing tiers and advanced features, Quickbase is going to appeal more to larger businesses.
Quickbase does an excellent job of integrating with other apps a business is already using. For the organization that needs to share data among multiple apps, it's helpful to store the data and files in Quickbase and pass them to other apps.
For advanced users, one of the biggest advantages of Quickbase versus Airtable involves creating automated tasks. With Quickbase, users can implement automation within the software that kicks in when the users change certain records. Airtable does not allow for building automated tasks.
Additionally, Quickbase provides compliance with standards like HIPAA (Health Insurance Portability and Accountability Act), while Airtable does not.
Pricing – Is Airtable or Quickbase the Better Deal?
Winner = Airtable
For the majority of customers, Airtable's pricing will be the better deal. Airtable has more pricing tier options, including a free plan.
However, unlike Airtable and other cloud-based software packages, Quickbase doesn't charge by the user. It has user limitations built into each tier. For businesses that will have a large number of users on the account, Quickbase may offer a better price per user than Airtable.
Airtable Pricing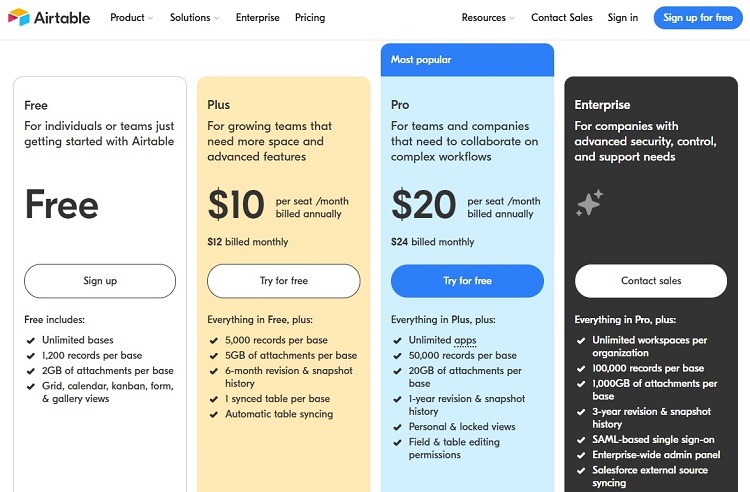 Airtable has four different subscription tiers.
Free: The Free tier is available to everyone, and remains free to use forever. It is not a free trial that will eventually expire. The Free level has limited features, so it typically will not work for larger organizations. It does allow 2 GB of file attachments and 1,200 records per base. There is no limit on the number of bases you can have in the Free tier. It also allows grid, calendar, kanban, and gallery views.
Plus: The Plus tier costs $10 per month per user when billed annually and $12 when billed monthly. Plus contains everything in the Free level, along with some added features. It allows up to 5,000 records and 5 GB of attachments per base. It also has a six-month historical view, so team members can go back and revisit a past iteration of a project, and they also get automated table syncing.
Pro: The Pro tier is $20 per month per user when billed annually and $24 when billed monthly. It allows up to 50,000 records and 20 GB of attachments per base. Users can see a one-year historical view. You'll also get a Gantt chart view and a timeline view. Users get an unlimited number of apps in the Pro tier, and they can create custom-branded forms.
Enterprise: Large businesses and organizations with advanced security and customer support needs will want to look into the Enterprise tier. It offers everything in the Pro tier, plus 100,000 records and 1 TB of attachments per base. It delivers a three-year historical view. You have to contact Airtable to receive a custom price quote.
Users can also test a free trial for the Plus or Pro plans.
Quickbase Pricing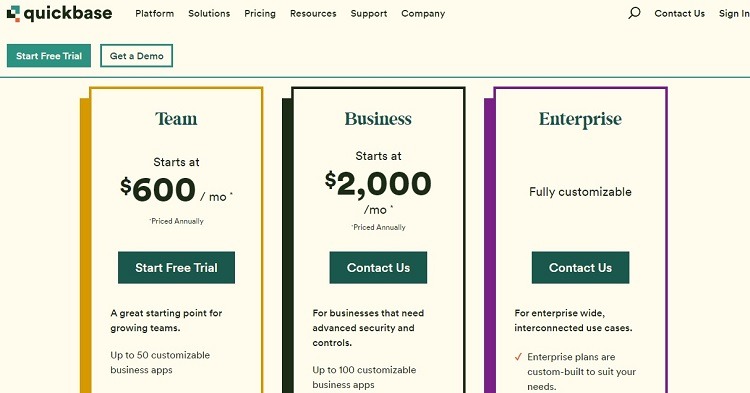 Quickbase offers three pricing tiers, and it does not provide a free version.
Team: The Team tier starts at $600 per month. It offers up to three integration channels. You'll get the Quickbase mobile app and workflow automations. Quickbase retains data for audit logs for up to six months in this tier. Customers have access to e-learning tools and community-based support options.
Business: The Business tier starts at $2,000 per month. It contains everything in the Team tier but with five integration channels. Customers can build custom company branding within their Quickbase pages, and the software stores data for audit logs for up to one year. HIPAA compliance is automatically part of the Business tier.
Enterprise: To receive a customized quote for the Enterprise plan, contact Quickbase. Subscribers can select a custom number of integration channels, and it comes with custom encryption. In the Enterprise tier, the software retains data for audit logs for up to three years.
Quickbase offers a free trial for the Team tier and a demo upon request for the others.
Quickbase users can purchase add-on features for things like customized encryption, training classes, audit logs, and extra storage space within each level. Quickbase also allows customers to buy licenses that go beyond the user limit. All of these things can greatly affect the prices listed here.
Ease of Use
Winner = Airtable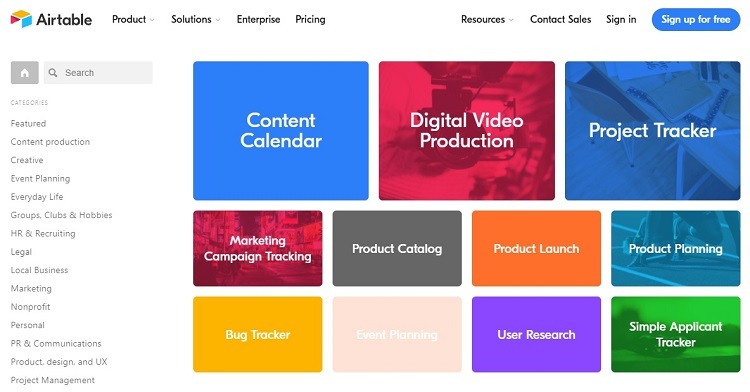 Both Airtable and Quickbase do not require programming experience to use. This simplifies anyone's ability to sit down and begin using either software successfully with very little training.
Ultimately, Airtable receives a slight edge in ease of use. Because Airtable uses the very common spreadsheet format at the heart of the software, most users should be familiar with the interface. Those who use Google Sheets or Microsoft Excel will recognize the Airtable interface easily. Quickbase isn't quite as intuitive.
Both products offer templates to simplify things further. Airtable does have more template options. Its templates are searchable as well, helping you find just the right one.
Customer Service
Winner = Quickbase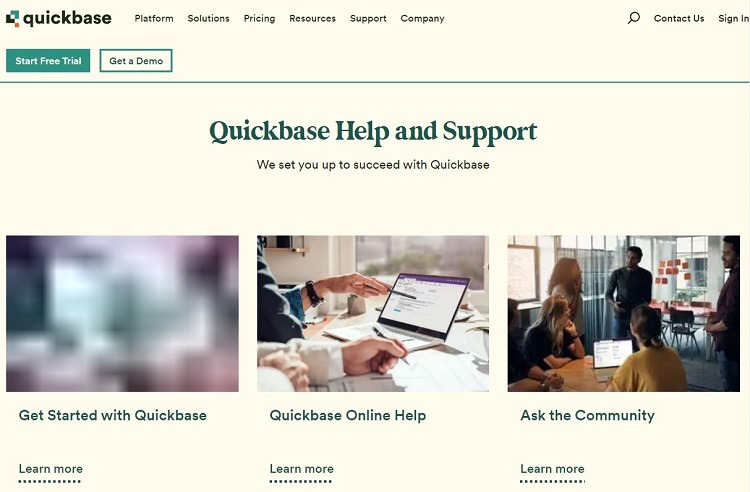 Quickbase offers a greater level of customer service options than Airtable. Quickbase customers can access email support at any tier and more extensive support options for an extra charge, including phone support. For large businesses that need help with setup and training, Quickbase provides these services for an add-on cost.
Quickbase also has 24/7 support, which Airtable doesn't.
Airtable offers email support for users even in the Free tier. But to receive priority support, users will need to subscribe to the Enterprise tier.
Both software packages offer e-learning tools, a knowledge base, and community support options that customers can use independently. However, because Airtable has hundreds of thousands of customers and Quickbase reportedly has less than 10,000 customers, the depth of information available in the community support is more robust with Airtable.
Apps and Integrations
Winner = Draw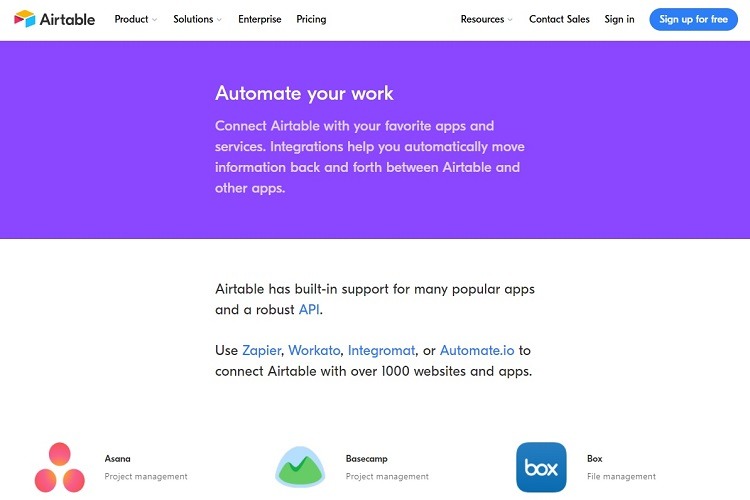 Both Airtable and Quickbase offer a wide range of third-party app integrations to give both a higher level of usefulness. When a user changes or adds data to the Quickbase or Airtable software, these changes will also show in the integrated software.
With Airtable, you'll find integrations with most of the popular apps an organization normally would use, including :
Asana
Basecamp
Box
Dropbox
Facebook
Gmail
Google Calendar
Google Drive
Instagram
Slack
Twitter
WordPress
Quickbase can integrate with most of the same apps as Airtable, but it uses a feature called Quickbase Pipelines to create the integrations. Users must do a bit of extra work to integrate apps with Pipelines versus what Airtable requires. But with Pipelines, it's easier to create integrations on the fly, simplifying the task of sharing data among tools.
View Options
Winner = Airtable
Airtable gives customers more options for viewing their data than Quickbase, making it easier to work effectively. When customers can easily decipher the data, they can make faster decisions.
In Quickbase, the different views are available through generating reports and charts. Quickbase's views are similar to what Airtable offers, but Airtable's views have better organization than what Quickbase offers.
Both tools offer the ability to customize the colors and layouts in use with different views. Customers can also limit the amount of data available in particular views with both of them.
Calendar and Timeline View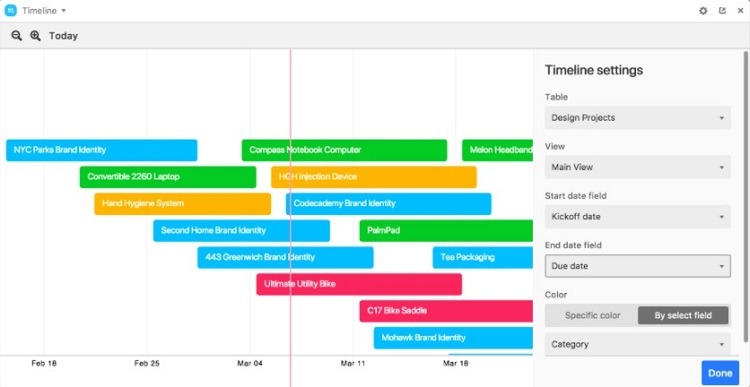 In Airtable, the calendar view shows projects and tasks that the organization is currently working on and are due soon. All team members can see which projects have upcoming deadlines, allowing them to shift some resources to the projects due sooner.
In collaboration with its calendar view, Airtable offers a timeline view. This looks similar to the calendar view but allows teams to show the information sorted by specific criteria. For example, you can sort the tasks and due dates in the timeline view by the people assigned to each task. This makes it easier to see which team members are too busy to take on new tasks or who may need some help to hit an upcoming deadline.
Quickbase has a similar set of options in its calendar view. It allows viewing projects in daily, weekly, or monthly views, and users can switch among these views at any time.
Quickbase also offers a timeline view, but it is a little more complex to set up than the Airtable one.
Gantt Chart View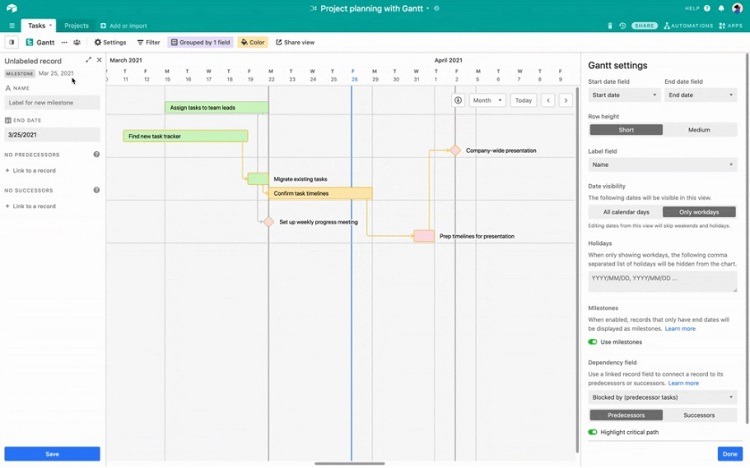 Gantt charts are a popular way to view data, especially when managing projects or tasks. With the Gantt chart, team members can view the timelines required for each task in the project while also keeping an eye on interdependencies between projects and tasks.
Both Airtable and Quickbase offer a Gantt chart view, but they do it differently.
In Airtable, customers must subscribe to either the Pro or Enterprise pricing tiers to access the Gantt chart. With Quickbase, customers need to purchase it as an add-on service.
With Airtable's Gantt chart views, users can add milestones or deadlines into the project timeline, making it easier to see how those items relate to each other. It's easy to use the nesting feature within a Gantt chart in Airtable to see how specific tasks relate to others, so you can see which tasks need to be completed first.
Quickbase's Gantt charts deliver many of the same features and capabilities. Team members can quickly see the hierarchy of different tasks and how they relate to each other. Users can change the view to see the data per day, week, or month.
Because Airtable builds Gantt chart views directly into the software, it's easier to make color-coding changes and add other filters. You don't have to switch back and forth between different software, which happens with Quickbase and its third-party add-on feature.
Quickbase's third-party Gantt chart app does write data back and forth into Quickbase. As users make changes to data or add data inside the third-party Gantt chart app, it automatically reflects those same changes in Quickbase.
Kanban View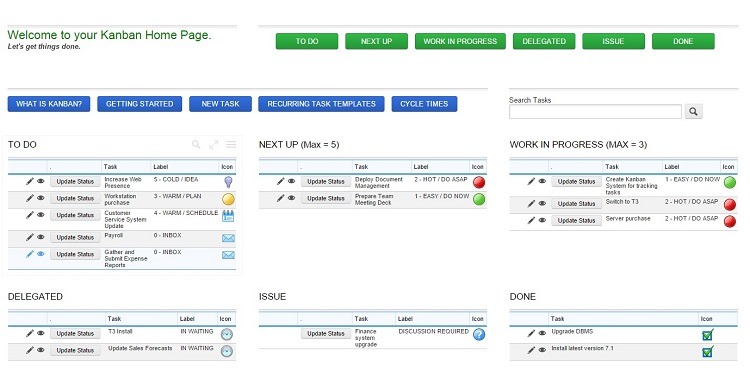 Kanban view is available in both Airtable and Quickbase. We like the look of the Kanban view in Airtable better than in Quickbase, especially for managing projects where individual tasks must go through a series of steps toward completion. Airtable's Kanban view makes it very easy to track project progress using this method.
In Airtable, each task and subtask is part of a digital card. The Kanban board uses a series of columns to show the progress of each task. As team members complete their portion of a task, they drag and drop the digital card into the next column. When the digital card reaches the final column on the right, the task reaches completion.
Quickbase's Kanban view has similar principles, but it uses a slightly different visual and organizational view. It's a little more difficult to pick out an individual task through the Quickbase Kanban view than through the Airtable Kanban view. But Quickbase's layout for Kanban does allow team members to see more information at one time than Airtable's layout.