The Ultimate Manual to Airtable Vs Excel
Excel has been around for decades. But newer platforms like Airtable have changed the way we interact with spreadsheets. So if you haven't decided between Airtable and Excel, this guide covers everything you need to know to make an informed decision.
Our Recommendation = Get Airtable
Airtable is a hybrid between a spreadsheet and a database. As such, it comes with many features and functionalities that you simply don't get with your traditional spreadsheets. Therefore, Airtable is the better option for most people already using spreadsheets.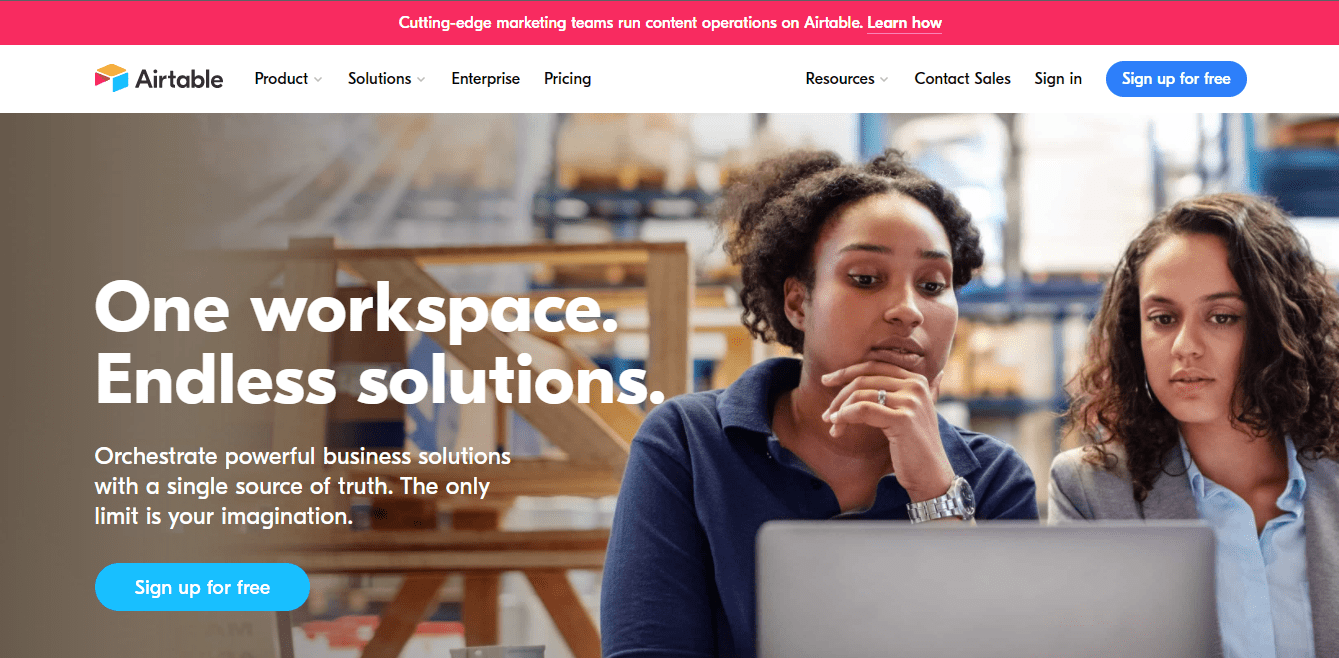 Like any good database, Airtable is an excellent tool for structuring data. This is partly because Airtable's fields and records support specific kinds of data structures. This inherent structure of databases encourages accurate data entry from the get-go. It is also much easier to eliminate redundant data entry with a relational database like Airtable.
Furthermore, Airtable is perfect for finding and filtering your records. For example, you can choose only to see how many customers aged 30-35 within a particular geographical area spent more than $3000 on your products between January and July. This function is much harder to perform with spreadsheet tools like Excel.
Finally, many people are stuck using spreadsheets because databases are too complicated. Airtable makes the transition to a database seamless. There's still a learning curve, but it's nothing compared to traditional databases. You can quickly set up a database on Airtable without even knowing what "SQL query" means.
When to Get Excel Instead
Airtable is an incredible relational database tool. But it may be premature to assume that spreadsheets, and Excel, in particular, will become obsolete. There are certainly cases where using Excel makes more sense than migrating to Airtable.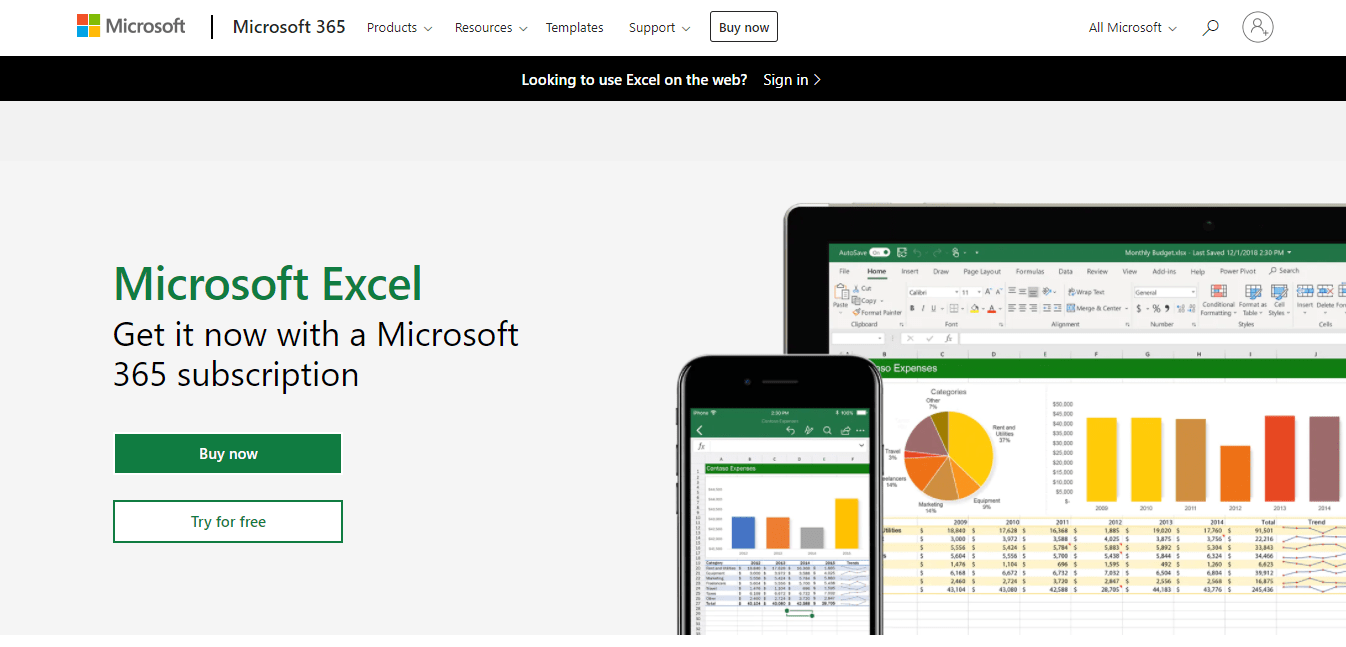 For one, Excel lets you use formulas in any cell. You can even have the formula reference other cells in the spreadsheet. This functionality makes Excel indispensable for complex calculations. But with Airtable, the formula applies to the entire column or field. So you are better off sticking with Excel if you primarily use your spreadsheets for making complex calculations.
Secondly, Excel also offers robust reporting that you simply don't get with Airtable. Excel's PivotTable works particularly well for advanced users. You even get different options for presenting your data, including bar charts, pie charts, clustered column charts, line charts, and so on.
Admittedly, there is a lot of manual effort involved in creating neat graphs and well-organized workbooks. But, the reporting tool is far more advanced than you get with Airtable currently. So, if statistical analysis and financial models are a big part of your job, it may be worth sticking with Excel.
Excel is also the better option for organizations that aren't quite ready or willing to adopt new tools. If the spreadsheets are working just fine, there's no reason to invest in a different tool.
Spreadsheets have been around for 40+ years, and most people know how to use them. Airtable is a new tool with a significant learning curve, especially if you hope to get the most of its advanced features. The disruption in the workflow may not be worth it for some people.
Finally, Excel is the right choice for dealing with large amounts of data. The tool comes with great features to make it easier to deal with large amounts of data. For example, the flash-fill feature identifies patterns in your data and automatically fills it in for you. On the other hand, working with big data is more taxing with Airtable. That's hardly surprising since Airtable isn't a dedicated spreadsheet.
Pricing – Is Airtable or Excel the Better Deal?
It's hard to say which one is the better deal based on price alone. But, Airtable offers a free version with all its essential features. So, from this standpoint, Airtable is undoubtedly the better option. On the other hand, Excel only offers a free version of its mobile app. But, you get a one-month free trial for any of the Microsoft 365 plans.
Things tip to Excel's favor when you get to the paid plans. Airtable's pricing starts at $10 per seat per month. But, you can get Excel for as little as $5 per user per month. Considering you also get additional tools like Microsoft Word, OneDrive, Teams, and SharePoint, Excel offers unbeatable value for money.
However, Airtable still offers a lot of features that Excel doesn't have. If nothing else, Airtable has database functionality that is impossible with Excel. It is hard to say which is the better deal based on price alone.
Airtable Pricing

Airtable offers four pricing tiers as follows:
Free – This plan is free and comes with all of Airtable's basic features. For example, you can create unlimited bases (databases), attach files, and explore the different views. But, there are some limitations. For example, you can only make up to 1,200 records for each base, and you are limited to 2GB of attachments for your bases.
Plus – The Plus plan costs $10 per seat/per month. With it, you can create up to 5,000 records and attach 5GB worth of files per base. You also get a few extra features, including a 6-month snapshot & revision history, automatic table syncing, and one synced table for every base.
Pro – The Pro plan costs $20 per seat/month. Here, you get up to 50,000 records, unlimited apps, 1-year snapshot & revision history, and 20GB of attachments. You also get a few extra features not included in the Plus plan. For example, you get fields & table editing permissions and personal & locked views.
Enterprise – The Enterprise plan comes with everything included in the Pro plan. You get extra features like unlimited workspaces, an Enterprise-wide admin panel, up to 100,000 records per base, add-on professional services, and more. You'll need to contact sales to get your custom price.
Excel Pricing


It makes sense to get the Microsoft 365 software suit. First, you'll get more bang for your money since you'll be getting additional Microsoft tools like Word, PowerPoint, Outlook, and OneDrive, in addition to Excel. Furthermore, you get the same version of Excel, regardless of the plan you choose.
Of course, there is the option of purchasing Office 2021 instead. It is a one-time purchase. But, you won't get the upgrade option. That means you'll have to buy a new version every time there is a major release.
In the interest of getting the best value for money, we'll take the Microsoft 365 route. The pricing plans are as follows:
Microsoft 365 Business Basic – This plan costs $5 per user/month. You also get access to additional tools like Microsoft Teams, Exchange, and SharePoint, besides the basic Office tools like Word.
Microsoft 365 Business Standard – This plan costs $12.50 per user/month. It comes with extra features that you don't get with the Business Basic plan. For example, you get access to attendee registration and reporting tools, manage customer appointments, and host webinars. Additionally, you get extra tools, including the PC versions of Access and Publisher.
Microsoft 365 Business Premium – This plan costs $20 per user/month. You get everything in the Business Standard plans and some extras. For example, you get access and data control, advanced security, and cyber-threat protection not available with the other plans. You also get Azure Information Protection and Intune thrown in for good measure.
Collaboration Features
Winner = Airtable
You need a tool that makes it easy for team members to collaborate. This way, you can ensure that everyone is in the loop.
Airtable Collaboration
One of the best things about Airtable is that it allows multiple people to work on a task simultaneously. Plus, any changes a team member makes to the base are updated in real-time. You can even invite people to your base to collaborate, including external users.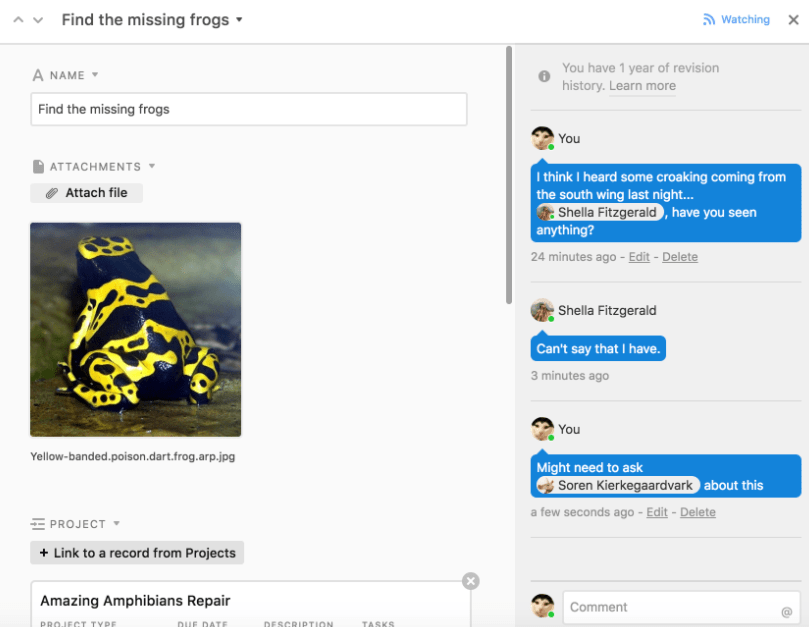 Each record also comes with an activity feed. This way, members with the appropriate permissions can chip in and provide notes. These notes show up in the activity feed in real-time.
The @mention feature is equally valuable. You use it to notify collaborators that you mentioned them, just like on social media. Airtable also comes with additional collaboration features like personal views and slack integrations.
Excel Collaboration
Probably one of Excel's pet peeves is that only one person can work on a document at a time. This scenario makes it easy to lose track of versions when multiple people work on the same document. Of course, you can still collaborate with other users in real-time. But, you'll need to use Excel for the web, which is just unnecessary extra work. You'll also need to set permissions and send links to co-author your workbook.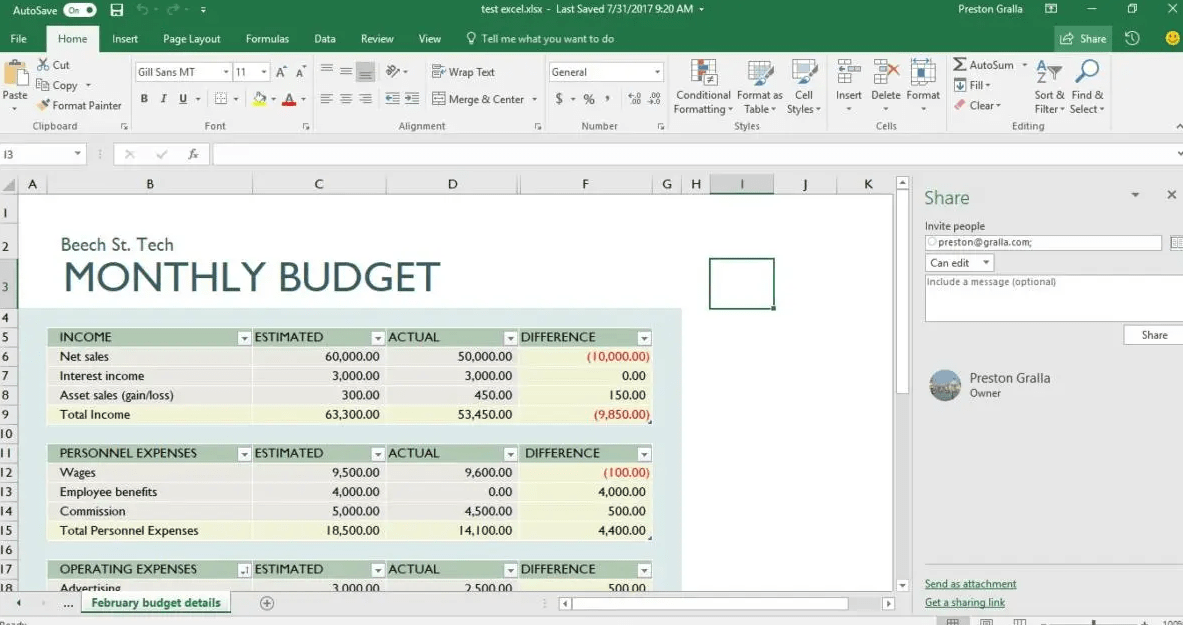 Still, Excel has some great collaboration features. For example, you can view versions history to keep track of all the changes to your workbook. Additionally, you can add comments to cells and even chat with other contributors.
At the end of the day, Excel's collaboration features pale by comparison to Airtable.
Premade Templates
Winner = Airtable
Templates are invaluable for efficiency and repeatability. For example, you won't have to waste time creating new spreadsheets/databases for each project. Additionally, templates help to establish consistent workflow and processes.
Airtable Templates
Airtable templates help to smooth the learning curve significantly. It doesn't matter that you have no clue how to get started creating your first database. You can be sure Airtable already has a pre-made template to get you going.
For example, organizing a product launch has multiple moving parts. With Airtable, you get a premade template, complete with fields and use cases relating to a product launch. These templates are also easily customizable to fit your workflow.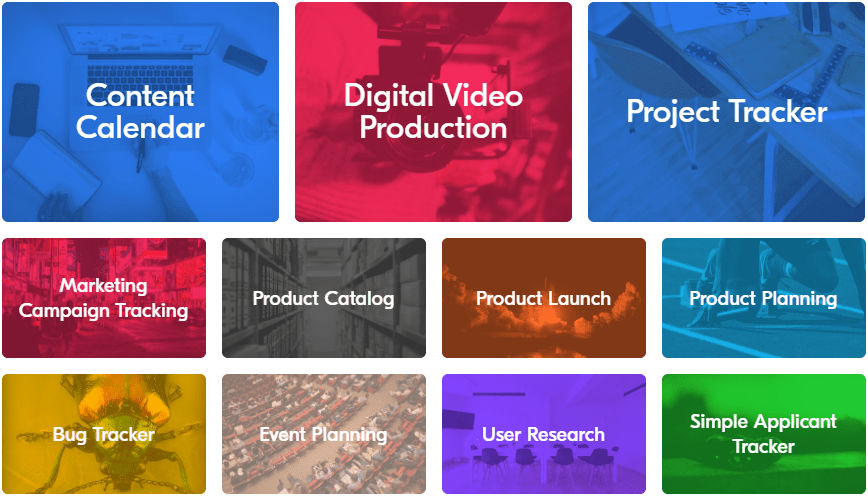 Excel Templates
Excel also comes with built-in templates for a good range of workflows. You get templates for most business workflow, including expense reports, agendas, planners, memos, lists, and calendars.
It's also lovely to see Excel templates come with all the information you need in your workbook. For example, the templates come with formatting, formulas, user-defined functions, custom toolbars, and macros.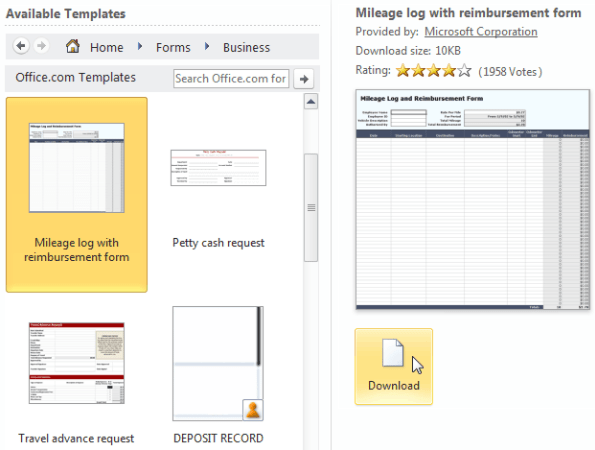 You can also download free and paid templates from office.com if you are looking for something different. Additionally, you can turn an existing file into a template for repeatable projects.
However, Excel doesn't offer as many and diverse templates that you get with Airtable. So, for instance, you may need to dig around before you find a template for bug tracking or applicant tracking.
Airtable offers templates for almost any imaginable workflow, including obscure ones like LMS integration and Instructional Design Management.
View Options
Winner = Airtable
Working with data doesn't have to be boring. Different views help to bring data to life and make it more accessible. It's also excellent if you can view specific information at a glance.
Airtable Views
Probably one of Airtable's most prominent strong suits is its views option. By default, you get the grid view which is very similar to spreadsheets like Excel. But, you have more options on how you want to view your data.
Airtable's view options include:
Calendar View – This displays your data as events on a calendar. This option is perfect for teams working on time-based projects. You'll be able to see all upcoming events, deadlines, etc., at a glance.
Kanban View – This view arranges your records in stacked cards on a board, not unlike Trello. This view is perfect for visualizing work, maximizing efficiency, and limiting work-in-progress. Naturally, you'll be able to drag your cards from one stack to another in true Kanban fashion.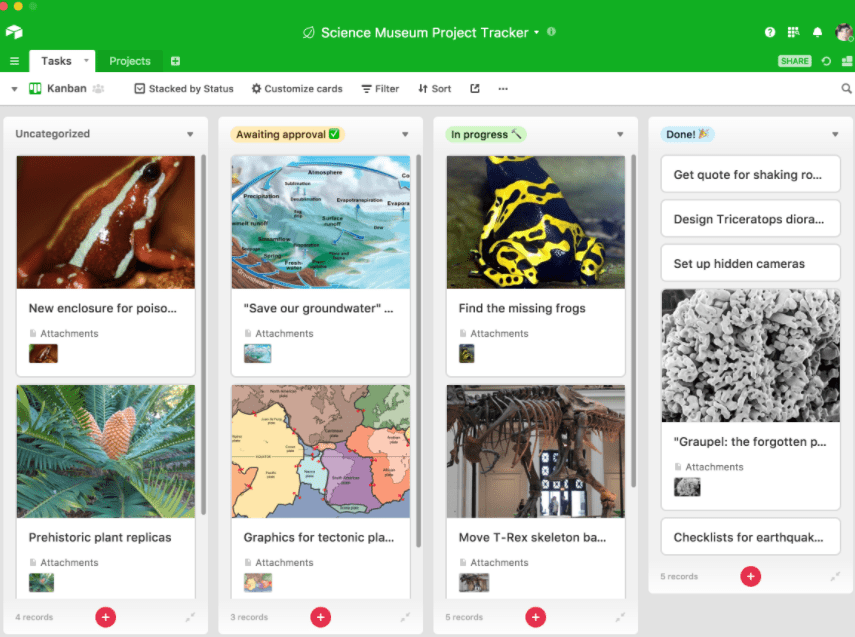 Gallery View – The gallery view shows your records as large cards. This view is perfect for showing off images.
Timeline View – Uses a horizontal scrolling timeline to track your records. This view is perfect for visualizing and planning content in advance, coordinating tasks across teams, and allocating resources.
Gantt View – This view displays your records in a Gantt chart. Here, you can visualize every step of a project from start to finish. This view is excellent for tracking dependencies between tasks and general project management.
Excel Views
Excel also offers multiple options for viewing your workbook. The default view is Normal, which is the spreadsheet view we are accustomed to. But, this feature is not nearly as versatile as you get with Airtable.
Excel's view feature is more for convenience than presenting data in novel and visually digestible ways. For example, you can zoom in or out of your spreadsheet. You can also zoom in on a specific part of your spreadsheet.
Additionally, Excel allows you to turn off headings, gridlines, and the formula bar, so you have more space for your data. The views options are very basic with Excel. But, it is better than nothing. Airtable is the winner hands-down based on this criteria.
Document Sharing
Winner = Airtable
File sharing is part and parcel of working in a team. But, there's more to file-sharing than just sending attachments. Anything the platform can do to make sharing files seamless is always appreciated.
Airtable Attachments
Conveniently, Airtable lets you attach documents to the right of your existing fields. You'll be creating a new field, just for attachments. You can even name your field, so team members know exactly what is what.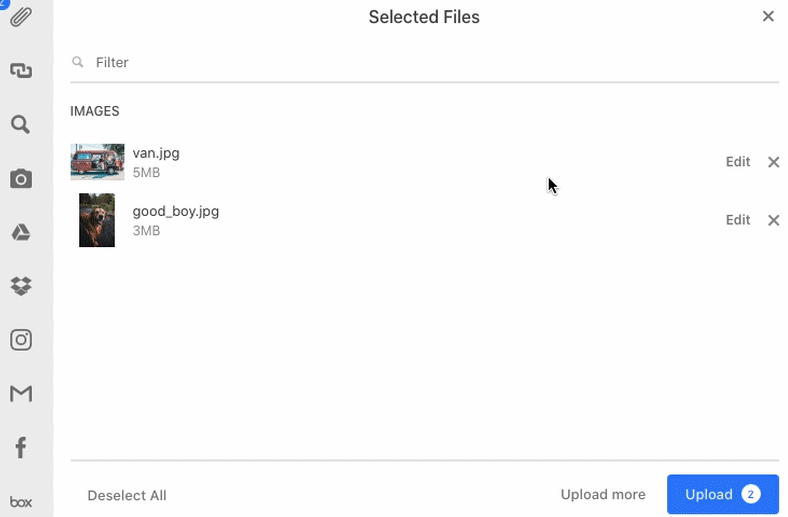 You'll be free to attach any kind of document you like. Airtable even generates thumbnails for some file types like images, text files, word documents, PDF documents, and Excel files. Here, you'll be able to see a preview of the document right from your table.
Finally, you can also see a full-screen preview of your attachments. If you are worried about privacy, team members wouldn't be able to preview password-protected files.
Excel Attachments
Excel makes it equally easy to attach documents to your spreadsheet. You can even attach files to specific cells, so the documents aren't just floating around on your spreadsheet.
However, Excel's attachment feature isn't as convenient as Airtable's. For example, the latter lets you drag and drop files into your records. You also don't get the convenient thumbnail feature with Excel.
Mobile App
Winner = Airtable
Modern teams prefer access to their workflow on the go. Duty may call at the most inopportune time, so mobile apps are a must-have for many workers.
Airtable Mobile App
Airtable offers a native app for all major platforms, including Android, iOS, Mac, and Windows. Admittedly, the Airtable app comes with some limitations. For example, you cannot configure or create formula fields on the mobile app. However, it's something that Airtable is already working on, so this feature may be available soon.
Overall, the mobile app is very user-friendly. You also get access to all of the Airbases' essential features, including workspace, bases, records, fields, and views. You can even scan barcodes with the Airbase mobile app.
Excel Mobile App
Again, Excel also offers a mobile app. The app is surprisingly functional and comes packed with features. For example, you can capture data with pre-made templates, search records, AUTO sum values, sort, filter data, and even save your workbook as a PDF.
In short, you'll be able to do most things you already do on the desktop version. So, it's tough to fault Excel's mobile app from a features perspective. However, the app can be overwhelming to use on mobile. This flaw isn't so much a design fault as an inherent spreadsheet flaw.
Airtable's structure, including its bases, views, and colors, just makes it easier to use on mobile. It's particularly hard working with the Excel app if you have tons of data in your spreadsheet.