The Ultimate Manual to Airtable Use Cases and Examples
There was a time not too long ago when no one had even heard of Airtable. Now suddenly, everyone is using it, and it's not without reason.
This cloud collaboration service combines the power of a database with the user interface of a spreadsheet, complete with tons of convenient templates to facilitate easy collaboration and organization.
No wonder, Airtable makes a solid choice for many use cases. But what are these options? Read on to find out.
What Is Airtable Anyway and How Does It Work?
Airtable describes itself as a "low-code platform for building collaborative applications and unique workflows for your team." It's designed to help you customize your workflow, collaborate, and achieve ambitious outcomes.
Airtable is a spreadsheet-database hybrid, where users can store information in the form of customized spreadsheets that are both user-friendly and visually appealing. In addition, you can establish relationships among the spreadsheets by extending their functionality as databases ("bases"). In turn, this increases team efficiency and improves collaboration.
Think of it as a tool that combines the features of Google Sheets, Pipedrive, Trello, Asana, Calendly, and Survey Monkey, along with the storage capacity of a cloud server. In fact, Airtable developers want to position the software as an omni-tool to give companies a one-stop solution for all their requirements.
Key Features of Airtable
Here are a few of the most prominent features of Airtable:
Templates: Airtable has a variety of premade template bases that have been specifically designed to cover a wide range of basic use cases. These are ideal for starting your own custom bases, allowing you to commence collaborating with your team members right off the bat.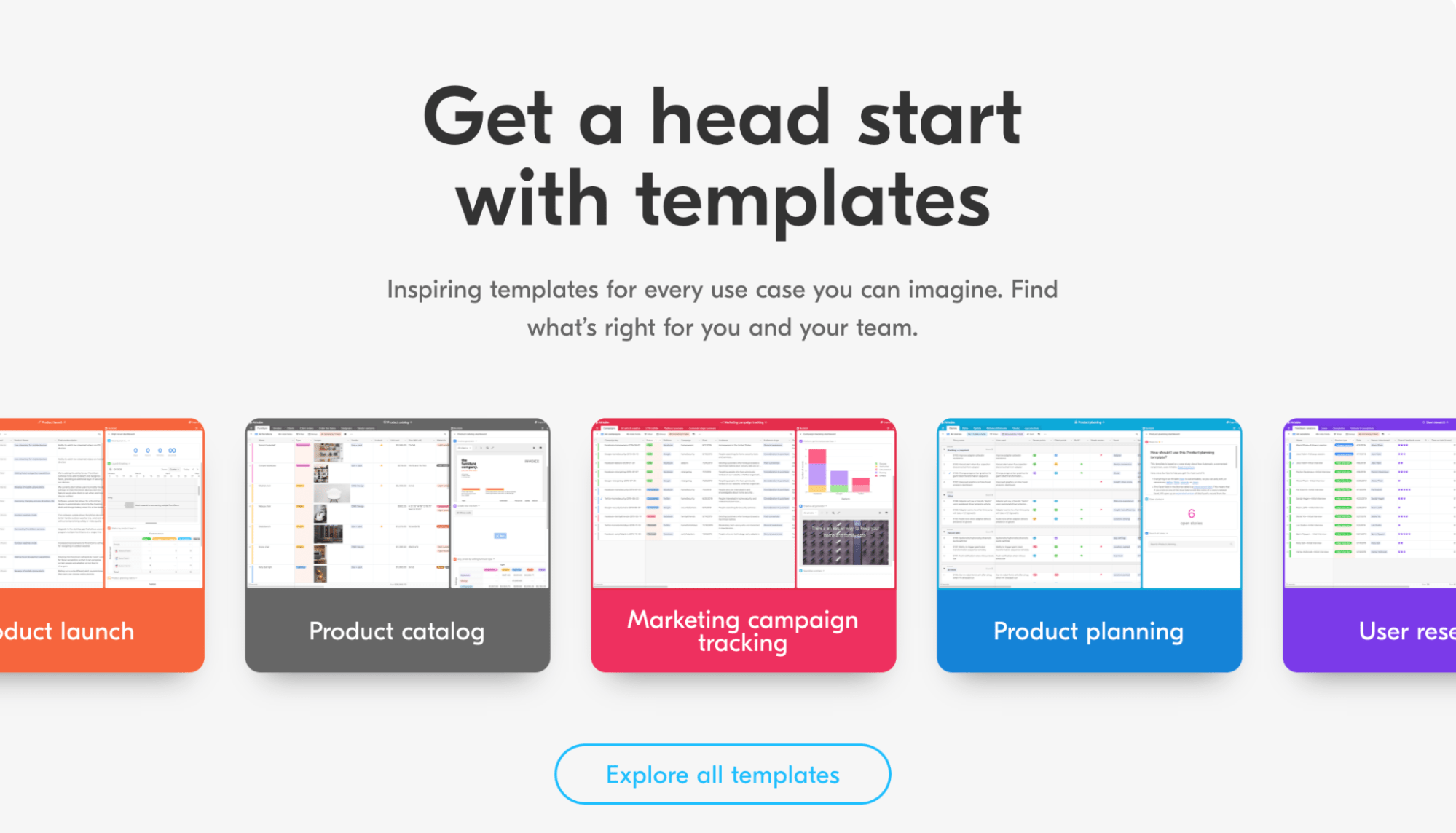 Social Media Integration: Airtable lets you easily manage your personal or business social media profiles, thanks to its social media integration facility. You can also archive posts from your social media pages in a database, as well as post to your social media profile or Page from Airtable.
Relational Database Functionality: Airtable Bases share functIonality similar to relational databases. All data is stored in the form of records (rows) and fields (columns) in a table, which is then related through linked Airtable records.
Collaborative Workspace: Airtable's collaboration capabilities allow different departments of an organization to collaborate with each other and manage productivity effortlessly, which not only saves time but also boosts efficiency.
Application Integration: The whole point of including integrations is to let users automatically move information back and forth between other apps and Airtable. Airtable offers built-in support for many popular applications, including popular vendors like Dropbox, LinkedIn, Slack, WordPress, Twitter, Gmail, Github, and several others, complete with a robust API.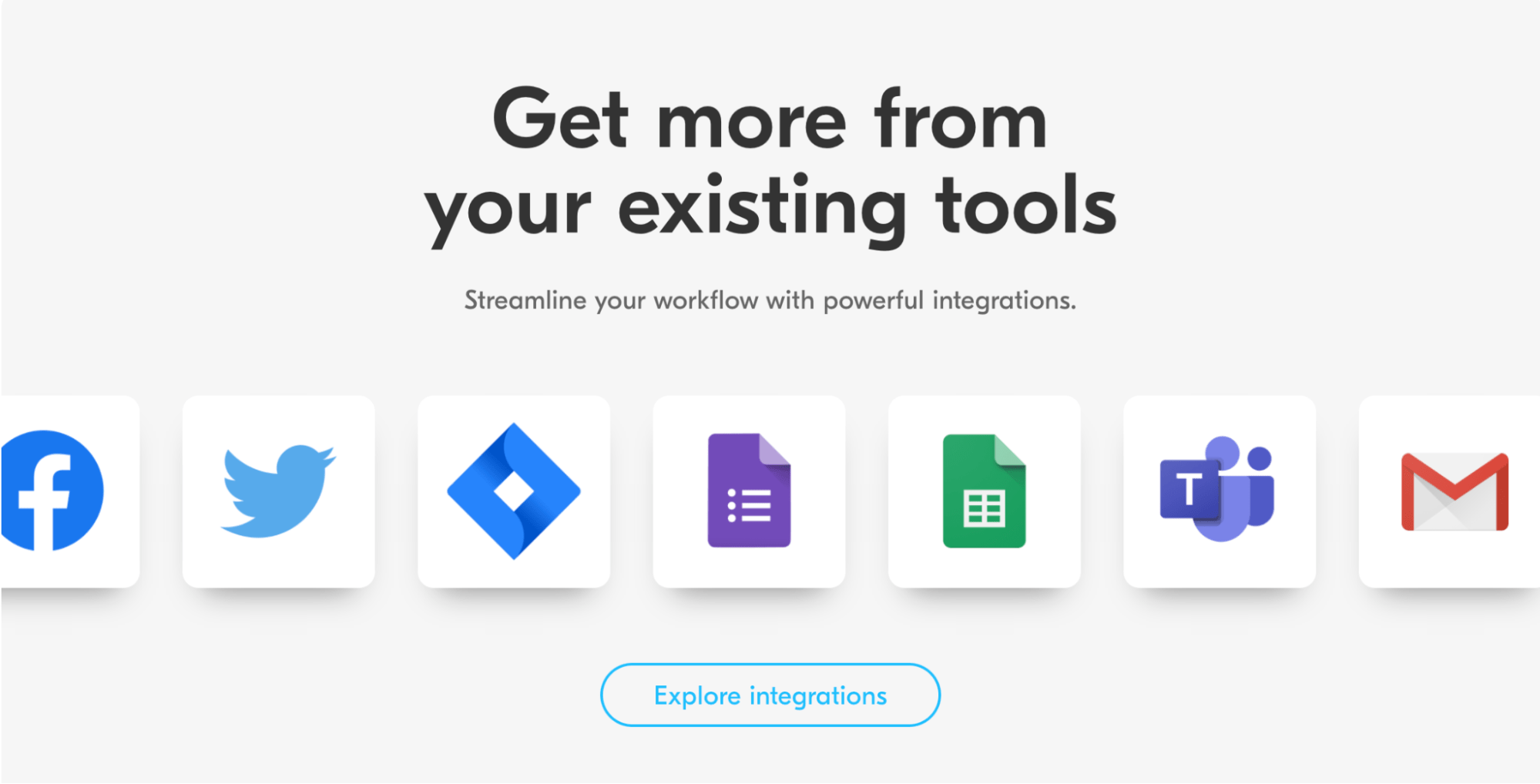 Calendar Management: You can integrate your Calendar application with Airtable. If you use Airtable to plan and schedule your daily activities, you can import information from it to an external calendar app of your choice to keep your schedule in sync. You can also move your events from the calendar into Airtable.
Snapshots: While Airtable can automatically take snapshots of your Bases, you can also change the settings and make it manual. Restoring a base from Snapchat will produce a new base that won't interfere with your existing base.
Customized Views: Airtable has a unique customized view feature, where team members can decide how they want to view the data. Some of these viewing formats include Grid View, Calendar View, Kanban View, and so on.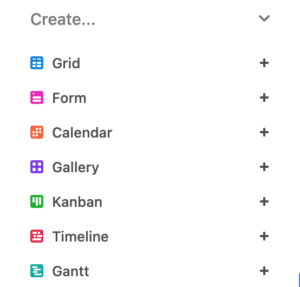 8 Airtable Use-Cases and Examples
Below, we'll cover eight of the most practical use-cases you can take inspiration for your own business.
Airtable Use-Case 1: Small Business Accounting

Now, Airtable certainly isn't a replacement for QuickBooks—or any other high-end accounting software. But it's still a good option for small businesses.
SMB owners are burdened with the time-consuming tasks of managing their finances. They have to keep track of all their accounting records and transactions to avoid errors and discrepancies, which can be tedious and expensive.
Airtable, with its smaller price tag and greater personalization features, allows owners to manage their financial data, along with other business information. You can integrate the tool into your business with tasks like invoice automation, expense tracking, and creating timesheets.
Plus, since it's cloud-based, you don't have to pay extra for installation and can enter expenses directly from your phone.
Airtable Use-Case 2: CRM
CRM stands for Customer Relationship Management and is a critical process of business. The whole purpose of CRM is to efficiently manage relationships to maximize the overall value provided to the company and its customers.
Airtable lets companies create user-friendly CRM systems that can be customized based on their requirements. If you know your customers and what they want, you can use CRM alternatives like Airtable to keep track of customer data and deliver effortless customer service.
Besides managing outbound leads, sales, and outreach, you can create a CRM workflow on Airtable to collect contact information and schedule follow-ups. Additionally, you can record all customer interactions to improve the quality of customer service provided by your company.
Airtable Use-Case 3: Content Management
Effective content management has become a necessity for all businesses, and Airtable can make managing your content calendar really easy.
The service allows you to manage templates ahead of your deadlines, so when it's time to publish your next article or blog post, you can easily collaborate with others on these processes.
Moreover, you can take advantage of various Airtable use-cases, such as SEO, idea collection, content/editorial calendars, and keyword research planning, among others. For example, you can create an SEO workflow on Airtable, where you assign two members for collecting keywords and recording metrics and another one to track article production—all the while you monitor all three processes.
Airtable Use-Case 4: Social Media Marketing
Airtable can also make a reliable social media marketing tool.
Use it to keep track of all your posts, hashtags, and analytics—all arranged in a single place. You can also use its mobile app to update on the go. What's more, the software offers various third-party integration that lets you automate different activities, including posting directly to LinkedIn or Twitter.
In addition, the social media landscape has become highly dynamic. You have to regularly maintain a two-way conversation if you want to drive engagement with your content, boost visibility, and gain new followers.
Airtable can again come in handy, thanks to its social media calendars. You can create and share content on social media while simultaneously keeping everything organized to grow your audience and increase customer engagement, sans the extra hassle.
For instance, you can write a tweet copy, get approval from your superiors, and schedule an automated post to maintain a constant dialog between you and your followers.
Airtable Use-Case 5: Inventory Management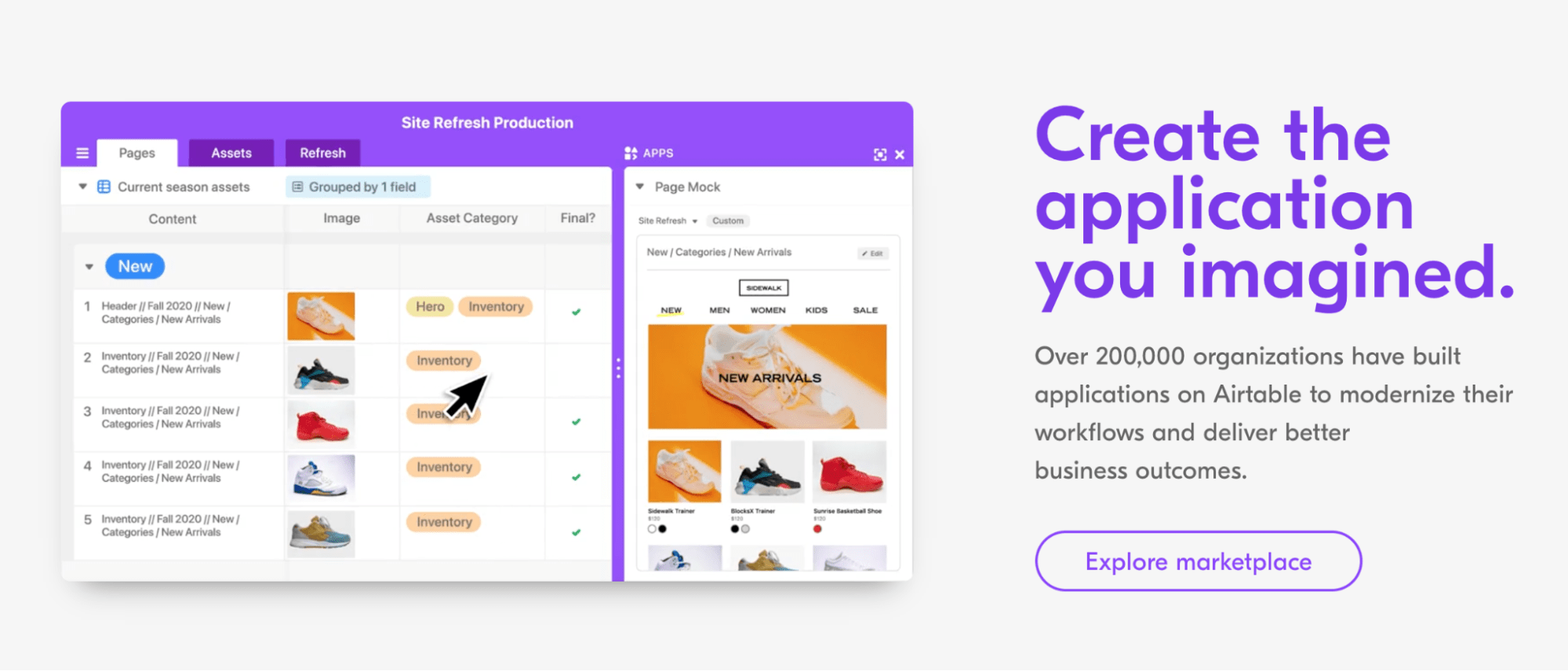 Effective inventory management is a common problem faced by ecommerce sellers. One has to ensure the inventory is up-to-date and still have enough time to manage the other equally—sometimes even more—important aspects of your online business.
The thing is that inventory management is more than just a numbers game.
You have to keep tabs on how much you have available in your store while simultaneously ensuring all your customers can purchase whatever they want without any issue. However, with all kinds of products coming in from different suppliers and manufacturers, you may find it difficult to stay on top of inventory.
That's where an online database like Airtable can come in handy, where it lets users streamline their operations and improve customer satisfaction by offering an effective way to track their inventory. For instance, you can pull inventory pricing data from the software, scroll through the product gallery to find a specific item, and then report on the latest pricing when needed.
Airtable Use-Case 6: Project Management
Project management is perhaps one of the most popular use cases of Airtable.
Project managers are always looking for an efficient and simple way to keep track of all their tasks, meetings, deliverables, and of course, deadlines. Juggling through the different aspects of these projects can make the process prone to errors and time-consuming.
Luckily, Airtable provides a solution that lets you identify potential problems and address issues as they arise when managing a project, regardless of whether you use the agile or SCRUM methodology—or anything else. For starters, you can assign tasks in Airtable, then group each task by team member, and follow up on outstanding items to ensure everything remains on track and is completed by the deadline.
Airtable Use-Case 7: Product Management
Product management can be a tough job, where you have to keep your team focused on the product, maintain a consistent momentum, and ensure your team is delivering what you promised your stakeholders.
Tools like Airtable lets you build company-specific solutions to maintain products, right from ideation to product launch—and everything in between. This way, you can determine the best way to ensure better outcomes for your business.
Product managers can create user stories in Airtable describing what users can accomplish with their products. This gives teams a fair idea of who they are designing the product for, reducing common errors, which, in turn, accelerates the whole process. More specifically, you can use Airtable to track all user stories with pretty galleries and custom categories to manage each product effectively.
Airtable Use-Case 8: Event Planning
Event planning is another excellent use case of Airtable.
The platform offers tons of uses for event specialists, such as importing the entire guest list, entering data about all event attendees, and including special considerations, like dietary restrictions or allergies of certain guests.
Also, keeping your event planning organized and, more importantly, on schedule can be fairly challenging. After all, it takes time to plan an event, organize the resources needed to make it happen, and several other obstacles before you can call an event successful.
You can use Airtable bases to create event lists, send out email invites, and assign tasks to team members. Uploading proposals and contracts with clients, tracking expenses from vendors, managing sponsorships and donations, and many other activities is also possible—all from a single dashboard.