The Ultimate Manual to Airtable for Project Management
Project management software simplifies the process of managing and collaborating on projects. This is a type of software that delivers time-saving features while providing a user-friendly interface.
Airtable is one of the most popular project management software packages, and our guide will provide tips for the best way to use it.
How Does Airtable Handle Project Management Anyway?
Airtable is a cloud-based project management software package that works for organizations of all sizes. This software gives organizations and businesses the ability to sort and manage the large amounts of information needed to properly manage a project.
A software package like Airtable attempts to combine the best features of spreadsheets and databases, all while providing a user-friendly interface. This combination makes it far easier to view the data in a way that makes sense to the user.
As an added advantage, for those who have familiarity with the layout of a spreadsheet, Airtable allows users to enter data in a manner similar to how they would use a spreadsheet. In fact, some would say Airtable reinvented the spreadsheet and made it better.
Airtable is highly versatile, meaning many different kinds of businesses and organizations can use it effectively. It gives businesses the ability to manage a wide range of types of projects as well, as we discussed in our Airtable review.
The software gives team members working on a project together the ability to plan out the project step by step. It allows the team to set deadlines. Users can store files and media related to the project in one place where all members can access them. It also provides space for the team members to hold conversations and collaborate on the various aspects of the project.
Costs for Airtable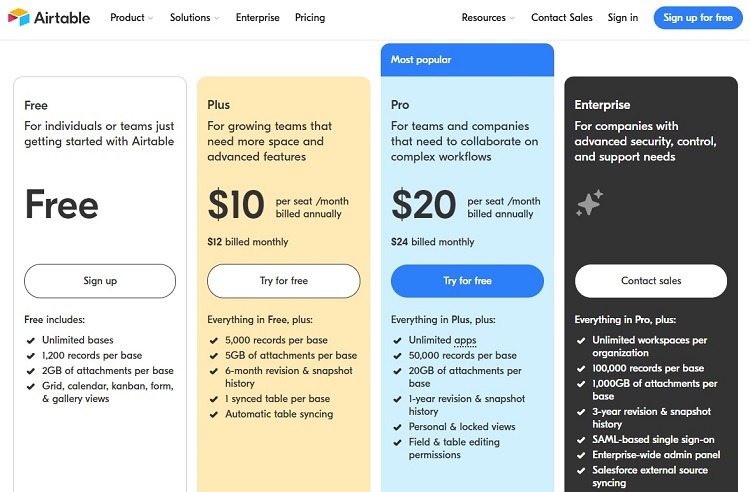 Airtable offers two pricing tiers for small businesses, an Enterprise pricing tier, and a Free tier.
Free: The Free tier is always free to use, rather than being a free trial period. It provides all of the most common views for users, including kanban, gallery, calendar, and grid. Users can create up to 1,200 records per base. Customers on the Free tier can set up an unlimited number of bases with up to 2 GB of storage per base.
Plus: The Plus tier carries a cost of $10 to $12 per month per user. It also has a free trial period for those who want to try it before committing to purchasing. The Plus tier contains all of the features of the Free tier while expanding the number of records per base to a maximum of 5,000. Each base can have up to 5 GB of items in storage. It offers a six-month revision history in storage, so users can go back and revisit past versions of the project.
Pro: The Pro tier costs $20 to $24 per month per user. It also has a free trial period available. The Pro tier contains all of the features of the Plus tier while allowing up to 50,000 records per base and 20 GB of attachments per base. It has a one-year revision history to allow a look back at past versions of the project. It adds Gantt chart view and timeline view options for projects. Subscribers to the Pro tier can make use of apps to enhance Airtable's features.
Enterprise: The Enterprise tier works best for large organizations that have high-end requirements for security and customer support. Customers will need to contact the Airtable sales team to receive a price quote. In the Enterprise tier, users can create 100,000 records per base and have 1 TB of attachments per base. This tier has a three-year revision history option.
How Airtable Works for Project Management
Airtable works for a wide range of tasks related to managing projects. Its versatility is one of its strongest features. Some of the different tasks users perform when using Airtable include the following.
Organizing and Managing Project Data
Airtable sets itself apart from some other project management software packages through its ability to organize the project by relying on the supporting data first and foremost.
Users often will need files, documents, photographs, and other elements to manage the project. Airtable makes it easier to keep track of the data. It then allows teams to build the project around that data.
Assigning Tasks to Team Members
The project manager is able to assign tasks to individual team members, along with giving them a deadline for completing the task.
A user then can set up the Airtable window to only show the tasks assigned to him or her.
Collaborating With Other Team Members
Within the various tasks that make up the project, team members are able to leave messages for each other. This may involve asking questions or requesting additional information to help with completing a task.
Airtable will maintain a copy of all of these messages with the project. This allows users to go back and review messages and information in the future, whenever desired.
Allowing for Repeatable Tasks
Businesses may have a similar set of tasks required from project to project. Airtable gives a business the opportunity to create a task once and copy it to multiple projects. This not only saves time but also reduces the chances of making an error in data entry.
Airtable users have the option of automating these repeatable tasks. This is helpful for projects that recur every week or month. Airtable managers can set up Airtable to create the project automatically after a certain time period passes. They then can automatically populate the recurring project with any repeatable tasks desired.
Managing the Project Budget
When the organization needs to track spending for a particular project, Airtable offers this feature. It is easy for all team members to see where the project stands on spending compared to the goal for the project.
Additionally, as team members work on their tasks, Airtable allows for a time-tracking feature that makes it easier to determine how much time the team is devoting to each task and to the project as a whole. Tracking time can be an important part of project budgeting too.
Example 1: Search Through Multiple Airtable Templates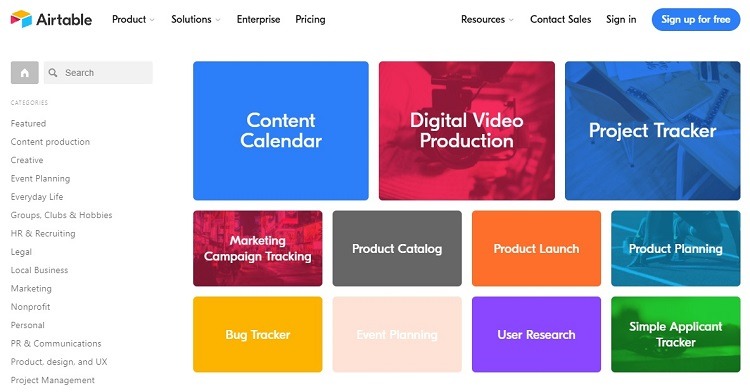 Airtable offers dozens of templates that users can tap into, giving them a framework for putting together a project with a particular area of focus.
To make finding just the right template easier, Airtable organizes templates by categories. Users also can type a term into the search box on the template gallery page to find all templates related to the search term.
Within each template, Airtable provides a detailed description of the primary tasks the template can fulfill. This is helpful for narrowing the list of templates to find the perfect one to handle the organization's project.
In addition to saving time for users versus having to build a project completely from scratch, the templates are helpful for new users. When someone is just learning to use Airtable, having a template can provide a quick introduction to the software and to all of the available features.
Airtable frequently updates its existing templates and adds new ones, based on feedback from its users. Check back regularly with the template gallery to find any new features that may fit a new project's needs better.
Example 2: Visit the Airtable Universe
For businesses and organizations that need inspiration for setting up and managing a project in Airtable, the Airtable Universe is available.
Through the Universe, users are able to share project ideas they're using successfully in their businesses. Anyone can borrow from these ideas to help them set up a particular style of project or to determine ways to work more effectively from within Airtable.
Airtable encourages its users to upload items to the Airtable Universe. The Universe is a great way to learn more about Airtable and to figure out how to solve specific problems.
Universe differs from Airtable's official customer support information and blogs because Universe is completely user-driven. This feature is valuable because it shows how people are actually using Airtable to solve real-world problems.
Example 3: Select the Desired Project Organizational View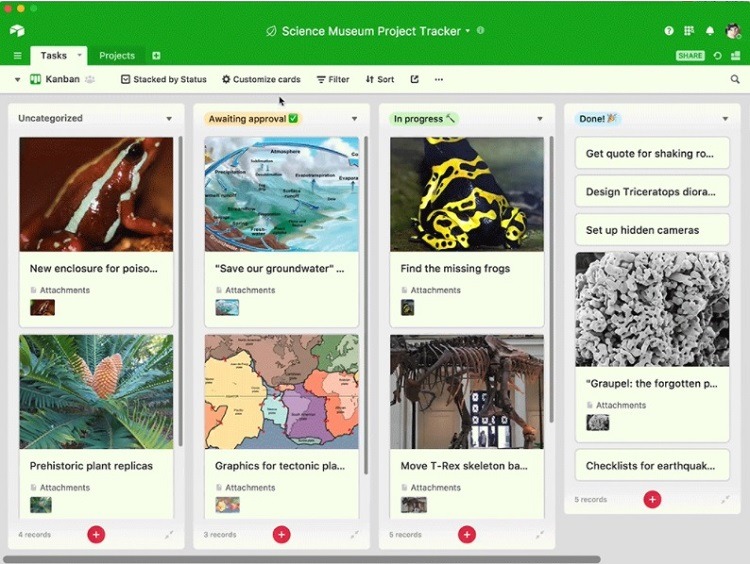 Airtable's versatility is an important feature. And it extends its versatility in how it gives users the ability to customize the look of the software's interface. These custom views ensure that teams can work in the most effective manner for each project.
Even those using the Free tier of Airtable will have the ability to make use of multiple different views, switching among them as needed. The available views include:
Calendar: Those who prefer to see the projects' tasks based on their individual due dates will appreciate the calendar view. When using calendar view, it's easy to see exactly when a task is due and what other tasks have impending deadlines. Team members then can prioritize their work effectively.
Gallery: The gallery view is helpful for giving users a visual clue about each task. It displays a graphical element or a photo with each task, making it easy to identify the task at a glance.
Grid: The grid view most closely resembles a spreadsheet, similar to popular software packages like Microsoft Excel or Google Sheets. For those who have familiarity with spreadsheets, this view provides information in a raw format with limited graphics.
Kanban: A kanban view is popular for projects where tasks must go through a series of steps before completion. The Kanban view uses digital cards to represent each task. Airtable sorts the digital cards into columns that represent each step along the way. As a user completes a step, he or she moves the digital card into the next column, indicating progress.
Example 4: Security Features Built Into Airtable
Because Airtable works for a variety of organizations and businesses, it needs to have a wide range of security features. Its security measures must meet the needs of businesses using Airtable for highly sensitive documents and tasks.
Some of the specific security capabilities built into Airtable include:
2FA: Airtable supports two-factor authentication (2FA), which adds an extra layer of security for users who are signing into the software. They need to provide a password as well as a passcode they receive via email or text message before signing into Airtable.
256-bit encryption: Airtable uses 256-bit TLS encryption to protect the organization's data stored on the Airtable servers and any data traveling back and forth from the local device and the Airtable servers.
GDPR: Airtable follows the compliance standards required for General Data Protection Regulation (GDPR), which ensures data privacy for European Union citizens.
ISO/IEC 27001: Airtable has certification for this standard, which deals with the processes an organization uses for information risk management.
SOC 2: Airtable offers compliance with SOC 2 standards, which means it follows the SOC 2 procedures required to protect sensitive data.
SSO: Airtable provides integration with single sign-on (SSO) providers, such as One Login or Okta. This allows users to use a single set of sign-in credentials to handle many kinds of software.
How to Get Started With Airtable for Project Management
Starting a project using Airtable is a relatively easy process. We'll provide an example for planning and setting up a project while making use of Airtable.
Create a Workspace
If you don't yet have a workspace for the project, you will need to set it up first. The workspace is a collection of projects that your organization is monitoring.
Each member of the team will have a unique workspace in Airtable. Only the projects for which the team member is a collaborator will appear on the team member's workspace. An individual workspace could contain one project, dozens of projects, or something in between.
Add a Base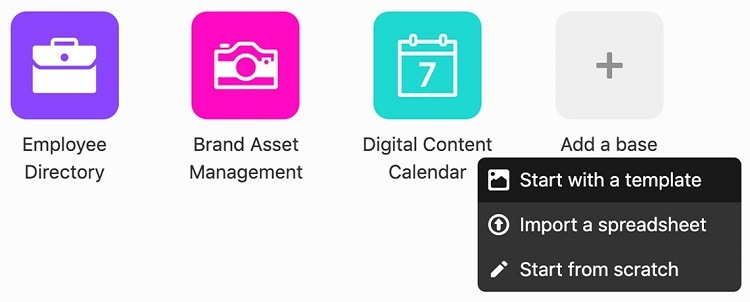 The next step is to add a base, which will contain the information designed for managing and tracking the project. Think of the base like a database, as it stores information in a way that's beneficial for keeping the information well-organized and searchable.
From the workspace window, click on the Add a Base button with a plus mark on it.
Select a Template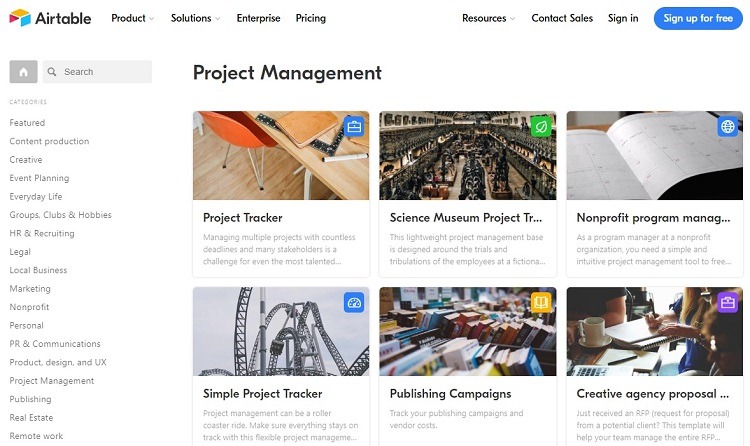 The fastest way to create a base for tracking a project is by selecting a template. The template is a framework that you can use to begin working on the project immediately. You don't need to build the framework from scratch, which saves quite a bit of time.
Airtable offers hundreds of templates built into the software. Airtable's template gallery is searchable, so you can find just the right framework to match the theme and expectations for the project.
Even if you select a template to use, you have the option of making edits to the framework of the template, so that it will perfectly fit the needs of tracking the project.
After clicking on Add a Base, as described in the previous step, you'll see a popup menu. Click on Start With a Template in the popup menu to open the Airtable template gallery. You then can search through the various template options to find the one that best fits the needs of this particular project.
Click on a template to learn more about it and to see an example of it. Once you find a template you would like to use, click on the Use Template button to open a copy of the template that you can edit and use.
Enter Your Project's Data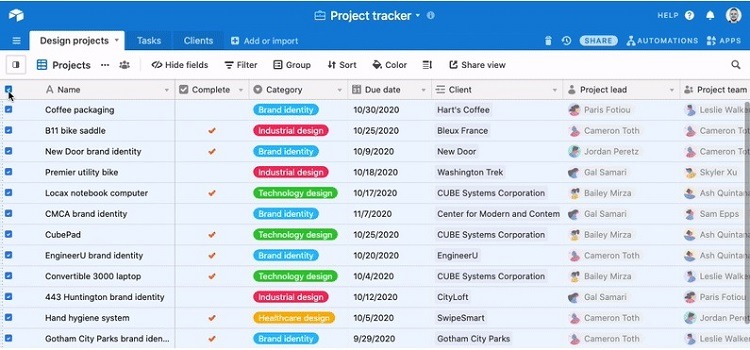 Now you are ready to begin entering your project's information. If the template you selected contains sample data, you can use these samples to gain some ideas for creating your own project.
After viewing the sample records, you can delete them by clicking the checkbox in the upper left corner of the screen. This will highlight all of the data rows. Then right-click on any highlighted row and left-click on Delete All Selected Records. You may have to click on the Delete button in the subsequent popup window to complete the deletion process.
You are now ready to begin entering data that's pertinent to your project. You can switch among different views to make the board's information as easy to digest and understand as possible.