, #1 most popular app amongst survey participants.
"Collaboration"
"Easy"
"Everyone"
"Everything"
Four million paying customers!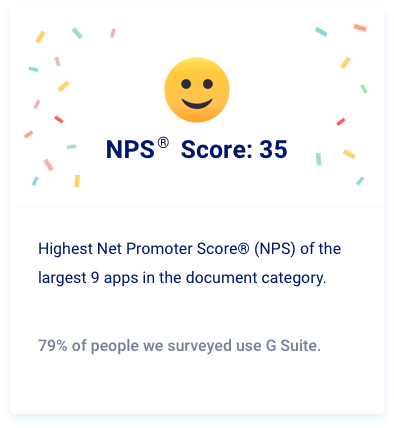 Google Docs

Google Sheets

Google Slides

Google Drive

Calendar

G Mail

Google Sites
Best in class collaboration and usability
G Suite has great usability with almost all of the document features that you'd need in a single package. Along with the best cloud collaboration features in the industry.
But even then, why does G Suite have a Net Promoter Score (NPS) of only 35 out of a possible 100? We'd expect the leading document tool to be higher.
First, let's cover why users love G Suite more than any other document tool in the category.
Best in class collaboration and usability
People who love G Suite say it's simple and easy to use. Whether you're sharing, searching or collaborating, G Suite makes the process easy.
Take G Suite's sharing features for example. In just a few clicks, you can generate a URL and send it to anyone.
"Super easy to access everything online and simple to share with just about anyone, whether it be in an organization, a group, or individual."
Plus, G Suite has made searching for and collaborating on shared documents a simple, easy task.
"G Suite has made collaboration and searching very easy."
Across all of G Suite's features, people point to their ease of use for why they enjoy G Suite more than any other document tool.
What separates G Suite from the rest of the category: collaboration
"Makes simultaneous collaboration on documents very easy."
Collaboration is a cinch with G Suite. It's easy to invite anyone into your document and simultaneously start working on the document together. No more back and forth versioning via email, it all happens instantly in real time.
"The commenting and editing features make working together with teammates on documents super easy. Haven't seen anyone else nail that part of the process yet."
Without a doubt, Google's focus on collaboration features across the G Suite products has paid off. These rich collaboration features help teams get work done together, faster.
"We can easily share and collaborate on documents within our organization."
Collaboration has driven G Suite to the highest NPS of the document category at a score of 35.
Why is the highest NPS in the document category only 35?
G Suite is the market leader in documents. And with users loving the ease of use along with collaboration, shouldn't the NPS be much higher?
The most loved brands have Net Promoter Scores above 50. Apple has a score of 72 and Tesla has 96.
The largest challenge Google has is one faced by all document tools. It's extremely common for companies and teams to get spread across different tools. Which makes sharing, collaborating and finding documents very challenging.
"It's fine. Convenient when many people use Google products."

"Not everyone in the entire org uses G Suite."
When people within the same company don't use G Suite, collaborating on documents using G Suite is nearly impossible. Instead, people have to use whatever tool the person they are sharing with uses. Even worse, the person they've shared with might take a Google doc, convert it to a Word document, and then email it back in Word.
"Not very useful if you work with customers outside of Google's ecosystem."
The same challenge exists if you're looking to collaborate outside of your company. If customers don't use Google, then in order to collaborate with them or share documents with them, you have to use their tool of choice.
"Microsoft Office is entrenched in my industry."
Another challenge we heard from people we surveyed was that their company – and even their industry – used Microsoft Office. If everyone you collaborate with is using Microsoft Office, it's tough to get the collaboration value or ease of use from G Suite. The only way using G Suite works in that case is if you create documents for yourself and never share them with anyone.
Since G Suite's document tools were originally modeled after Microsoft, that comparison to Office brings down the NPS a bit. Naturally, some people compare it to Microsoft and find that features they are used to in Microsoft products are missing. These types of comments are common:
"Features options are good but not as robust as MS Office."
"It is still not as easy to use as Office."
"Not a fantastic (rich) feature set vs. Powerpoint."
Another challenge we heard was that people love collaborating on Google Docs, Sheets and Slides but when it comes to document management, G Suite hasn't quite wowed users.
"G Suite is great for lots of stuff, very comprehensive in offering, but doc management isn't great. Especially for larger companies"